New Modular 3D Robotics X8+ Drone Released Quietly
The Launch
This time of the year is heavily packed with new product releases from the major manufacturers of "eye in the sky" technology. After the heavily hyped launch of the new DJI Inspire 1 "prosumer" drone with a $2900 price tag and 4K camera, 3D Robotics now released the X8+ modular drone. To our surprise, the announcement was a very modest one by any standards and there is fairly little to learn about the new product. The promotional video is a mere 26 seconds long, shows the new 3D robotics X8+ among studio conditions and no footage of it being used or ones that have been recorded with the drone. The video still appears as "unlisted" on YouTube, though it is clearly accessible through the 3D Robotics site so we took the liberty to post it for you.
Hmmm. Could this be that the launch was planned for a later date and was rushed to catch up with the DJI announcement?
The 3DR website is also quite short-spoken about the new X8+ and there is no word about it in the News section of their site what so ever. At the same time, the approach of versatility could be a good one to counter the DJI launch as the Inspire 1 is not a list bit modular and promises the opposite of the X8+. It could be appealing to those who prefer a bit more control over their setups. The video suggests that the X8+ should be capable of lifting DSLR cameras a lot heavier than a GoPro, so that could be an advantage as the 4K built in capabilities of the Inspire 1 will probably lure away a lot of semi professional users.
Advantages
Gigaom, which is associated with 3DR by having the same venture capital investor also has very little information on the new drone. They suggest that "the X8+'s biggest strength over the Inspire 1 is its software. Like any 3D Robotics drone, it can follow you around, fly to an exact location you pinpoint on a mobile device and keep its camera trained on a specific landmark. And it's pretty great at creating aerial maps." Ok, fair enough, but the Iris+ which we have examined earlier in a post about drones that will follow you does exactly that. The mapping capability should be a good one to learn more about, it's a pity that there is no word on how that is done (sigh). It should be highlighted a bit more to our opinion as the Inspire 1 launch event included the introduction of a 3rd party app called Pix4D which was at least demonstrated and seems to be available (we will look into that more).
The X8+ has a fairly standard 15 minute flying time which is nothing spectacular and if measured among ideal conditions than the actual time could be more like 10 minutes which might just come short of expectations. Even if it seems that the 3D Robotics X8+ can lift heavier payloads.
Price point
At first glance, the $1,350 price tag sounds great, but that does not include a camera and gimbal. We went to the 3DR site, built a realistic minimum setup and the price tag came to roughly $2,200 with just a GoPro Hero3 Silver Edition. Which you might or might not prefer compared to the 4K camera of the Inspire 1, but clearly does not suggest the same value. So is the X8+ a good alternative to the Inspire 1 with a price difference of around $700? Could be, but we surely need more info to decide. So would you if you would have a couple of grand burning a hole on your pocket right now and itching to buy a new aerial platform.
We will reach out to 3DR now to try to get you guys more information as the unit was supposed to be shipping starting today. The 3DR store at this point lists the X8+ as being "Out of stock", offering  that "you can backorder it and they'll ship it as soon as it's available".
Summary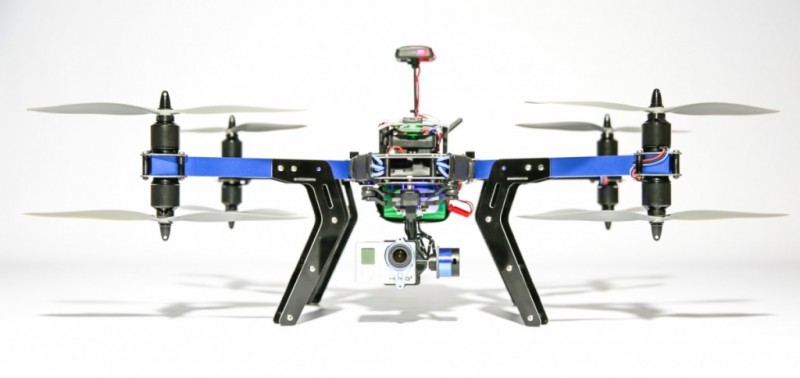 Article Name
New Modular 3D Robotics X8+ Drone Released Quietly
Description
After the heavily hyped launch of the new DJI Inspire 1 "prosumer" drone with 4K camera, here comes the 3D Robotics X8+ modular quadcopter.
Author
Other Interesting articles in "
News

"