Best 4K Drone 2019 : The Top Drones for Stunning Video & Photography

Now might just be the perfect time to buy a drone. Mostly because they might get heavily regulated in the near future but also because they now have some of the coolest capabilities known to man. Imagine owning drones with cameras that have 4K capability; something that is not only highly portable but is also extremely versatile, stylish and is affordable. With this kind of machine, you can take the most spectacular pictures or videos to send your social media handles into a jealous frenzy.
Whether you plan to use the drone commercially-you will have to get certified by the FAA for that-or you simply want one to use in your backyard for those epic selfies, you need to decide which among the many options you will choose. As is the case with anything new and this popular, there are so many options available – most of which seem to have the same features and can do the same thing. But, if life has taught us anything, it's that no two drones are created equal.
Today, we take this opportunity to review a few of our favorite 4K drones that will give you stunning video and photography.
If you have been researching the best camera drones for a while now, there is a good chance that you have come across the brand "DJI." That's because it's one of the leading brands right now when it comes to the production of high-quality camera drones that offer intelligent controls and are easy to use. DJI offers a wide variety in this particular field and will be featured on this list as the best for drone photography.
That, however, is not to say that it's the only brand offering excellent video camera drones out there. This list is a reflection of our particular preferences based on extensive testing and thorough reviews of these particular UAVs. That being said, here is our list of the top 4K camera drones for 2019: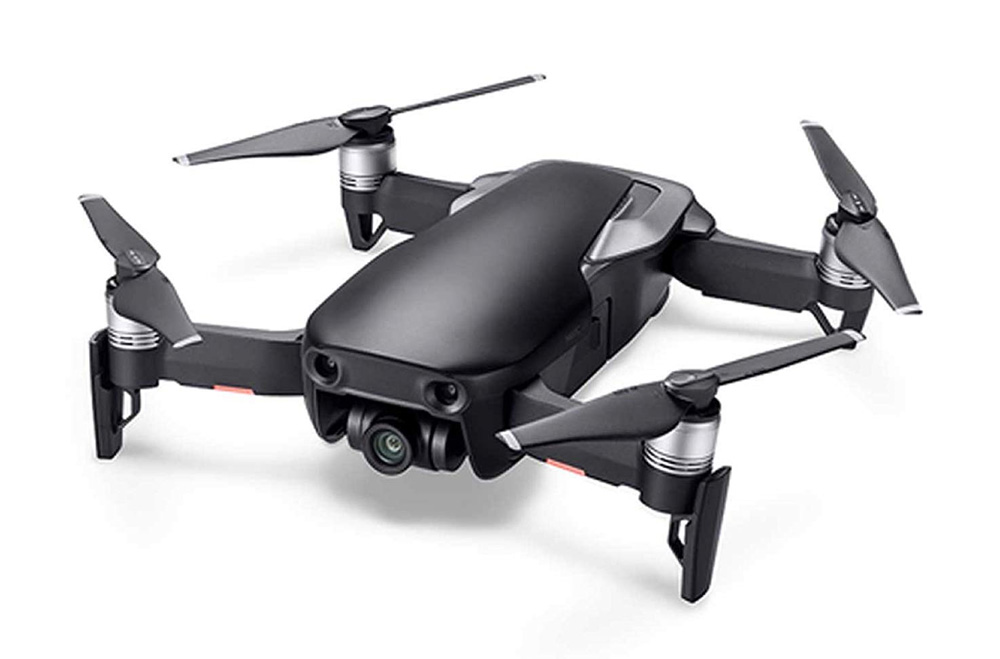 Click To Shop or Read Reviews
Imagine owning a drone that can fit into your jacket pocket. Okay, maybe your backpack but you get the idea. The DJI Mavic Air is the premier folding drone that is very easily portable and can capture impressive 4K video at an astonishing 60 frames per second.
The only major drawback with this model is that it has a 21-hour battery life, but if you have been around drones, you know that 21-minutes is the industry norm and is plenty of flight time for those looking to do a little aerial photography. Besides, you can simply buy the "Fly More Bundle" and get an additional three batteries.
This beautiful UAV is not only conveniently small, but it's fast and has a host of tricks in its tiny box. It can track your subjects (even those that move), you can make it boomerang around your subject on a pre-coordinated path, and it can even take spherical video.
The drone itself is quite affordable, but we do recommend that you consider spending just a little bit more to get the Fly More Bundle with the three extra batteries. We are confident you will not regret it. This is the best foldable drone for your money.
Pros:
It's highly portable
It offers you a 4K video at up to 100Mbps
It's amazing at obstacle avoidance
Cons:
You will get frustrated if you don't go for multiple batteries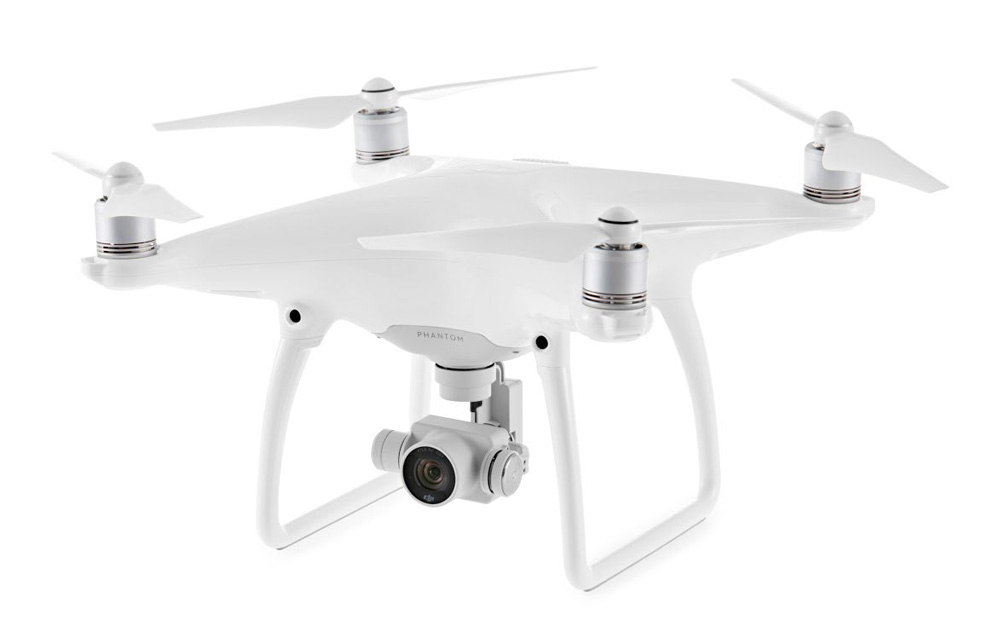 Click To Shop or Read Reviews
Yet another DJI drone makes the list. The DJI Phantom 4 isn't included on this list just because it's built by DJI; it earned its place here on its own merits. The very first thing you will notice about this drone is the fact that it's a much better, sturdier version of its predecessor the DJI Phantom 3. This beast of a camera drone also comes with updated obstacle avoidance technology that makes it a breeze to use.
It features a gimbal design that ensures you have rock-steady drone footage when shooting even when your UAV is moving at breakneck speeds while changing direction. As is the case with most DJI drones, it also comes with a wonderful dedicated remote control system that links up to an equally impressive feature-rich app.
The only problem (this seems to be the common problem with most drones) is its battery life. The DJI Phantom 4 has a battery life that can only last you a little more than 15 to 20 minutes. How long the battery lasts depends on what you are making the drone do.While it's no Inspire 1, the Phantom 4 is a wonderful 4K camera drone for its price range
Pros:
It offers you some of the most stable 4K drone footage on the market
It comes with a fisheye lens
Its remote control links to an excellent smartphone app
Cons:
You can't easily upgrade it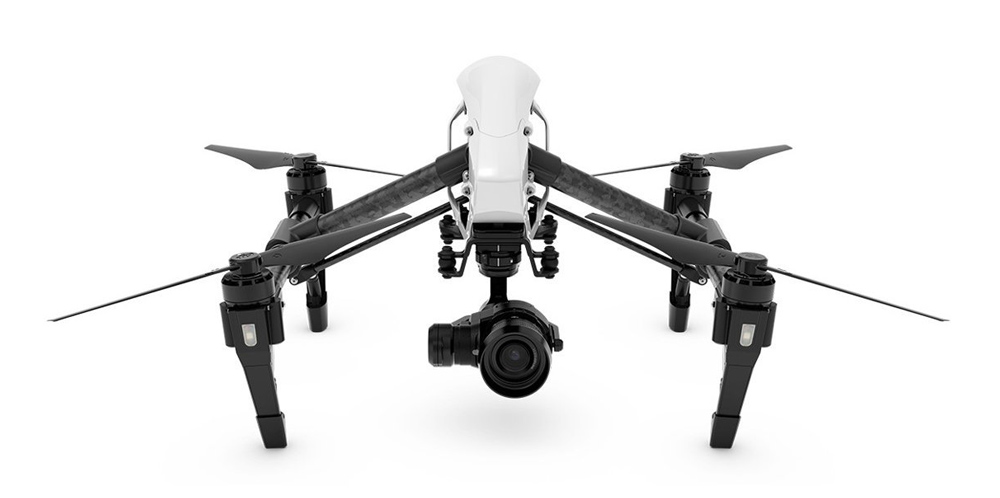 Click To Shop or Read Reviews
We are in the big leagues now! DJI Inspire 1 Pro is a professional gadget that comes with all the necessary bells and whistles including a price tag that matches all it can offer. It comes with a remote controller that has an impressive range; a 4K camera mounted on a gimbal for rock-steady footages and the kind of performance that can only be expected of something that is military grade.
The Inspire 1 is easily upgradeable so you don't have to worry about spending all that money on something that will quickly become obsolete. The reason why the Inspire 1 is considered a professional UAV for professional photographers is the fact that it offers exemplary performance in the air. It is swift, precise and easy to maneuver even in windy conditions (which is something that bothers most drones).
It's only drawbacks are the fact that it looks like something from a Terminator movie and it has a battery life of about 15 to 20 minutes.
Pros:
It has a very sturdy build
It's highly maneuverable even in windy conditions
It's easily upgradable
Cons:
It's the priciest drone on this list
We told you the list would heavily feature DJI drones. We are not biased – they just make really good drones. So, if you want to purchase one of the top drones for stunning video and photography, you will find that any of the drones we have listed and reviewed above would be perfect.