Wings, Google's Drone Delivery Service, Takes Flight In Australia

Look there! Up in the sky! It's a bird, it's a plane, it's…a burrito?
It sounds ridiculous, but for some inhabitants of Australia, this situation will soon become reality. Alphabet Inc., the multinational conglomerate that owns Google and its subsidiaries, is rolling out its own take on a drone delivery program called "Wing." The subsidiary, founded in 2014 to explore drone and aircraft delivery technology, will be delivering the products of local businesses in the Canberra suburbs of Crace, Palmerston, and Franklin starting this week.
The rollout was waiting for approval from CASA (Civil Aviation Safety Authority), the Australian aviation administration. Peter Gibson, a spokesman for CASA, told Guardian Australia that the governing body was inspecting Wing's methodology with regard to potential safety measures, stating that "All those safety issues have been assessed so there are no risks to people on the ground, property or aircraft in the sky." To satisfy CASA's concerns, and to improve their own methodology and technology, Wing has been performing trials on a smaller scale for 18 months, carrying out over 3,000 deliveries in that time.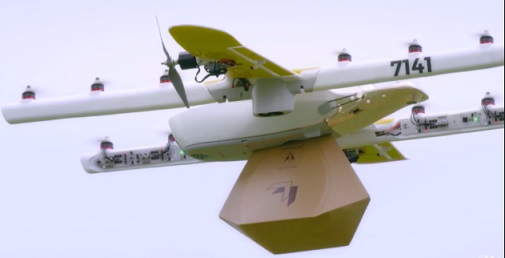 Here's how the system will work. Initially, around 100 homes in the aforementioned Canberra suburbs will have access to the service, although the company plans to expand it to homes in Harrison and Gungahlin if the initial rollout is successful. Customers in eligible homes, after receiving a safety briefing about interacting with the drones, will need to download the Wing app to their mobile devices. Once they load a customer profile and verify that Wing's services are available in their area, they become able to place orders for products offered by merchants in the Canberra area who have partnered with Wing's delivery services.
The small businesses who are currently partnered with Wing include Kickstart Expresso, Capital Chemist, Pure Gelato, Jasper + Myrtle, Bakers Delight, Guzman Y Gomez and Drummond Golf. The products Wing delivers for these companies will include food, coffee, household items, and over-the-counter pharmaceuticals.
Wing promises that all of these products will be delivered "in minutes", so that the food and beverages will still be fresh and warm by the time they arrive. But Wing's regulatory approval understandably comes with several restrictions. Wing's drones will not be allowed to fly over main roads, for example. They can only operate between the hours of 8 AM and 8 PM on Sunday and between the hours of 7 AM and 8 PM on Monday, Tuesday, Wednesday, Thursday, and Friday, with no operation at all on Saturdays. And as in the US, these commercial drones will be restricted from flying too close to people or too low to the ground.
Obviously, this is huge news for our industry. It means that Google has officially beaten Amazon to become the first major tech company to offer a commercial drone delivery service to the general public, albeit in a limited sense. Worth noting is that other, less high-profile companies, most significantly UPS, still beat Alphabet, Inc. to the punch in certain areas, and will hopefully ensure that the megacorporation doesn't hold a monopoly in the space once large-scale commercial drone delivery becomes commercially feasible.
One crucial question this rollout will test is the degree to which residents are willing to live in a place with frequent drone deliveries. Residents outside Canberra have already launched the "Bonython Against Drones" campaign in response to the 18-month trial period. Noise complaints are one of residents' biggest complaints, with one member of the campaign complaining that "When [Wing does] a delivery drop they hover over the site and it sounds like an extremely loud, squealing vacuum cleaner." In response to these complaints, CASA ordered Wing to develop quieter drones for its deliveries before the rollout. Time will tell whether those changes were enough to placate the technologically dubious.
In the meantime, as skeptical as we should all be of the intentions of large companies like Google, we at Dronethusiast think our readership will agree that this is a huge step forward for drone technology and an exciting exploration of the potential of drone delivery.