Altair Aerial AA Aqua Review | Fast & Fun RC Boat

If you've ever read Dronethusiast, you know that there are tons of reviews and information on all things drones. However, I was recently asked to review a new RC boat that just hit the market. While drones are normally my thing, I was excited to try this new gadget out. I have a need for speed and heard that RC boats deliver some pretty high speeds on the water.
Ready to purchase? You can find more information on the Altair Aerial website by clicking here!
Today I will be talking about the AA Aqua, a new RC boat from Altair Aerial. I have tested and reviewed many Altair products before and now that they are venturing into RC boats, I am excited to see what they're all about and see what it's like driving one. I'm hoping it's as exciting as it looks and is easy it to drive. Keep reading to see my in depth review and learn if the AA Aqua could be right for you.
Unboxing the AA Aqua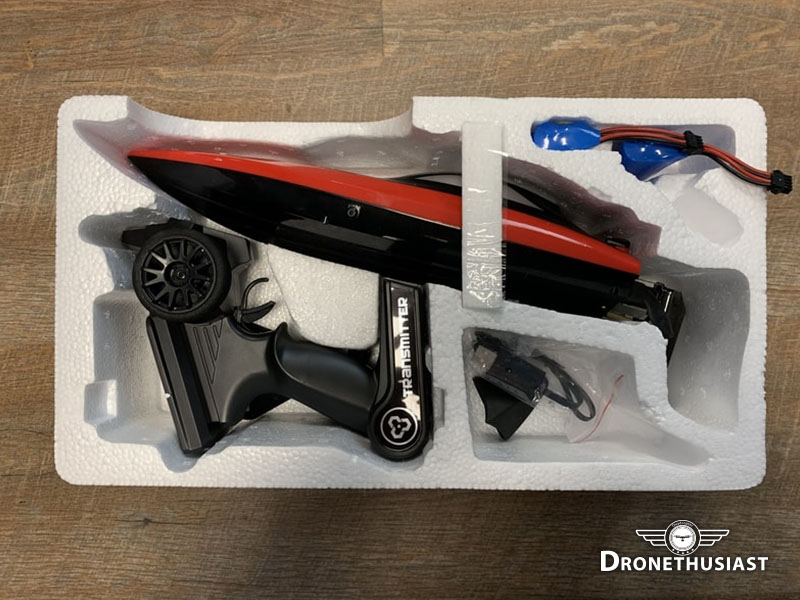 Right away when I opened the AA Aqua, I saw this standout look with a red and black design. The boat also came assembled right out of the box, which meant that I wouldn't need to spend a ton of time preparing to drive it. Once my batteries were charged and installed, I was ready to go.
Let me break down everything that comes in the box.
The AA Aqua Includes:
– 1 x Fully Assembled Boat
– 2 x Li-ion batteries
– 1 x Charging Cable
– 1 x User Manual
– 1 x Boat Stand
– 1 x Rubber Cap
– 1 x 2.4GHz Radio Controller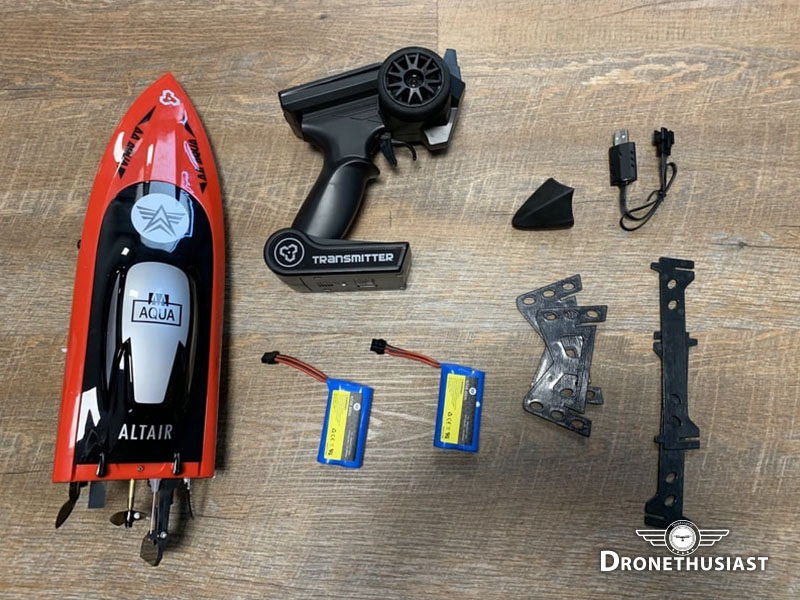 I will say, be careful when removing the boat from the styrofoam as the rudder is connected and you don't want to damage anything.
When I opened the box I right away saw that the boat comes with two batteries. This is something I always like to see when unboxing drones and was glad that Altair decided to provide two batteries, too. This means less charging time, and more driving. Who doesn't love that?
After taking everything out of the box, I had to hunt down 4 AA batteries to use in the controller. These are the only batteries that are not included in the box, but I always seem to have AA batteries lying around so it wasn't that big of a deal. I really loved the short assembly time because I got to driving the boat faster and get the fun started.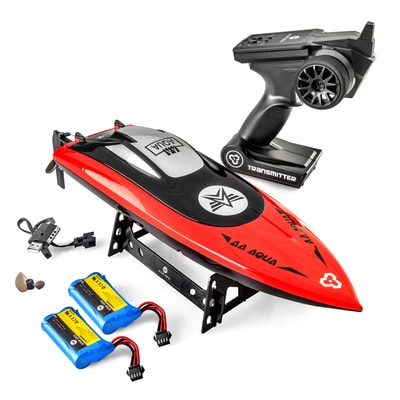 Click To Shop or Read Reviews
Check out this video from Altair:

Battery Installation
Installing the batteries into the controller was pretty standard. I just slid off the cap on the bottom of the controller and inserted the 4 AA batteries according to the images in the battery housing.
I do want to explain how to install the battery to the boat. It's pretty simple as well and you start by unclipping two clips in the back of the boat. This will remove the top black piece on your boat. There will then be another piece with four clips that you will have to unlock, then that piece can be removed as well. This will uncover an empty space in the boat where you can insert your battery. Be sure to replace the two pieces correctly so that no water can reach the battery. This is so the boat stays water tight and no damage is done to the battery. Another thing that I want to let you readers know is that you should always remove the battery after each session. If it's left in the battery can become unusable and will not charge again.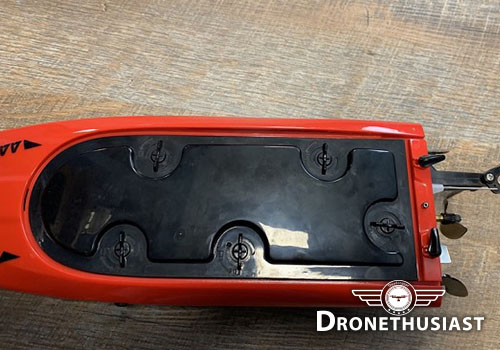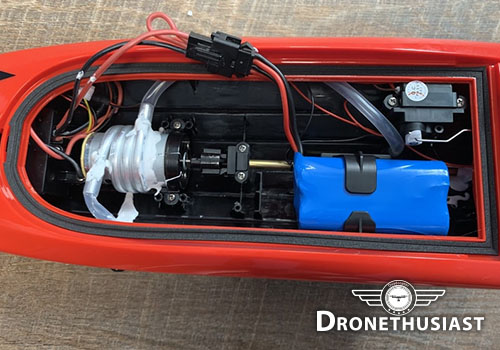 Let's look at the transmitter more closely, too. My first impression is that is seems like a sturdy controller that's easy to use. The throttle is in a comfortable place and can be pulled or pushed to move the boat forwards and backwards. The steering control is on the side of the transmitter, which is a little different for me as I'm used to to drone controllers, but it can be turned forwards and backwards easily and controls the boat well.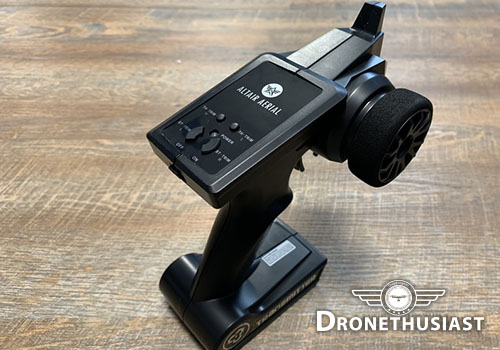 There also appears to be four trim functions on top of the remote. These are a little new to me but it looks like there are trim buttons for left, right, forward, and back. I don't exactly know what they do but will be looking into the instructions to give you a better explanation of how they work.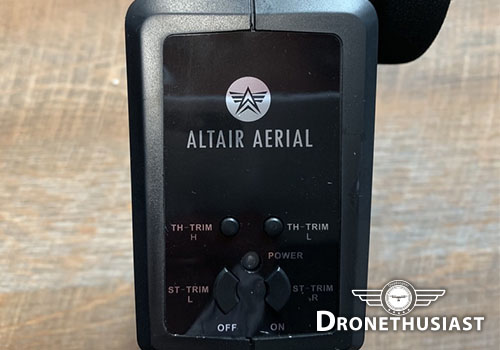 Before I took the AA Aqua to the water, I carefully read the user manual. I always encourage our readers to read any user manual thoroughly to learn more about every piece of the product and how to use it. Altair Aerial's manuals are very easy to read to help you get on the water much faster, and they have great customer service if you run into any problems. Altair Aerial also provides its customers with how-to videos on their website. I watched a few of them and found them extremely helpful, especially since it was my first time driving an RC boat.
Check out Altair's how-to videos here: https://altairaerial.com/pages/altair-aqua-boat-videos-instructions
Driving the AA Aqua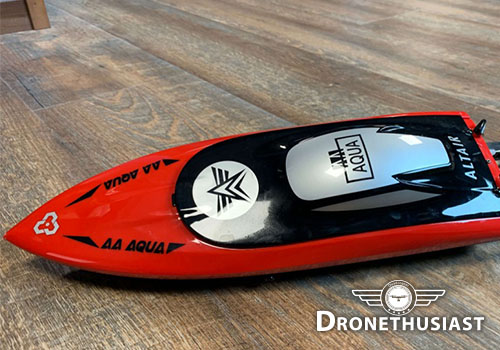 I couldn't wait to get this boat into the water to see what it was like to drive!
Listed below are the specs:
– Anti-Capsize Hull System
– Can be controlled up to 120 meters
– Reaches speeds up to 25 km/hr
– 6-8 minutes of driving time
– Remote Trim Functions
Range and Speed
Range and speed are two very important factors that I would recommend you take into consideration when purchasing an RC boat, and the AA Aqua has some impressive numbers when it comes to these features.
I took the AA Aqua to a small lake and when I first turned it on in the water, I was able to quickly get the hang of the controls, which I liked. The boat is very responsive to the controller and in no time I was able to handle figure 8's out on the lake.
The tech specs say that the boat can travel out to a range of 120 meters, which was a little further than I personally felt comfortable with. I definitely don't think I made it that far before returning the boat to shore.
Secondly, the speed for the AA Aqua is listed at about 15 mph. I was impressed with this speed especially with how far the boat can travel. I think that there are other boats on the market that could go faster, but since I am fairly new to RC boating I enjoyed the speed and distance of the AA Aqua. If you are a competitive racer, I would say that you may consider trying out a different boat, but the Aqua is super fun for a beginner.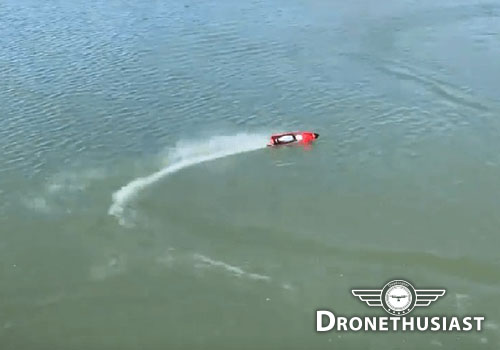 Anti-Capsize Hull System
Altair Aerial's AA Aqua comes with a great anti-capsize feature that I really appreciated and I think any buyer will too.
The anti-capsize hull system helps the driver return the boat to its upright position in case it overturns in rough waters. Now, when a company claims its product has a feature such as this, it's important that it actually works. You'd never want to buy an RC boat that doesn't have all the features it claims, right?
So with that, I had to test out this anti-capsize system to see if it really helps you turn your boat upright. It was pretty simple to get the hang of. All I had to do is turn the wheel back and forth to begin rocking the boat, then with a good turn one way on the wheel your boat will be back upright and ready to race some more. I have to be honest, I did have some trouble nudging the wheel just right to get it turned back over, but with a little practice I was able to master it within minutes.
This made driving the boat way easier for me, and I wasn't ever really worried about losing control of the boat.
In fact, just a few minutes after my "test" capsize, I spun out and flipped the aqua again. This time I had no problem flipping the boat back over again and continuing on. That sure saved me from having to swim out from shore!
Trim Functions
Another feature that I did want to talk about are the trim functions on the remote. This is because while they are very useful and will help you control your boat, they do take some explaining if you're new to RC products.
There are four trim functions on the AA Aqua's controller. The top two control the forward and backward movements and the bottom two control the left and right. I read that it's best to use these functions if your boat is idling or not turning as well as it should be. By pressing the buttons it will help move the boat in the desired direction.
I realized pretty quickly that that using these functions took some getting used to and a good deal of hand-eye coordination. It was pretty easy with some practice, but I did have to watch the how-to video to understand the forward and back trims better. I also learned that it helps get the boat up and out of the water for more speed. I would say that if you're a beginner, you will want to watch the how-to videos closely and ease your way into using the trim functions.
Final Thoughts – Should You Buy the AA Aqua?
As I've said, I am thrilled that Altair Aerial is now selling RC boats, and for an affordable price, too. You can buy the AA Aqua for $79.80. The fact that you can get such a high-quality boat for under $100 is a great deal.
The AA Aqua is slightly larger than Altair's other boat the AA Wave, so if you're looking for something a little bigger you will really enjoy the AA Aqua. These boats also work great together for racing or just some relaxed fun on the water. In my opinion, the AA Aqua is the ideal boat for summer.
It's a durable model that's easy to control. For beginners, it may take some practice getting used to the anti-capsize system and the trim functions, but ultimately these are really useful features that only help you control your boat. Like I said, a little practice and you should be able to perfect using these functions.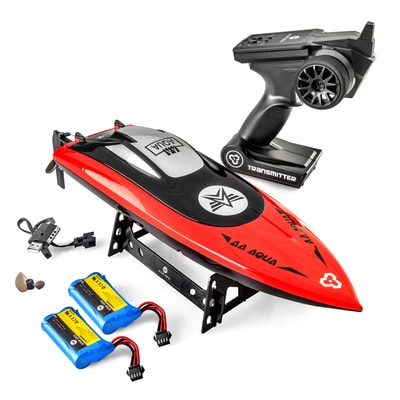 Click To Shop or Read Reviews
Overall, I think this boat would be awesome for older teenage children or beginner adults who are interested in the hobby or racing. You will not get bored with this boat and you will be able to make some exciting memories with it.
I've always enjoyed reviewing products from Altair Aerial and their RC boats have not disappointed. If you're wanting to save money while still having a great time outdoors, I don't think you will regret trying out the AA Aqua
Check out the Altair AA Aqua Website or Facebook page.
Other Interesting articles in "
RC Boats

"