Top 5 Best RC Sailboats for Sale

Updated:
RC Sailboats are an awesome hobby to pick up and make for hours of fun sailing. RC sailboats glide through the water, typically from electricity as a fuel source, and have pretty cool features and specs based on each model.
We've found top 5 best RC boats so you can find the sailboat that fits you best.
The Best RC Sailboats
We've found the best RC Sailboats for sale on Amazon and have created a review with the top 5 RC Sailboats and RC model Sailboats to help you find the best one for you.
Rage RC B1300 Eclipse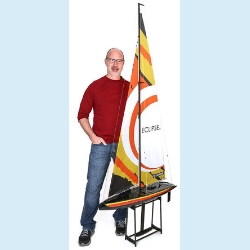 Features and Specs

High-quality ABS molding

Reinforced, rip-stop nylon sails

Includes 4 AA batteries for transmitter

Dimensions 11 x 7.5 x 46.4 inches

Weighs approximately 11 lbs

Pros and Cons

Minimal assembly is required and batteries are included so you don't have to wait to get sailing

Large model stands out amongst other boats on the water

The size may make it difficult to travel and transport


Rage RC is a notable manufacturer of all things RC. Their B1300 Eclipse is a large RC sailboat that's a show stopper on the waters with its size and bright colors. This remote control sailboat is great for intermediate sailors looking to impress.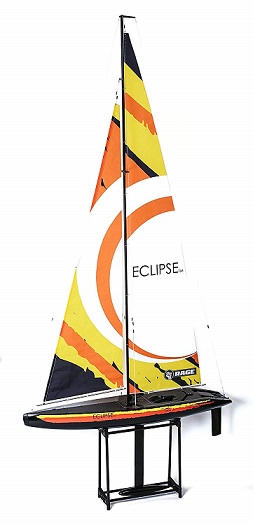 Click To Shop or Read Reviews
POCO DIVO RG65 Class Competition Yacht
Read reviews and show for the POCO DIVO RG65 Class Competition Yacht Here
Features and Specs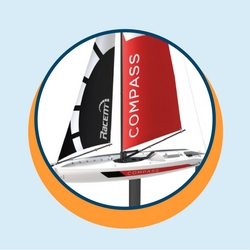 Wind power, radio controlled sails
650mm or 900mm sails
17g servo
3kg winch servo
Waterproof, durable ABS molding
Takes 8 AA batteries
Dimensions 25.6″L x 5.3″W x 53.7″H
Weighs approximately 10 lbs
Pros and Cons
The size makes the sailboat easy to transport and great for pools, ponds, rivers, and lakes
The durable and waterproof molding keeps electronic componenents safe
There is some assembly required and the batteries are not included

Poco DIVO is a well-known manufacturer of remote control hobby toys and their RG65 Class Competition Yach is no exception. This is a high-quality remote controlled yacht that is perfect for intermediate sailors to take to the waters.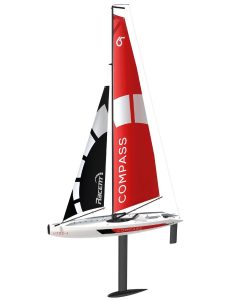 Click To Shop or Read Reviews
Golden Bright Full Function Boat
Read reviews and show for the Golden Bright Full Function Boat Here
Features and Specs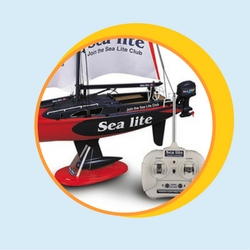 Motor is included for easy use

Sails are individually controlled

Takes 1 9 Volt battery and 4 AA batteries

Dimensions 20.3 x 4.7 x 33.7 inches

Weighs approximately 4 lbs

Pros and Cons

The motor makes it great for beginners learning to sail

The Golden Bright is a small RC sailboat, making it easy to travel with

Assembly is required and the batteries are not included



Golden Bright manufactures great RC hobby toys. Their Full Function Boat is a small RC sailboat and so simple. It's great for beginner sailors just learning, but intermediate sailors will love perfecting their skills with this boat too. Because of its size it is a budget-friendly option for remote control sailboats, but still with top-notch quality.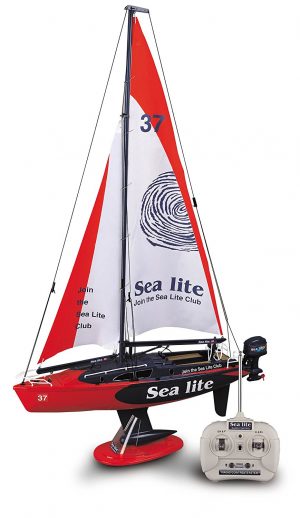 Click To Shop or Read Reviews
Kyosho Seawind
Features and Specs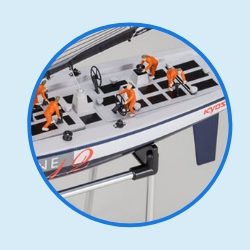 Aluminum mast and boom
Detachable parts for easy transportation
Dimensions 40 x 9 x 73 inches
Weighs approximately 13.5 lbs
Pros and Cons
Easily detachable parts make transporting this RC sailboat a breeze
High-strength aluminum mast makes a durable boat
Intricate assembly required with approximately 1 hour of rigging and sail trimming
Kyosho creates many RC hobby toys that are high in quality and make a statement in the water. The Kyosho Seawind is an expensive and large RC sailboat. If you're looking to improve and perfect your sailing skills the Kyosho Seawind is great for you.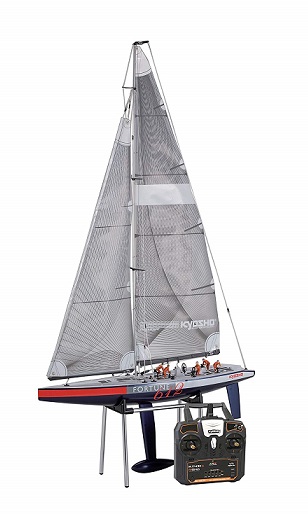 Click To Shop or Read Reviews
DragonForce 65 V6 Racing Sailboat
Read reviews and show for the DragonForce 65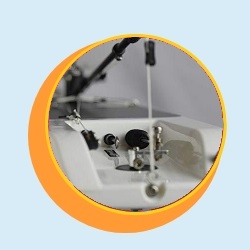 Features and Specs
Micron Mylar "A" sails
Upgraded digital rudder servo
Extremely durable hull
Requires 8 AA batteries
Dimensions 4.6 x 25.6 x 52.7 inches
Weighs approximately 6 lbs
Pros and Cons
Fast and powerful
Designed for actual racing
The rigging process can take a while
This smaller RC sailboat is great for beginner sailors. It comes partially pre-rigged and is ready to race with only minimal assembly. It's a fast, user-friendly RC sailboat that you're sure to love.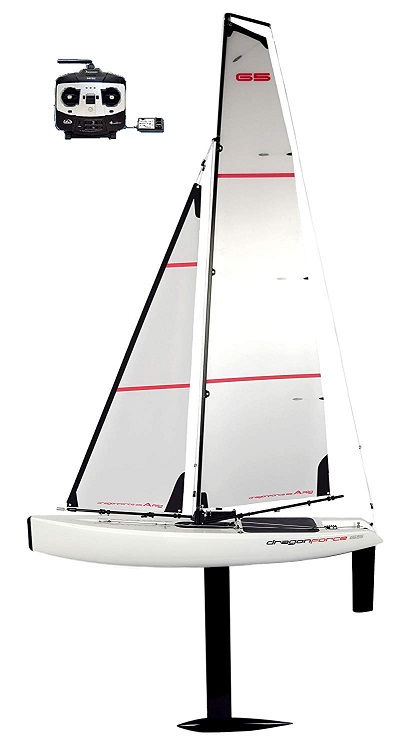 Click To Shop or Read Reviews
The Best RC Sailboats
Now that we've found all of the best RC Sailboat – top 5 RC Sailboat for sale, which one is your favorite? We've found a rig that is perfect for all different types of skill levels and preferences, so you've got the literal pick of the litter.
FAQs About RC Sailboats
If you do not see your question, or an answer to it, listed below, get in touch with us and we'll happily give you one!
How do RC Sailboats work?
RC Sailboats work through radio control, which is a given considering the "RC" in the name, and a bit of skill. You need to steer, draw the sail, etc. Interestingly enough, it's a lot like sailing a real sailboat, but you're using a controller to do it.
This is where the skill part comes in. Drawing the sails, for example, requires timing and precision to ensure that you're doing it properly. If you don't, you face it sinking, should the model be a very extensive one, or not sailing properly at all.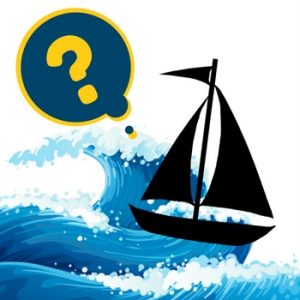 Where can I race a RC Sailboat?
You can race a RC Sailboat virtually anywhere. Although, racing in the ocean may not be the best idea if you're very invested, both emotionally and financially, in your boat.
This is where lines come in. A lot of users will have a line system to ensure that if there is a crash and their boat sinks, or whatever the case may be, they can still retrieve their vessel without actually having to go into the water.
Are there are RC Sailboats that use wind?
Yes! Some RC Sailboats do not use electricity or a motor as a source to run. Some only work with windy weather, but still require a controller for steering, drawing the sails, etc.
What happens when the wind stops?
This is another instance where a tow line comes in handy. If the wind stops you have two options – wait for it to come back, or use your tow line to reel it back in. Some users have small tugboats that are able to go out and retrieve a RC Sailboat that has a downed sail, has stalled, etc.
What if it tips?
If your RC Sailboats tips, it's obviously not a very good one. The good quality ones have something at the bottom to ensure this doesn't happen unless it's hit by another one, has a hole in the side, etc.
It may tip into the water from the wind or have the bow go under water, but it should not tip on its side completely in any instance other than one of the reasons previously mentioned.
If it does tip, reel it in using your tow line or go into the water and get it.
Further Reading & Related Sites
Best RC Boats for Kids
Electric RC Boats
Boats for pools
Remote Control Sailboats For Sale
We hope this article has helped you find the best RC sailboats for sale in 2021. If you have a great sailboat we missed, or any questions about this topic we didn't address, be sure to let us hear about it in the comments!
Other Interesting articles in "
RC Boats

"