Drones Dazzle Around the World

While there's a lot of talk of getting work done with drones and their commercial uses, sometimes it's nice just to relax and have some fun with them. In fact, many people have been taking that to heart, and have been putting on dazzling light shows and making art with drones. This complex synchronization of drones really looks wonderful, and the final result is well worth the effort, and is certainly something you're not going to see everyday.
A good example of this was at the Nanchang Flight Convention. One of the shows they put together was a dazzling display of 800 drones flying in-sync. They started as a propellor airplane, then morphed to giant airplane, changed into a helicopter before finishing the show as a rocket ship. The drones were illuminated with lights, so the effect was awesome. Let's also not overlook how much work must have gone in to coordinating all those drones. The work to put together the show is enoumous, and ever more work goes into the software that allows precise control of the drones.
Another great example comes from photographer Rueben Wu, who uses drones to draw beautiful shapes. He does this by equipping drones with LED lights, then using long exposure times to capture what appears to be a cohesive shape. With this, he's able to "draw" with drones, and get some unique images. This is a very unique technique, and shows off his talent as both an artist and a pilot.
His latest example comes from Bolivia's Salar de Uyuni salt flats. The flats are a nearly 4,000 square mile of nearly featureless white landscape; the perfect spot for Wu to work his magic. The backdrop really does provide some dazzling imagery,and highlights the unique effect that Wu is able to create with drones. What's more, Wu has done this all over the world, and has a large sampling of similar work. It takes a lot of artistic talent, and some fancy drone work, to make this all possible. We highly recommend checking out some of his work.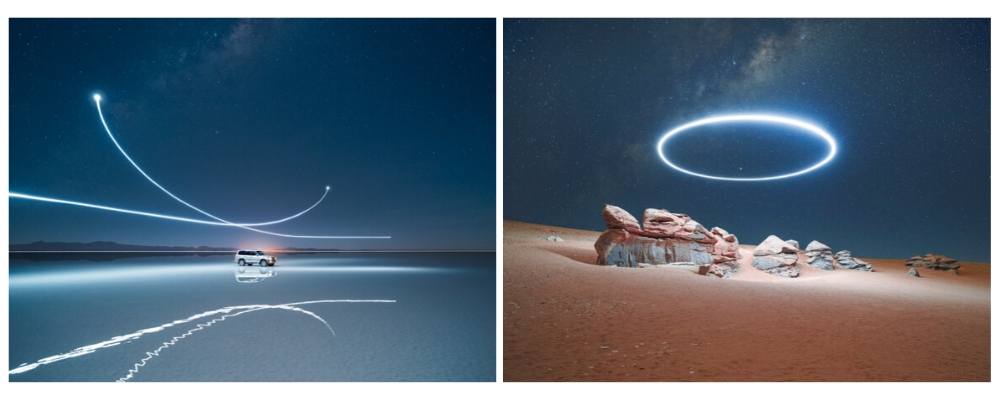 Another great example takes place at the Air Force Academy. Recently, with a partnership with intel, they put on a dazzling display of over 500 choreographed drones. The drone circled over the landmarks at the academy at over 550ft in the air, and put on a light show.
Intel is no stranger to drone performances having set world records for most drones flown simultaneously in the past. This is just another example of their ingenuity and creativity. The event was open to the public, and people came from all around the surrounding area to view the spectacle.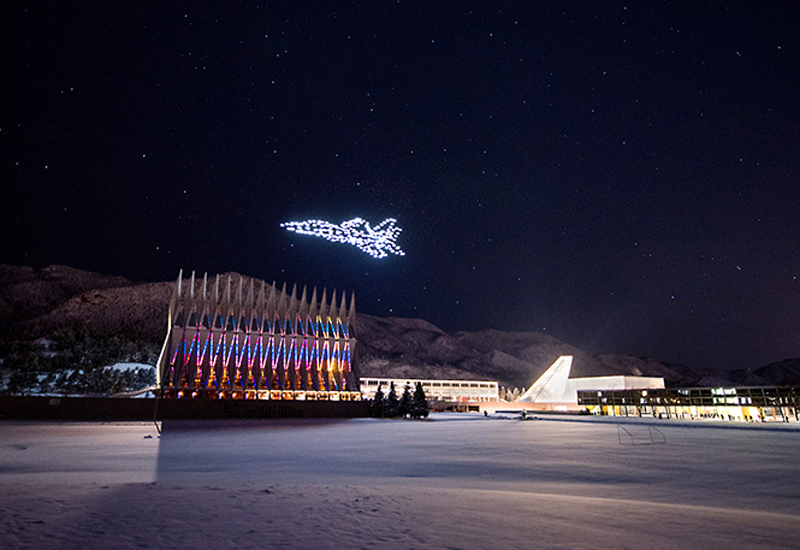 These are just a couple examples of using drones for light shows, there's tons more out there. People love to get creative with their drones, and it's an awesome site to see. It really is incredible what some people are able to come up with and do. It takes a lot of skills to put together these types of projects.
With all the talk of putting drones to work in delivery and monitoring, it's important to slow down sometimes and appreciate the little things. People going out and make art and doing light shows is just plain fun, and we hope that the creativity of people keeps up. We look forward to seeing all the crazy creations people come up with. We're sure we haven't seen the end here, everytime you think you've seen it all someone comes up with something completely unique. When it comes to drone art and lighting, we can't wait to see what people come up with next.