Awesome Drone Footage Shows Incredible Frozen Landscapes in These Towns
Over the past couple of weeks, the U.S. and other countries have been struck by incredibly low temperatures and an arctic blast that let many of the states frozen. Though there are a lot of places that are accustomed to this type of weather, many of the southern states that may only get one or two freezing days per year had the opportunity to experience snow. The result was beautiful landscapes that were frozen and white with snow.
Taking pictures of the snowy scenery is always something that people will do to keep memories of the snow. Several people decided to take their pictures to a new level by using a drone to take a bird's-eye view with video. These incredible videos show the ice and snow in ways that have never been documented before.
One of the incredible videos that are on the Web were taken by a man named Andre Mellet. This beautiful drone footage is of West Wycombe and shows the astounding snowy scenery. The town and High Wycombe are completely covered in a blanket of snow. It also features footage of the local landmarks such as St. Lawrence's Church, Dashwood Mausoleum, and the West Wycombe Estate Grounds, which all look beautiful and serene with the fresh glistening snow.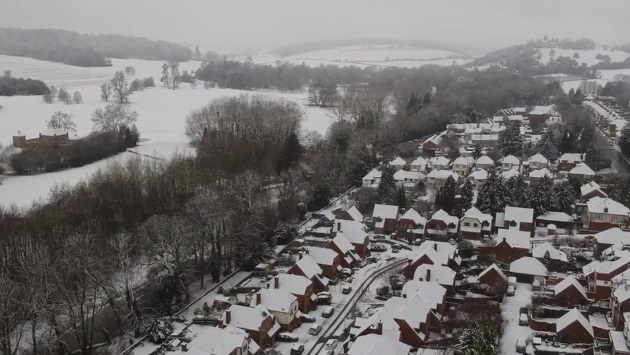 Another city that doesn't get much of the white stuff is the city of Atlanta Georgia. On Friday, they too saw plenty of snow as it quickly covered the ground, and were even expecting a second wave of it to hit on Saturday. Ben Kaiser caught this beautiful weather via drone footage. In his video, you're able to see the large soft flakes of snow falling onto what appears to already be 1 to 2 inches of snow that is already on the ground. Local meteorologists were calling for 6 to 10 inches of additional snow throughout Georgia throughout the late hours of Friday.
In a third drone video showcasing the snowy landscape, a videographer named Callum Chaplin took drone footage of Cheltenham. Chaplum, a licensed drone pilot with accreditation from the Civil Aviation Authority, has been trained about air space and privacy laws, and has a goal of changing the perception people has of drones. He wants to show how drones, when used properly, can be an incredible tool for many things, and can also get excellent footage that would have never been seen without them. In his video, you're able to see how desolate the outside is since everyone is staying indoors while the beautiful snow covers the ground. In his video, he also notes how the only living thing that was roaming outside was a single white dog.
A fourth drone video that has been published to the Internet was taken in the U.K. by a drone pilot named Rob Shoesmith, who actually runs Shoesmith Drones, which is based in Whitley. Not only are they able to capture incredibly snowy weather of Charterhouse Fields in Coventry, but the company is also available for weddings, sporting events, estate agents, and other various tasks for individuals. In the the current video, you're able to view the serene city with snow-covered buildings and few vehicles making their way on the icy roads.
Through the use of drones, we're able to see landscape as we have never seen it before. With such an incredible aerial view, drones provide angles of monuments and landmarks as we have never seen them before. As the use of drones continue to increase, it is certain that we will see more of their astounding videos.