It is amazing to see the images that are captured by drones. If it weren't for these incredible machines, it would be nearly impossible to capture some of the photos that they have been able to. When you think about it, drones are able to take pictures and videos from a height that is far less than that of an airplane, but more than what could be taken by a camera attached to some sort of stand. They are able to seamlessly capture a bird's eye view of the images that they are after.
In 2017, we began to see more and more drone pictures and videos as they hit the Internet. With constant technological advances, the pictures became better and easier for drone pilots and hobbyists to capture. Though there were hundreds of thousands of great photos that were taken by drone and made available to the public, we've determined the list of the top twenty. These are not listed in any specific order, but are noted as the best twenty drone pictures of 2017.
Number 1: This one is captioned as "Water Lily." It shows a woman in a pond in the Mekong Delta of Vietnam that is harvesting water lilies. The picture is stunning because it is sharp, and shows water lilies floating with a small canoe, the woman harvesting them, and bright lilac flowers.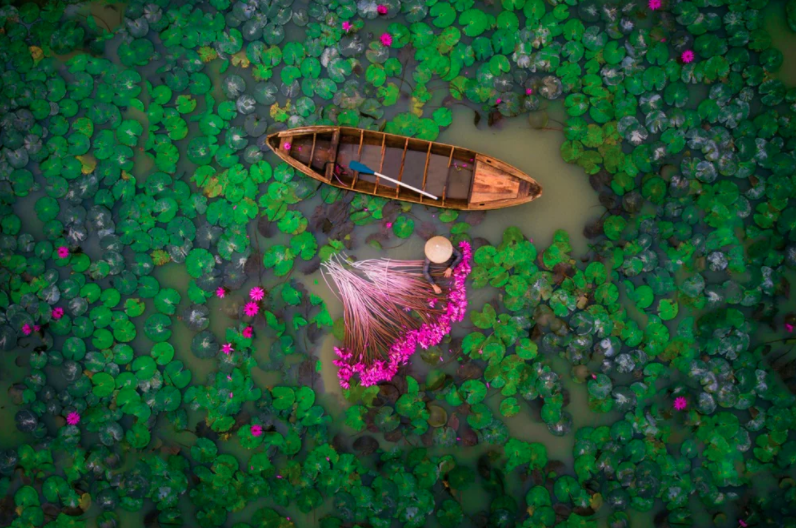 Number 2: The caption for this one is "Concrete Jungle." This is a photo taken above the tall buildings of Dubai. You can tell the height of this photo is incredibly high since it is able to capture the tops of these high skyscrapers in the middle of the city. You can also view the sidewalks and smaller buildings that are below.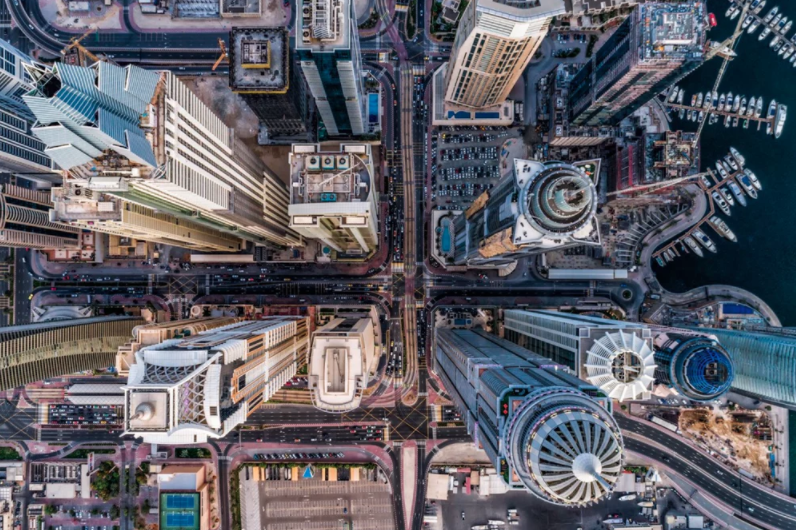 Number 3: This is captioned as "Friendship." This incredible photo shows two ladies sitting at the edge of the ocean on the island of Maupiti in French Polynesia. The drone that is responsible for this image is up high enough to also capture two large stingrays that are directly in front of the ladies in the shallow water.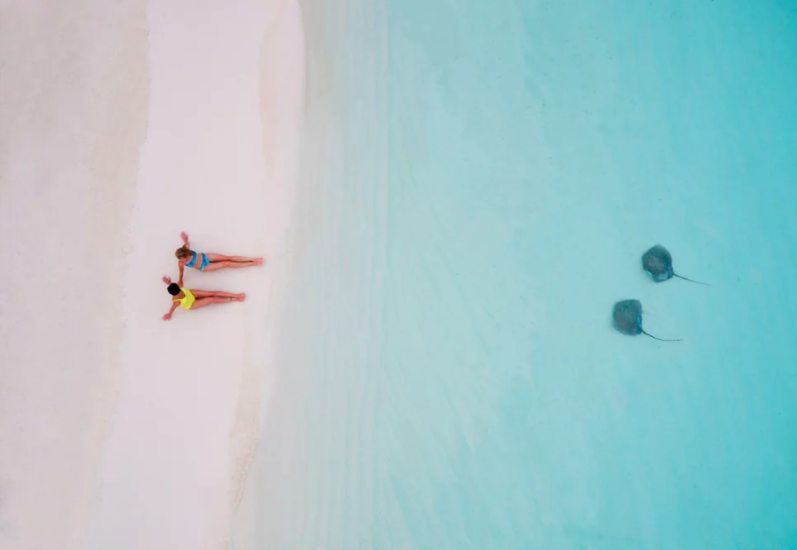 Number 4: This one has a caption of "Dawn on Mercury Tower." This stunning photo features men that are doing window cleaning on one of the large towers in Moscow. They refer to it as Mercury Tower because of the glowing reddish color.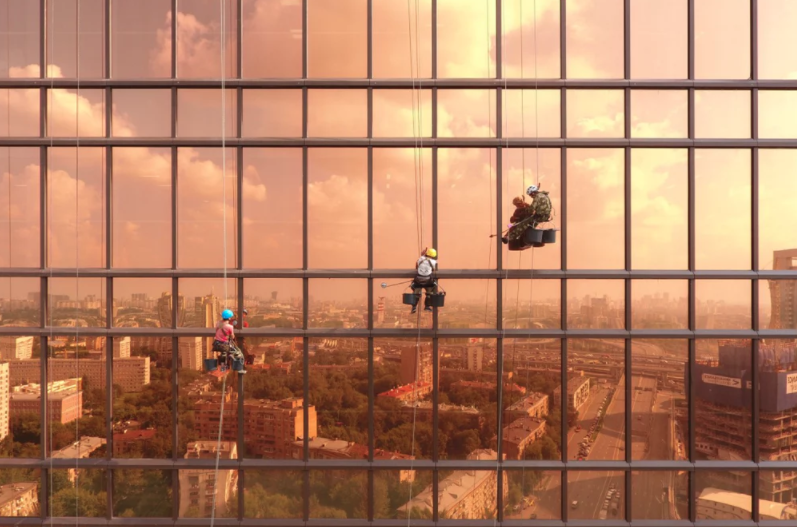 Number 5: The caption for this picture is "Stairway to Heaven." This is an incredible image showing the staircase that leads to a beautiful beach in Algarve, Portugal. It shows a desolate beach that is able to be reached by travelling down multiple flights of steps that are carved in the side of a cliff.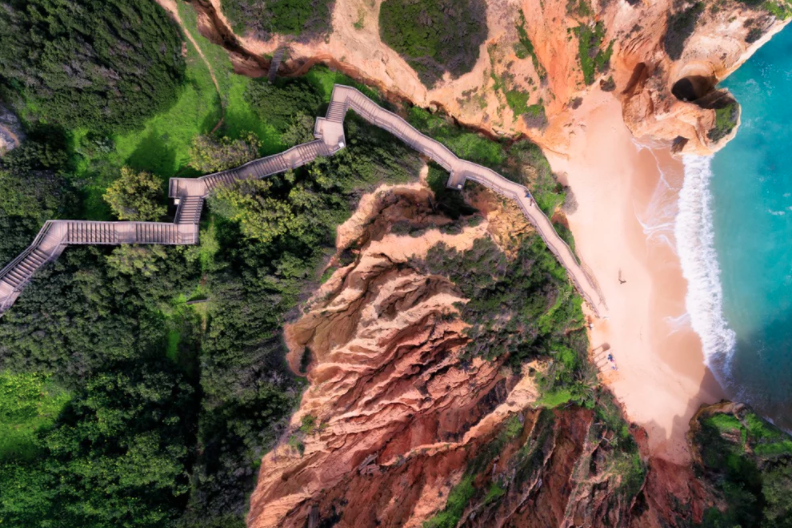 Number 6: This one is captured as "The Majestic Beast Nanuk." In this image, you're able to see a large polar bear as it easily crosses one large piece of ice onto another over the sea. The bear is stretched across the water as it glides over to the other piece of ice.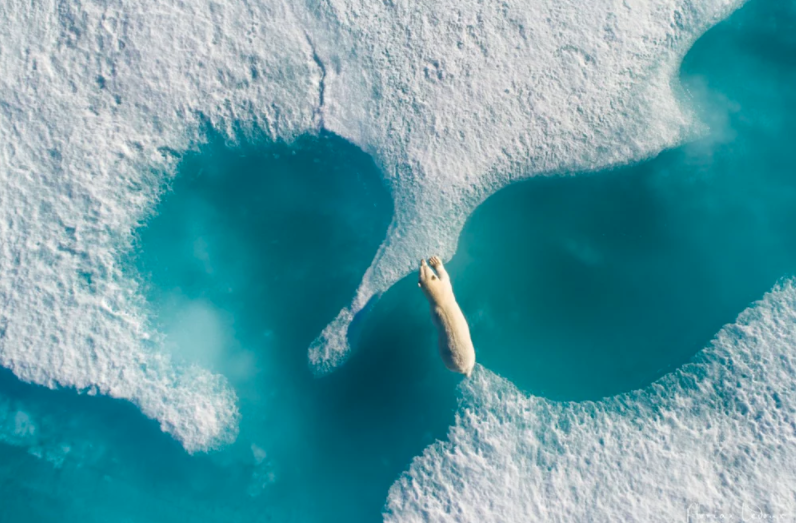 Number 7: This photo is captioned as "Rising Waters." It is a stunning photo of a lonely cottage located between New York and Canada when the water has begun to rise and fall colors are also beginning to show. The small house has water almost to the entryway in this incredible picture.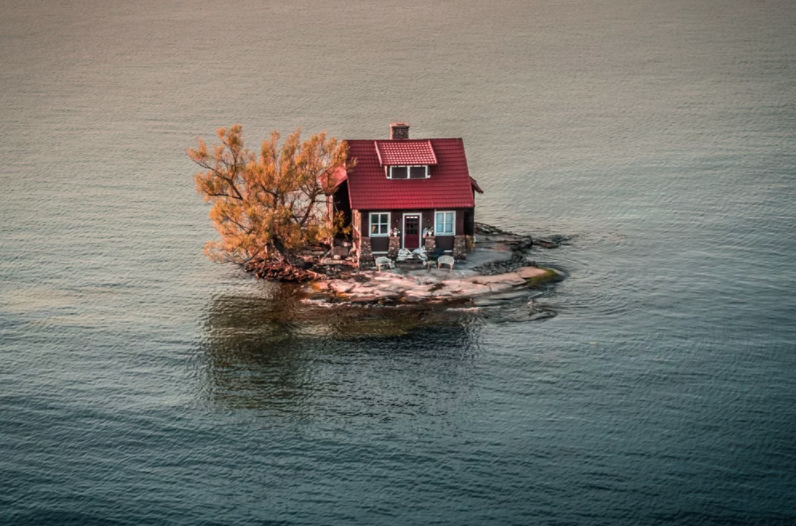 Number 8: The caption for this one is "Portuguese Surfer." This image is of surfer in the icy waters of Portuguese in February. The stunning photo captures some very cold looking waves and a surfer as he paddles to the top of them.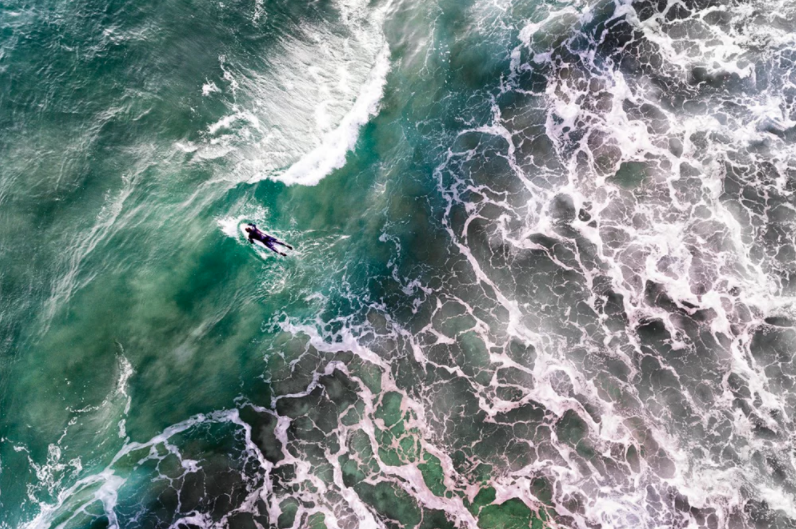 Number 9: This really neat picture has a caption of "Quad Bikes in the Dunes." It shows four quads and their riders along with their shadows as they cross the massive desert dunes at sunset in the Namibian desert. The birds eye view of the photograph makes it look as though the quads are gliding across brown silk.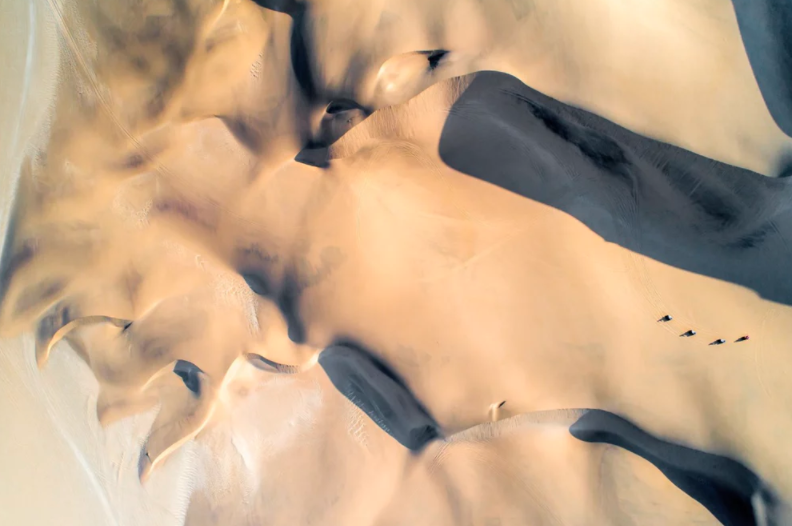 Number 10: The caption for this stunning image is "Swimming with Whales." In this photograph, you're able to see a large blue whale swimming in the ocean with one lone diver above the water and not too far away from it. In the picture, you're also able to see the different depths of the water from above due to the topography of the ocean floor below.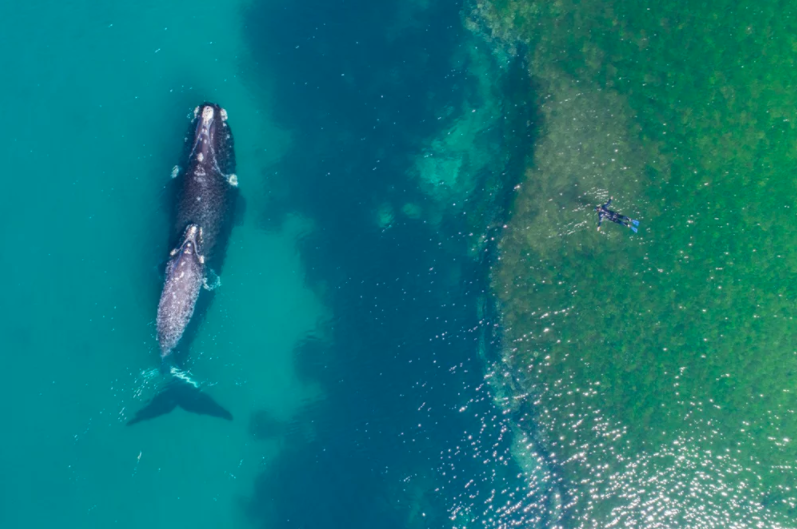 Number 11: This beautiful photo has the caption "Exploring the Kefalonia Melissani Cave." This image is of one lone boat that is within the center of water within the Kefalonia Melissani Cave in Greece. You can see the mountain and greenery around one small boat that sits in what appears to be a small body of water that is located within the cave.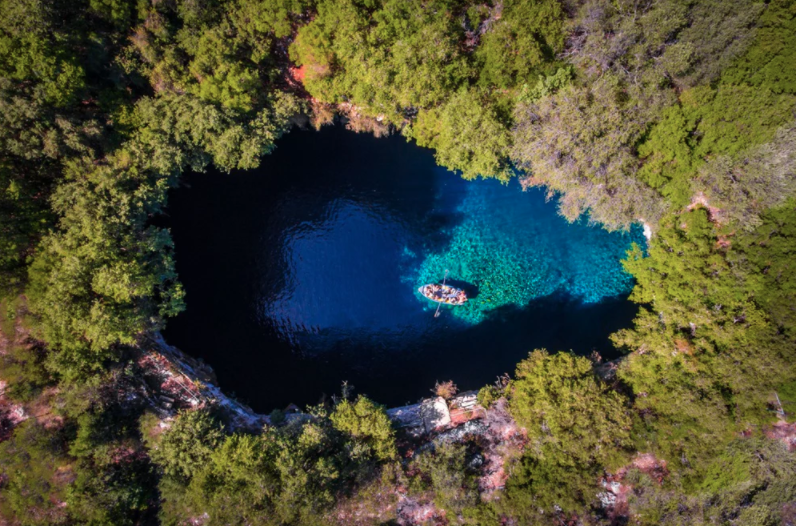 Number 12: This stunning photo that looks a lot like a canvas painting is simply captioned "Marigolds." It shows a group of gardeners picking marigolds in the morning on a farm in Sukhothai, Thailand. The incredible birds eye view makes this photo look like something you would see hanging in a beautiful home.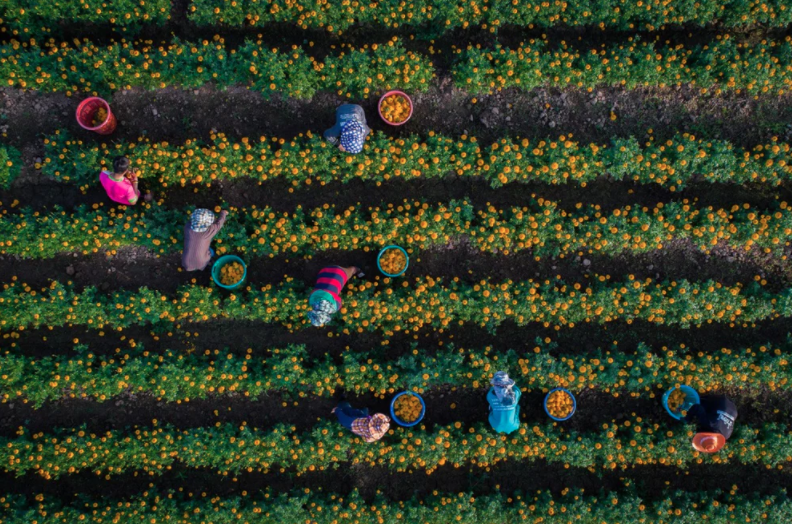 Number 13: The image in this photo is captioned "Sveti Stefan Hotel." This cool picture shows an incredibly high birds eye view of the Sveti Stefan Hotel in Montenegro. It shows the angles that the brick-colored buildings are sitting at and gives an idea of how large the hotel is that can only be reached via a bridge across water.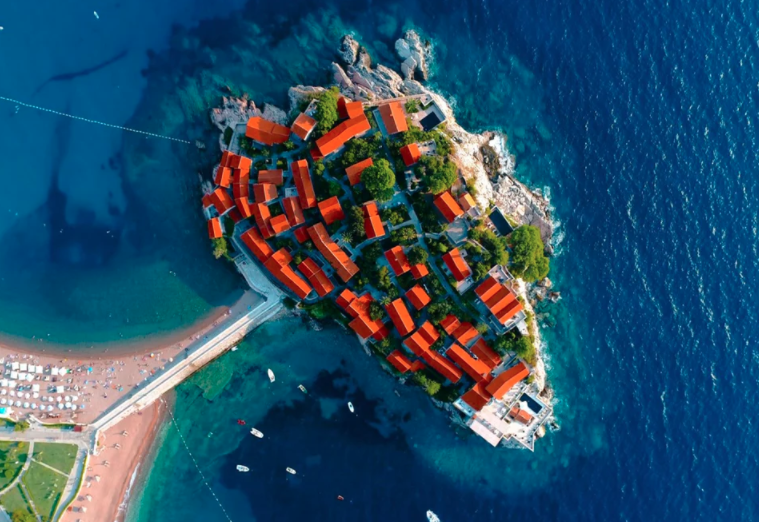 Number 14: This nostalgic-looking image has the caption of "Cruising Route 66." In this picture, you can see a couple in a class blue Ford Mustang convertible as they are cruising the infamous Route 66. In the photo, you can see the woman passengers arms up as they are riding carefree.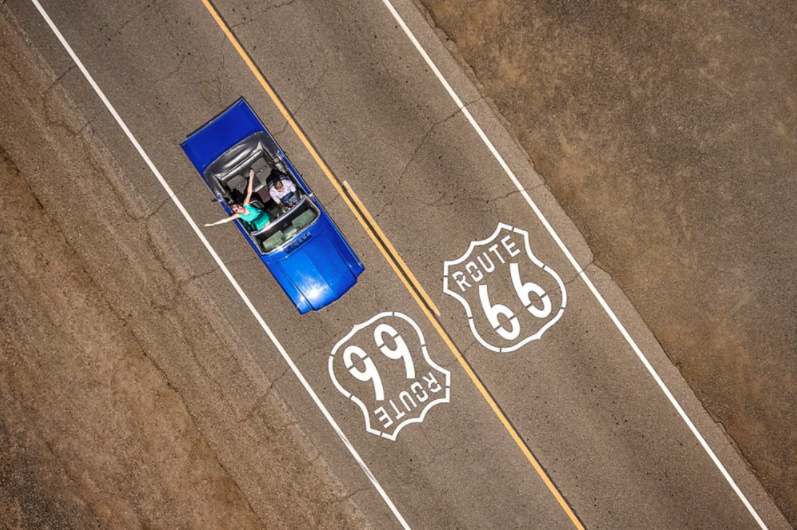 Number 15: This neat image is captioned as "Tropical Island Beach, Dominican Republic." In this image, you're able to see the beaches of Punta Cana in the Dominican Republic as the sun begins to set. The photo shows the shadows that are cast by the large palm trees, which makes it look like there are many more trees on the island than there actually are. It also shows beautiful surfboards that are brightly painted and sticking in the sand.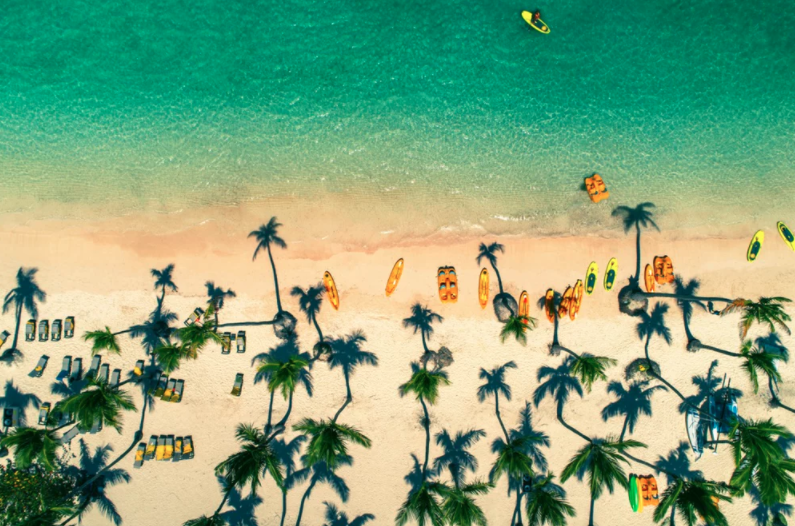 Number 16: This interesting image is captioned as "Cracked Mud Boating." In the picture you're able to see a family rowing a small boat in the middle of what appears to be a very shallow body of water. In the image, you're able to see the bottom of the water, which looks like it is cracked mud.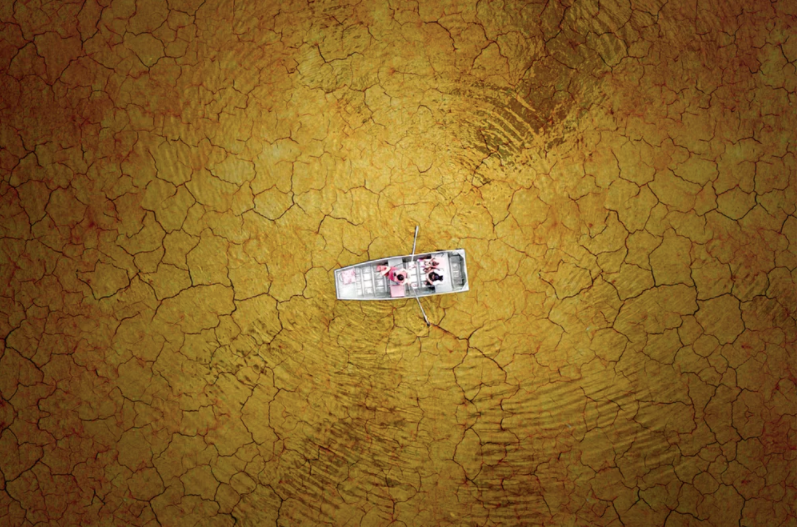 Number 17: The caption for this image is "Motorbike Bridge over River in Thailand." This stunning image shows two motorbikes as they race along a trail over water and with waves crashing beside them in Thailand. The stunning blue and white of the waves make it almost impossible to tell if the water is coming towards them from the sides or is falling down beside them.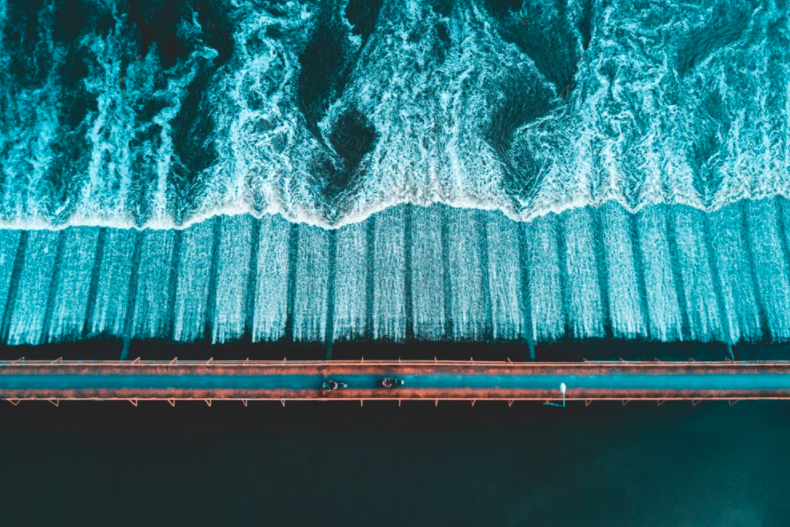 Number 18: This stunning photo has the caption of "The Salt Fields of Bac Lieu on the Mekong Delta." Many people have never seen a salt field in their life and this incredible image gives a very cool birds eye view of them. You can see mounds of salt with people on top of them in a salt field.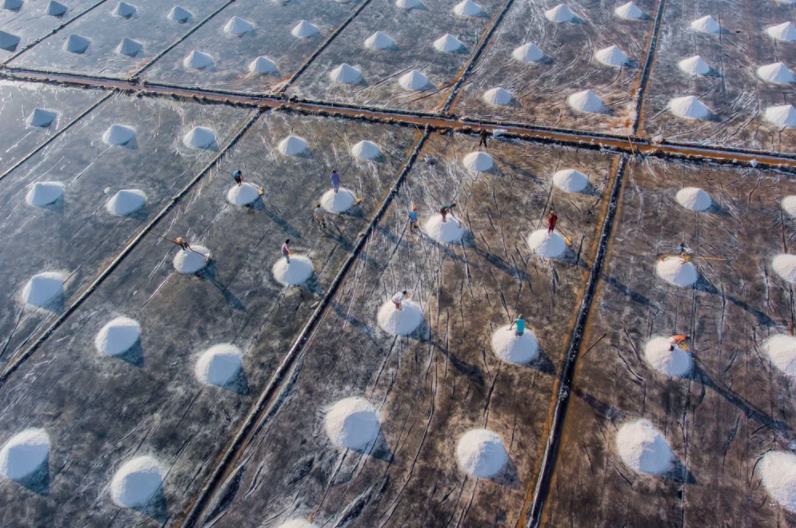 Number 19: The caption for this relaxing image is "Rio De Janeiro." In the picture, you can see a woman lying out on the beautiful brown sand as the waves make their way towards her. You can definitely tell the sense of relaxation in the pic and the lack of worries the sunbather currently has.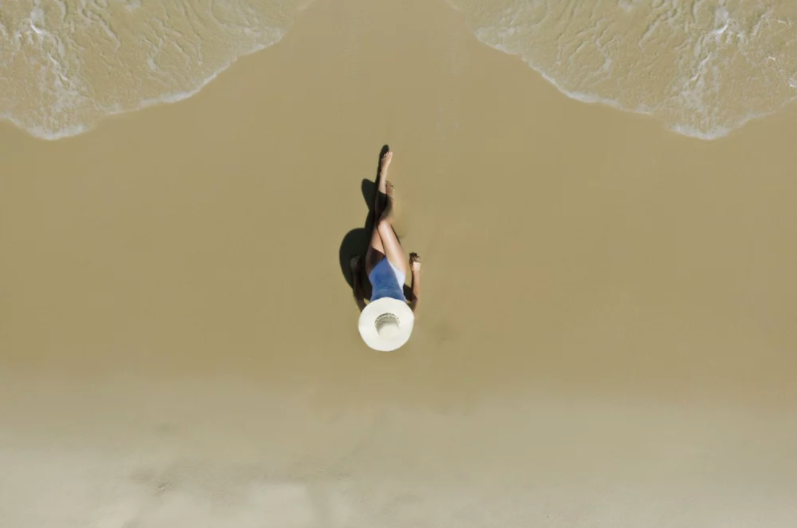 Number 20: This incredible image is simply titled "Hippos." It is an aerial view of the hippopotamus that are in the Serengeti National Park. Just seeing the number of them with their incredible size is fascinating.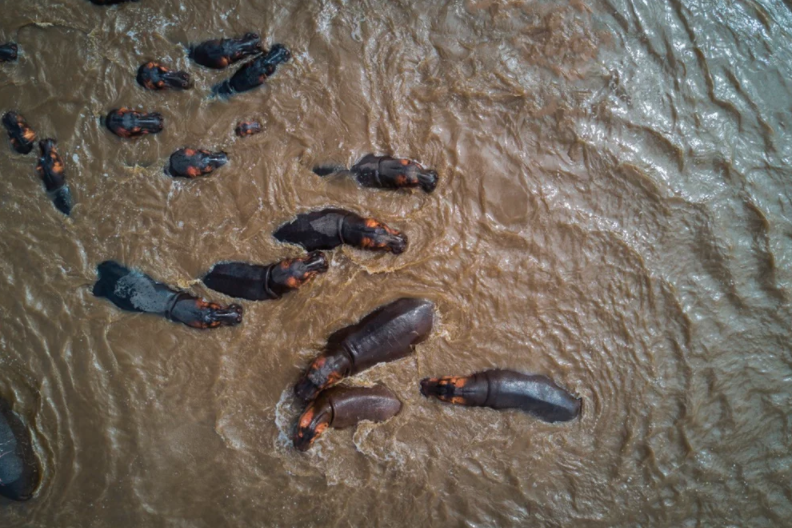 Seeing all of these incredible photos that were taken by drone in 2017 gives us a lot of hope that even better images are to come in 2018. As drone batteries continue to develop to allow longer flight times, we can only assume that places never reached before will become reachable and we'll get a glimpse at the incredible images and videos that they have in store. Since cameras also continue to advance with better capturing abilities, there is no doubt that the list for the best pictures in 2018 will also be incredible.
The writer known as I Coleman is a veteran tech reviewer who's spent seven years writing about everything from PC hardware to drone tech and who joined the Dronethusiast team early in 2017. I brings his characteristic sense of humor and attention to detail to our product reviews and buyer's guides, making sure that they're packed with expert analysis in a way that's still easy for hobby newcomers to understand. In his spare time, I is using drones to create 3D modeling software for a company in his hometown.