5 Toy Drone Reviews [2022 Reviews]

Updated:
The Best RC Toy Drone Reviews
Drones aren't just for science or military purposes anymore. More and more drones have become available to the everyday consumer. Toy drones especially have found their way into the homes of many families, and for many good reasons too.
Toy drones are often much simpler technology than professional high-tech drones which makes them easier to use, especially for anyone who is just starting out. They are also much more affordable, so you don't have to break the bank to get your hands on a great toy drone.
Many toy drones come packed full of helpful flight features and cameras and can be used by pilots of all skill levels. If you're after a more professional drone, this list may not be for you. however, if you're a beginner interested in having some fun with a toy drone, keep reading!
We've compiled the best toy drones review on our site into a single handy guide.
Toy Drone with Camera
The Hornet
camera:

720p HD

range:

150 Meters

time:

15 Minutes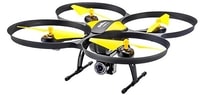 Table of Contents
Top Remote Control Toy Drones Review
We have tested and tried many of the RC copters on the market today to bring you only the best drone toys in this review. Contrary to popular opinion, the best remote-controlled helicopters are not necessarily pricey. Top-rated drone toys include the offerings from Altair Aerial like the Falcon and Hornet, as well as from brands like Holy Stone and SYMA. In all of these models you can expect positives such as flight stability, ease of control, and high-quality images and videos. Read on to find out more.
Best Toy Drones Analysis
Regardless of whether you are a beginner or an experienced drone enthusiast, the Altair Aerial Falcon guarantees you a pleasant flight experience. How so? With the included Autonomous Hover & Positioning (AHP) System beginner pilots can gain confidence with each flight. The Falcon with AHP using an optical sensor to ensure that the drone hovers in place vertically and horizontally. Even better, the Altair Falcon is made by a small company based in based in Nebraska. The company offers excellent customer service to its drone toy customers.
For good aerial photography go for the Hornet. With the Altitude Hold Function, you can pose and hold the drone in midair to take quality photos and images. This is an improvement feature that sets the Hornet 818 Plus apart from other models that are known for shaky footage and bad quality images.
RC Toy Drones FAQ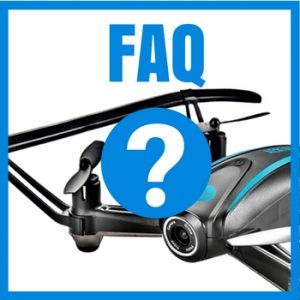 What is the most affordable RC drone?
The best pocket-friendly RC drone to buy is one that is the Altair Aerial Falcon. It features an HD camera, smooth controls, and relatively stable flights.
Do I need a license from the FAA to fly my RC drone as a hobby?
Not necessarily. But you need to be mindful of other people's safety, and you need to fly the drone within visual line-of-sight and give way to any manned aircraft. When operating close to an airport, you are required to provide early notification to the airport's air traffic control tower.
What happens if an RC drone goes out of range?
According to your drone's factory configurations, the quadcopter will either land or return home. However, a lot of RC drones have a feature that alerts you if the drone starts to go out of range. Don't panic.
Where do I insert the Micro SD card on the drone?
The Micro SD card goes into the camera. There is a port in which you insert the card facing up. You will hear it click into place. When you want to eject the card, just press it in, and you will hear it click and pop out.
There you have it, the review of the best remote control drone toys. Your choice will largely depend on your budget, and the features you want.
Other Great Toy Reviews
Hot Wheels Playsets
Best Walkie Talkie