5 Toy Drone Reviews [Updated Fall 2019] The Best RC Toy Drones Today

Apart from science, commercial and military use, the drone technology has found its way into our homes today through the remote-controlled drone toys. You can define drone toys as remote controlled flying objects. Top drone toys have exciting features, including HD cameras for capturing stunning aerial panoramas.
Drone toys are used in various fields today. They are used in real estate photography, sports photography, tourism photography and home security and surveillance among other applications. In fun and recreation, you have probably heard of drone selfies or seen the shots on social media. Then again it is just amusing to fly an RC drone toy. First Person View technology today adds virtual reality to that amusement. You get to live stream your flight footage to your headset so that you can feel like part of the flight.
We've compiled the best toy drones review on our site into a single handy guide.
Top Remote Control Toy Drones Review
We have tested and tried many RC copters in the market today to bring you only the best drone toys in this review. Contrary to popular opinion, the best remote controlled helicopters are not necessarily pricey. Top rated drone toys include the Altair Aerial AA108, the Holy Stone HS170, the Syma X5C, the Force 1 Discovery U818A and the UFO 3000 Led Drone. In all these models you can expect plusses such as flight stability, ease of control, and high-quality images and videos. Read on to find out more.
AA818 Hornet Plus
Read Amazon reviews and shop for the Hornet or get fast and free shipping at the Altair site by clicking here.
The Hornet 818 Drone comes with Altitude hold, 15 minutes of flight time and a great camera for this price.
This is a slightly more advanced version of the AA108 that's perfect for kids who want a toy with a camera or who are just ready for a more intermediate drone toy. It has a much longer battery life of 15 minutes (which is almost unheard-of for a drone toy at this price range) and has a much more stable hover which makes it better for taking pictures.
It doesn't handle quite as well in wind, but that's because of the shape of the large propeller guards which make it much more durable if the worst should happen and it crashes.
Features of the AA818 Hornet Plus:
· Altitude Hold mode
· 720P HD Camera
· 15 minute battery life
· Headless mode

The Headless mode (also known as Heading Hold mode) will allow you to fly this drone in either direction, regardless of where the drone's head is facing. The AA818 Hornet Plus also comes with WIFI connectivity, and you will be able to live stream the flight footage on your smartphone.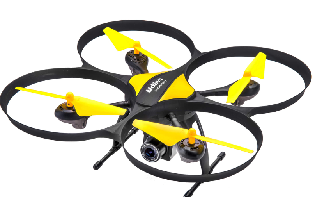 Click Here to See Best Price!
Altair Aerial AA108
Read Amazon reviews and shop for the AA108 or you can also shop at the Altair website and get fast and free shipping by clicking here.
Money should never stand in your way when it comes to top drone toys, right? At least the Altair Aerial AA108 ensures that by giving you quality drones at competive prices. Despite its low price, this copter does not compromise on quality. It features a 720 p HD camera, and it comes with 2GB micro SD card to solve your footage storage space problems.
The AA108 is a fantastic beginner toy drone for kids and adults, you can fly it with the whole family and it's great for flying inside as well as out. Be careful in the wind because it's quite light. The AA108 is well reviewed on multiple websites and you can read our whole review here.
Other features of this model include:
• Reliable, stable construction
• Remote control
• Batteries that guarantee 10 minutes of flight when fully charged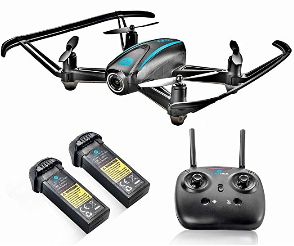 Click Here to See Best Price!
Holy Stone HS170
Read reviews and shop for the HS170
Bottom line; the Holy Stone HS170 guarantees stable flights with its 6-axis gyro stabilization feature. For many photographers looking to capture steady footages, this RC toy drone is a favorite. As expected, it comes with HD Camera RTF 4 Channel. Even better, there is an Altitude Hold Function for more control during flights.
The 6-axis gyro stabilization ensures that the copter remains steady in the air even when you fly it in windy weather. This feature enables the drone to make 360 degree turns, flips and other midair stunts.
This drone also features a Key Return Home function. This function advances your toy drone experience and guarantees security for your aircraft. You don't have to worry about losing your drone if your control signal is interrupted. The Key Return Home function will bring it back to you with the press of a button
Features of Holy Stone F181C are:
· One key return home
· A Key 360 degree turns and multidirectional flips during flights
· Extended batteries life with 9 minutes of flight time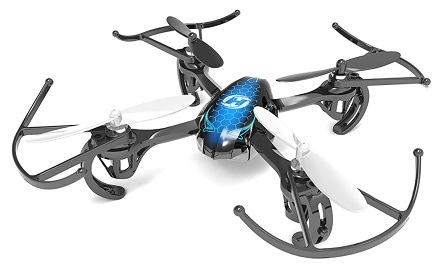 Click Here to See Best Price!
Syma X5C
Read reviews and shop for the Syma X5C
This aircraft comes with extra features that include 6-axis Gyro stabilization system and speed control. Just like the other models in this review, you can expect an HD camera and 2GB Micro SD card with your Syma X5C drone. Users have rated it highly mainly due to the stable flights and ability to flip backward, forwards, upwards and downwards during flights.
Control is easy when it comes to this aircraft. More so, the Syma X5C has a Wind Resistance feature so that your outdoor thrill is not interrupted by high winds. Usually, models without this feature succumb to accidental turns and flips when flying in windy weather.
Flights last relatively long. Its batteries can guarantee at least 7 minutes of flight when they are fully charged. The build of the drone is stable and robust. Breakability is out of the question here even if you accidentally hit into trees and other obstacles when flying this aircraft.
Features of the Syma X5C
· HD camera
· Gyro stabilizations
· Wind resistance
· 3.7V 500mAh Li-Po Battery (2)
· 2200mAh Power Bank
· 4GB Micro SD Card
· USB Card Reader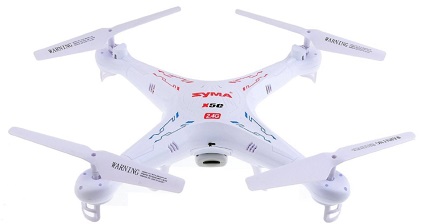 Click Here to See Best Price!
UFO 3000
Read reviews and shop for the UFO 3000
You can have fun with this drone day and night, thanks to the LED feature on this drone. With other models, you can quickly lose your aircraft if you attempt to fly them in the dark. Then there is the fear of knocking into obstacles. The good news is here; with the UFO 300, your fun doesn't have to stop when the sun sets. This piece of tech features ultra-bright LED lights that allow you even for photography at night.
Other features include
· Remote Control
· Two 3.7V Lithium Batteries
· Spare Propellers (Set of 4)

Flight control is easy even for beginners. Better still, the 3.7V Lithium batteries will double your flying time. Each cell has a flight time of 9 minutes.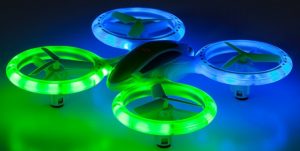 Click Here to See Best Price!
Best Toy Drones Analysis
Regardless of whether you are a beginner or an experienced drone enthusiast, the Altair Aerial AA108 guarantees you a pleasant flight experience. How so? Users can choose from three flight skill levels. The levels include Beginners Level, Mid-Level and Advanced Level. Those that seek a challenging flight adventure can select the Advanced Level, as beginners start with the Beginners Level. Even better, the Altair Aerial AA108 is made by a small company based in based in Nebraska, USA. The company offers excellent customer service to its drone toy customers.
For good aerial photography go for the Holy Stone HS170. With the Altitude Hold Function, you can pose and hold the drone in midair to take quality photos and images. This is an improvement feature that sets the Holy Stone HS170 apart from other models that are known for shaky footage and bad quality images.
Though the Syma comes with advanced features like the 6-axis Gyro stabilization system, the short battery life is a significant drawback. Flights last for 7 minutes, while it takes an hour for the batteries to attain full charge. Nonetheless, because of its affordability, many people still go for this quadcopter.
Despite its superior features, the Force 1 Discovery U818A is also great for beginners. Because of its lightweight nature, control is easy even for starting pilots. With the Altitude Hold function, you just press a button, and the drone hovers over your favorite spot so that you can capture beautiful aerial photos and videos.
When it comes to the UFO 3000, users can have extra fun with acrobatic stunts in the air. This drone is capable of 360º flips in midair during flights. All with a push of a button. Because of its lightweight nature and streamlined body, it is easy to attain maximum flight speeds with this drone
RC Toy Drones FAQ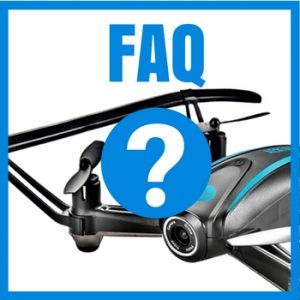 What is the most affordable RC drone?
The best pocket-friendly RC drone to buy is one that is the Altair Aerial AA108. It features an HD camera, smooth controls, and relatively stable flights.
Do I need a license from the FAA to fly my RC drone as a hobby?
Not necessarily. But you need to be mindful of other people's safety, and you need to fly the drone within visual line-of-sight and give way to manned aircrafts. When operating close to an airport, you are required to provide early notification to the airport's air traffic control tower.
What happens if an RC drone goes out of range?
According to your drone's factory configurations, the quadcopter will either land or return home. However, all RC drones have a feature that alerts you if the drone starts to go out of range. Don't panic.
Where do I insert the Micro SD card on the drone?
The Micro SD card goes into the camera. There is a port in which you insert the card facing up. You will hear it click into place. When you want to eject the card, just press it in, and you will hear it click and pop out.
There you have it, the review of the best remote control drone toys. Your choice will largely depend on your budget, and the features you want.
Other Great Toy Reviews
Hot Wheels Playsets
Best Walkie Talkie