Best RC Trucks | The Best Electric RC Trucks Of 2022

Updated:
The Best Electric RC Trucks of 2022
Remote control cars have been popular for a long time, and radio-controlled airplanes and boats are both becoming more popular as niche markets, but RC trucks are still far and away the most popular form of remote control vehicle. A solid RC truck can be used for racing or for riding off-road. They provide hours of wholesome fun you and your family.
However, since radio-controlled trucks have become such a large market, it can be hard for a newcomer to decide which vehicle is the best for them to buy. That's why the Dronethusiast staff has picked out our favorite RC trucks in each category: professional trucks for experienced racers with a lot of cash to spend, budget trucks for anyone just interested in some cheap RC fun, and DIY kits for people who want to make their own trucks.
We've also included an in-depth FAQ and a beginner's guide to remote control truck usage at the bottom of the article. Seeking out information targeted specifically for kids? Read our Best RC Trucks for Kids review article and learn which of these trucks is the most fun and safest for your children.
Table of Contents
Best Pro Remote Control Trucks
"Pro" is a bit of a misnomer here - you don't have to be a competitive RC racer to enjoy the trucks in this section! However, these radio controlled trucks ARE designed for experienced racers who don't mind spending hundreds of dollars on a new vehicle. They have advanced specifications and more powerful parts (motors, shocks, transmission, etc.)
Best Off Road RC Trucks
Off road RC trucks are a specific kind of electric RC toy that can drive across difficult terrains and obstacles. Instead of just being able to drive on pavement, RC truck drivers can take their off-road RC truck across the sand, rocks, mud, and more.
These special RC vehicles are equipped with features to help users easily drive them through obstacles and tricky landscapes. One important feature to look for when shopping for an off-road RC truck is a 4-wheel independent suspension. This feature allows the truck's wheels to move on their own meaning it can crawl and climb through obstacles without getting stuck.
Another feature to consider when looking at off-road RC trucks is its battery life. Since you will most likely be away from home while driving your RC vehicle, you will want to be sure it has a long battery life to last you the entire adventure. If the RC off-roader has a short battery life, you may want to consider buying extra batteries so you can drive it for longer.
When it comes to the RC truck's motor, you will find both brushed and brushless motors. Brushless motors provide more power overall and help a vehicle move faster. While this may be great for an experienced RC racing car driver, a brushless motor is a great option. However, off-road RC trucks require more stability to be able to drive through different terrains and obstacles, and a brushed motor may be better for these purposes.
If you love spending your time outdoors, hiking, and doing other activities, you will love an off-road RC truck. While they will work great on regular pavement, their features will really shine when driving through rocks, sand, mud, and other types of ground. There are many different models to choose from, including some amazing options for beginners to try their hand at the hobby.
If you're looking for an RC Rock Crawler in 2022, check out our article on Cyber Monday RC Rock Crawler Sales!
Everything You Need To Know About RC Trucks
This section is designed to help RC truck beginners understand the hobby and what sort of things they should be looking for. If you're looking for an overview of all things RC truck, read on. If you're looking for the answer to a specific question, skip down to our comprehensive Radio Controlled Truck FAQ.
Remote control trucks, or RC trucks, are a popular type of toy vehicle usually measuring not much longer than a foot in length. Both children and adults enjoy driving them for recreational purposes. Adults may also enjoy using RC trucks for the purposes of competitive sport, either as part of a high-speed race around a set track or in an RC rock crawling event. We have covered the latter in another in-depth article on this site.
While other RC vehicles are usually built for speed, RC trucks are often designed to drive off-road with large gripping tires, powerful electric motors, highly durable chassis, fixed axles, and strong shock absorbers. However, there are a few radio-controlled trucks that are specifically designed for indoor use, some of which we cover in our reviews.
When purchasing a radio-controlled truck, most users look at the durability of the materials used to build the truck, the battery life or "drive time" that determines how long you can use the truck before recharging, the top speed, and the control range (which is how far the truck can drive away from the transmitter before driving out of control.) 10 minutes or more is a decent battery life for most RC trucks, and 30 meters or more is considered a decent range.
Advanced RC truck users will also look in-depth at the electronic parts housed inside a truck, particularly the axles, ESC, transmission, and motors. They will also want to know whether or not a given remote control truck can be upgraded, and if so, what kind of parts it can be upgraded with.
Some hobbyists prefer the model-making side of RC trucks, and will be most interested in radio-controlled trucks that come in build-it-yourself DIY kits, or which accurately model real-life vehicles. The Tamiya TAM58372 Ford F350 is a popular example of the latter.
Radio Controlled Truck FAQ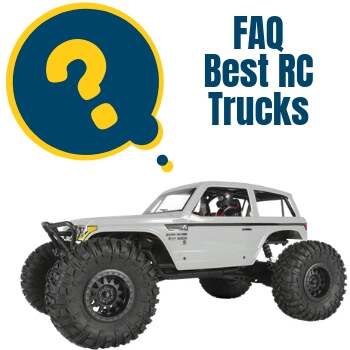 Who makes the best RC trucks?
Traxxas is usually considered the best RC truck manufacturer, although Redcat Racing and Axial are also quite popular.
Are RC trucks waterproof?
Not all RC trucks are waterproof, but most pro remote control trucks (the first section covered in this review guide) at least have fully waterproof electronics. Always check the specs before you buy!
What is the best RC truck for a beginner?
The Redcat Racing Electric Volcano EPX is often considered the best RC truck for a beginner. However, some RC truck enthusiasts might prefer to start with something a little cheaper, such as the Blomiky 4WD Off-Road RC truck or the Bo Toys Building Bricks Roadster.
What is the fastest RC truck?
The Traxxas 36076-3 Stampede VXL is the fastest ready-to-race RC truck for sale, with a top speed of over 65 miles per hour. However, the fastest RC trucks are usually those that the racer builds and customizes themselves using upgradeable parts.
It's worth noting that RC cars are typically faster than RC trucks because they're a little more aerodynamic and built for speed, while RC trucks are usually built for off-roading.
How long do RC truck batteries last?
RC truck batteries generally last 10 to 20 minutes. The default battery that comes with a radio-controlled truck can often be swapped out for a more expensive battery that lasts even longer, sometimes around 30 to 40 minutes.
What are RC stadium trucks?
RC stadium trucks are remote control vehicles that combine truck-style bodies and open-wheeled layout similar to buggies. They usually feature large, wide tires for increased ground clearance and improved stability. The Traxxas Slash, our best pro RC truck for sale, is a great example of an RC stadium truck.
Where can you buy RC trucks?
Sometimes brick-and-mortar stores will have a small variety of RC trucks for sale, but most enthusiasts now purchase remote control trucks from Amazon or similar online storefronts. We have helpfully provided Amazon links to each product mentioned in our review guides above.
Conclusion
We hope this guide has helped you learn more about the best RC trucks for sale. If you're a beginner and you have any questions about the radio-controlled truck hobby or an experienced driver who thinks we left off one of the best remote control trucks on the market, be sure to let us know in the comments! At Dronethusiast, we pride ourselves on keeping our articles up-to-date with the latest product information.