Altair Power Pro RC Truck Review | Fast and Powerful RC Rock Crawler
When I first learned that Altair Aerial had released an RC truck, I was ecstatic. While I spend the majority of my days testing and inspecting drones, I don't get to try out other RC products as often, but I always love when I do. Altair is known for their affordable products that come with amazing features and I had a feeling that their Power Pro 4×4 RC truck would be no different. My main question was if their RC truck could match up to their impressive line up of drones.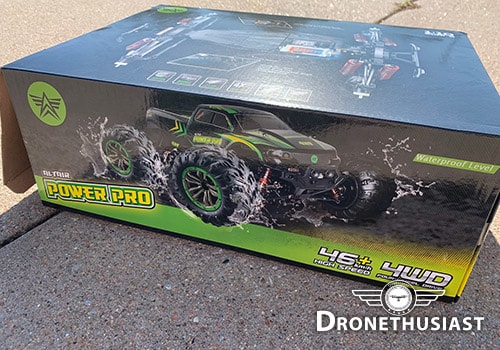 Ready to purchase? Click here to check the best price available on Amazon.com, or you can find more information on the Altair Aerial website by clicking here!
Right out of the box I couldn't wait to connect the battery and get to driving. I was excited to learn everything I could about the Power Pro. Keep reading to learn my complete thoughts on this RC truck and decide if you want to try it yourself.
Unboxing the Power Pro RC Truck
When I first opened up the Power Pro the truck was completely assembled. This made me happy because I wasn't going to have to spend time figuring out how to put the pieces together and could quickly get to driving.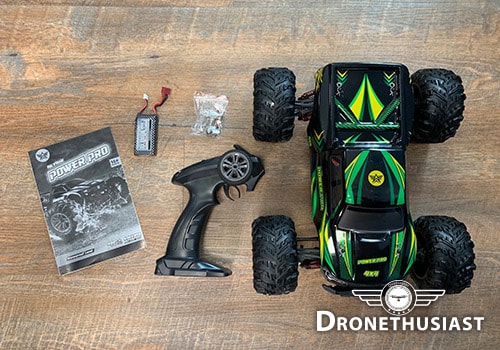 Here's everything that comes with the Power Pro 4×4.
The Power Pro 4×4 Includes:
-1 x fully assembled RC truck
-1 x Remote Control Transmitter
-1 x 1600 mAh LI-PO battery
-1 x Charging cable
-1 x Spare Parts Bag
-1 x Instruction Manual
– add something in about the spare parts bag and the instructions to this list as well
The truck and transmitter batteries were the only things that needed to be installed, and that didn't take too long. Also, the transmitter requires 3 AA batteries which do not come included with the package. Luckily, I had some on hand.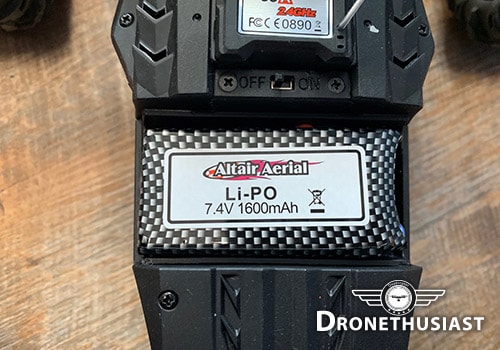 To install the Li-Po battery into the truck I had to remove the plastic cover and pull off the battery cap in the middle of the RC truck body. Once it was connected, I just replaced the cover and switched the truck on and was ready to roll. It was an easy, simple process which I enjoyed. The faster I could get racing, the better.
Cyber Monday would be an excellent time to pick up the Altair Power Pro. We rank this RC Truck as the #1 Best Deal Overall in our Cyber Monday RC Truck Deals 2019 article!
Driving the Power Pro 4×4
Here are the specs for the Power Pro 4×4
-1:10 Scale
-4-wheel drive
-4-wheel independent suspension
-Double motor system
-Sealed ball bearings
-6 metal shock absorbers
-15 minute battery life
-250 foot range
-30 mph speeds
-2 speed modes
Power Pro 4×4: Faster Than Expected
When it comes to RC trucks, of course, the first thing on my mind is always the speed. I was really interested in seeing how fast the Power Pro 4×4 could go because I always enjoy RC trucks that pack a punch when it comes to speed.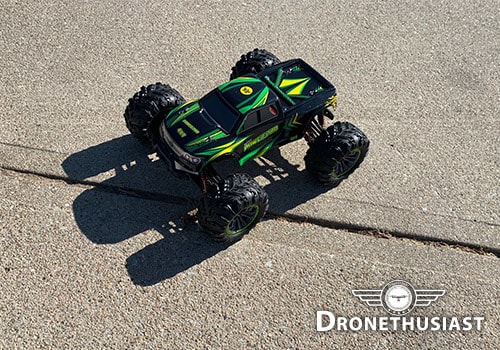 After I first turned on the Power Pro and set it on the pavement, I prepared to pull back on the throttle. I was amazed at how quickly the truck sped up while it still remained easy to control. Altair makes the claim that the Power Pro can run at 30 mph which I wouldn't doubt for a second.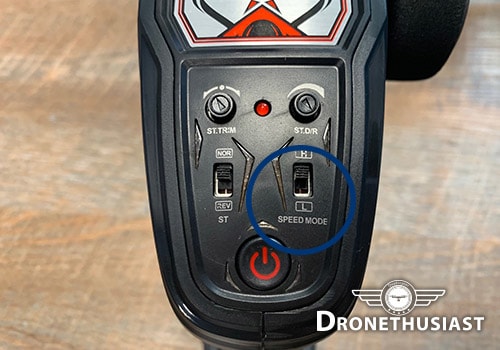 The Power Pro does come equipped with two speed modes, one that's faster and one that is slower. After driving the truck in both speed modes, I can tell you that both the fast and slow mode are fairly easy to control. In my opinion, the slower speed mode would be best for kids or beginners but I personally enjoyed driving the Power Pro in the faster speed mode.


I also had to test the speed across different terrains, not just flat cement. I found some sandy and rocky areas to test the speed of the Power Pro and while it still zoomed quite fast through the rocks and sand, I wouldn't say it traveled quite up to 30 mph. However, this didn't bother me much because I was able to stay in control of the RC truck at all times. It was really easy to handle this truck even as I was riding on rougher terrain. This independent suspension and simple controls on the transmitter helped me a lot while I was driving.
Along with testing the speed of the Power Pro, I was keen to test what the range of this RC truck was. It's claimed that the truck can travel at a range of about 250 meters, which to me seems far.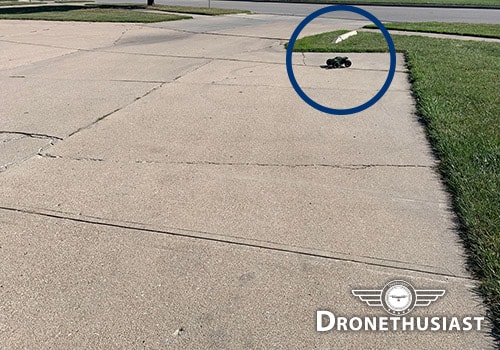 There aren't any out-of-range alarms for this RC truck, so I didn't find myself driving the truck nearly that far because I didn't want to lose control of it or accidentally drive it out of range. However, I did take it out far enough to the point that I could barely see which way it was going and don't think it was nearly at 250 feet. This range seems like plenty of distance to be able to really enjoy using this truck.
A Truck That Can Rock Crawl
This RC Monster Truck has large, rubber wheels and 4-wheel independent suspension so it's safe to assume that it will have some amount of rock crawling capabilities. I wanted to test this for myself so I found an area that had some larger rocks and took the Power Pro for a spin to see how it held up.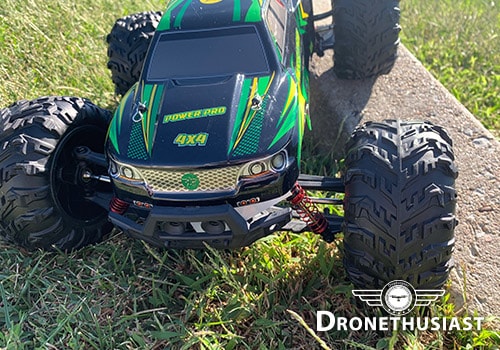 It rode really great and I was impressed with the way it was easily able to climb and stay upright. It had no trouble crawling through the rocks and didn't get stuck to the point I had to step in and re-route it. I love RC trucks that can ride through rocks and harder terrains because I think it adds dimension to someone's RC experience. If you're looking to do a little bit of off-roading, I think you'll love the Power Pro 4×4.
Battery Lasted Me A While!
With any RC product, a drone, boat, car, or truck the battery life is one of the most important things to me. I want something that's going to last for a while and not give out after a few minutes. With the Power Pro 4×4, I was able to drive it for about 15 minutes before the battery ran out and I had to recharge. While this isn't the shortest battery life, it's not the longest either. There are other RC trucks available at similar prices whose battery life is a fair bit longer. I will probably be picking up another battery for myself so I can get some longer use out of it.
With that being said, If you're not looking to take your RC truck out for that long and just want something to casually drive around the neighborhood, park, or wherever, I think 15 minutes will give you what you're looking for. It's still a lot of time to race, do tricks, or whatever it is you're wanting. I thoroughly enjoyed driving the Power Pro and its battery life did not change the experience that much for me.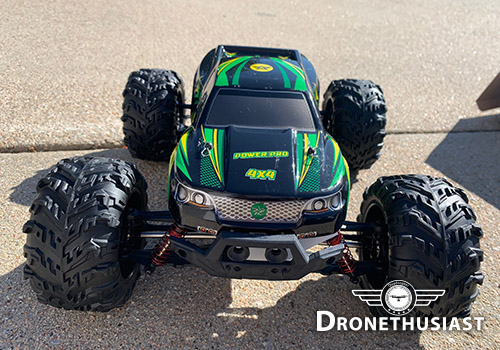 Final Thoughts on the Power Pro 4×4 RC Truck from Altair
Overall, I was extremely impressed with the Power Pro 4×4. It's a well made RC truck that comes with many great features. Also, it's so versatile and I believe it can fit many different driver's needs and give them various driving experiences like racing and rock crawling. Costing just under $130, this is an affordable price for an RC truck of this size.
Its standout features would definitely be its speed and rock crawling capabilities. Plus, it is really easy to control which makes it great for anyone who is just starting this hobby, including kids. The two speed modes will be extremely helpful to any beginner as they can start off slow and learn the controls before moving on to the faster speed mode.
While the battery life is not as long as some of the Power Pro's competitors, it still lasts you quite a while and gives you plenty of time to have some fun.
I'm glad to see Altair is branching out into other products and I really enjoyed trying out the Power Pro 4×4 RC truck. I think anyone will be able to find something they enjoy from this RC truck whether it's racing or off-roading, you will never get bored with the Power Pro!
Other Interesting articles in "
RC Cars

"