Best RC Boats For Christmas 2022


Updated:
Remote control boats can make great gifts for Christmas and there are a lot of options to choose from. With so many choices available, choosing the right one can be overwhelming. At Dronethusiast we test out new RC products every day so we know what people look for and we know about the best RC boats. Our staff of experts has gone through some of the most popular options and chosen the best ones for Christmas 2022.
RC boats can be enjoyed by both children and adults which is why they make such great Christmas gifts. They are sold a variety of different price points and can fit the needs of users of all skill levels. Overall, they are just a lot of fun which is why we want to share our favorites with you.
BEST RC BOATS FOR CHRISTMAS 2022
#1 RC Boat 2022
AA102 RC Boat
range:

100 Meters

speed:

30 KM/H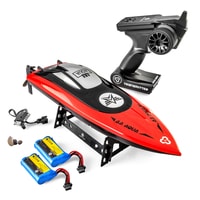 #2 Best Budget RC Boat
The Wave
Range:

120 Meters

Speed:

25 KM/H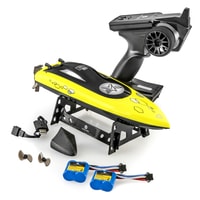 Best for Pros
Tide Brushless
range:

100 meters

time:

8-10 minutes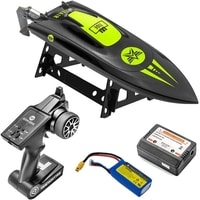 Table of Contents
The Best RC Boats For Christmas
We've selected these five as the best RC boats for Christmas based on their price, quality, and feature set. There's something here for everyone, so you're sure to find the perfect RC boat gift somewhere on this list!
Buying an RC Boat for Christmas - Here's What You Need to Know
If you're thinking about buying someone in your life an RC boat for Christmas, there are some things you should take into consideration when buying one. It's important that you as a buyer know about RC boats just as much as the receiver does.
Batteries
Most RC boats will come with one or two batteries included for the boat. However, often times the batteries needed for the transmitter are not included. Most RC boat remote controls require AA batteries, so consider picking up a pack of those as well when you go buy an RC boat Christmas gift.
Weather
Since you're buying a Christmas gift and an RC boat is an outdoor toy, you may be hesitant to give this to someone in the cold months. However, as long as the water is not frozen solid, an RC boat should work just fine. However, note that if it's raining, snowing, or there are heavy winds the RC boat may not work as well. Once spring comes around, there will be more opportunities for drivers to use their RC boat.
Safety
RC boat safety is another thing that both the gift giver and receiver should know about. When shopping, try to find an RC boat that has key safety features. This includes the function that makes sure the boat propeller doesn't spin unless set in the water. Most boats come equipped with this and it's important, especially for younger or beginner drivers. Other helpful safety features include low-battery and out-of-range alarms to help the driver control their RC boat.
Further Reading
Drone Gift Ideas via Dronethusiast
Best RC Boats for Kids via Dronethusiast