Remote control boats are a very niche category of RC toy. They can be a lot of fun for kids and adults alike, but since so few people know about them it can be hard to decide which one to buy. That's why we've had our staff of RC toy experts go through some of the most popular options and pick out the best RC boats for Christmas 2019.
Whether you're a first time radio controlled boat pilot or an experienced veteran looking for a new pro boat, our list should have something for everyone.
The Best RC Boats For Christmas
We've selected these five as the best RC boats for Christmas based on their price, quality, and feature set. There's something here for everyone, so you're sure to find the perfect RC boat gift somewhere on this list!
UDI RC Venom
UDI RC is a very well-respected name in the world of remote control vehicles, but they've truly outdone themselves with the Venom (which was also listed as one of our five best RC boats for sale this year.)
For less than a hundred dollars you get a high-speed, stylish electric boat with a lot of unique features. These include a low battery alarm, the ability to reverse its direction and back up (which believe it or not is rare for these kinds of vehicles) and a 370-size motor that can reach speeds of up to 14 miles per hour.
RC Boat Specifications:
• 12" V-hull
• Takes a 3.7 V 600Mah lithium ion battery (2 included)
• 15 mile per hour top speed
• Low battery alarm
Pros:
• Best RC boat for sale under $100 this holiday season
• Great for beginners
• Can move in full reverse
Cons:
• Unlikely to impress advanced pilots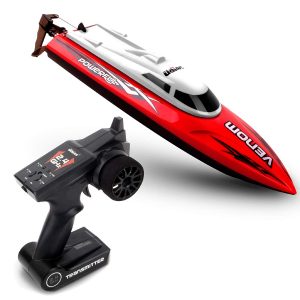 Click To Shop or Read Reviews
Traxxas 5706-4 Spartan
From another beloved RC vehicle company comes another great remote control boat for Christmas, albeit at the completely opposite end of the price spectrum. The Spartan is a massive (by RC boat terms), sturdy, and expensive model that outpaces pretty much everything else on the market in terms of speed, control, and technological innovation.
The powerful Velineon brushless motor can reach speeds – and yes, you're reading this right – of up to 50 miles per hour, far beyond almost anything else on the market. The perfect gift for anyone who wants to be a part of the next big thing in remote control boating!
RC Boat Specifications:
• 36" V-hull
• Takes two NiMH 7-cell flat packs with Traxxas connectors (not included)
• 50 mile per hour top speed
• Low battery alarm
• Can be controlled via smartphone or transmitter
Pros:
• Most powerful RC boat for sale
• Massive top speed
• Extremely durable
Cons:
• Very expensive
• Batteries not included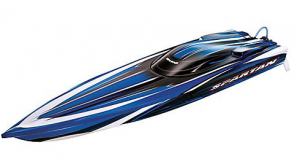 Click To Shop or Read Reviews
Force1 H102 Velocity
Force1 is a brand that will be well-known to longtime Dronethusiast readers due to their line of typically high-quality beginner drones. The H102 Velocity is one of their few boat models, but it's quickly become an Amazon best-seller and one of the best RC boats for Christmas.
This boat has a decent 20 mile per hour top speed, an extra battery for extra use time, and a spare propeller in case the original part breaks. But the real "get" here is the fact that the boat is self-righting.
That means that if you flip the boat over in the water, it should be able to get itself upright again without trouble, which is great if you plan to use your RC boat somewhere you can't wade into the middle of.

RC Boat Specifications:
• 13" V-hull
• Takes a 7.4V 600mAh Lion Battery (2 included)
• 20 mile per hour top speed
• Self-righting Capsize Recovery Mode
Pros:
• Great self-righting features
• Solid all-around boat at a decent price
Cons:
• Unlikely to hold the attention of adults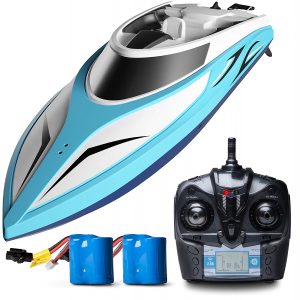 Click To Shop or Read Reviews
Ginzick Super Fun Missile Stealth Speed Boat
This Ginzick RC boat model has been a popular toy for a couple years now, and it's not hard to see why. The wheel-shaped controller is extremely easy for any child (or adult, we don't judge!) to pick up and use without difficulty.
The unique shape and style, fashioned after a fictional missile boat, allows for hours of imaginative play as pilots try to protect their seas from invaders. And most importantly for any item that's mostly designed to appeal to kids, the Missile Stealth Speed Boat is highly durable under all conditions.

RC Boat Specifications:
• 16" hull with a unique shape
• Takes a 7.2V 250mAh LiPo battery (1 included)
• 20 mile per hour top speed
• Unique wheel-shaped controller
Pros:
• Great for kids
• Extremely easy to pilot
• Highly durable
Cons:
• Unlikely to hold the attention of adults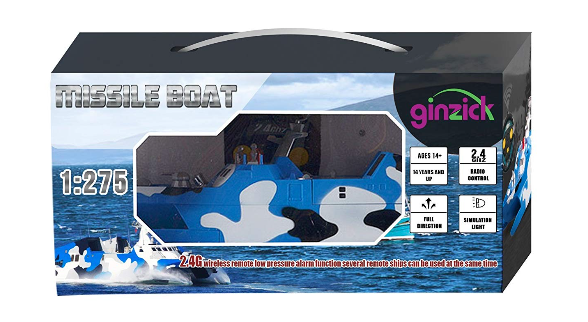 Click To Shop or Read Reviews
SOWOFA FT011 Ultimate Racing Boat
Looking for something a little different? How about an RC boat that's more than two feet long? This gigantic racer (though not nearly as big as the Photoshopped image shown on the Amazon page) has self-righting technology, a top speed of 55 miles per hour, a solid internal cooling mechanism that keeps the electronics running longer and a decent battery life. It's not as good as the Traxxas model, but it's a little faster and a LOT cheaper, making it a more accessible way to get into serious RC boat racing.
RC Boat Specifications:
• 25" V-hull
• Takes a 14.8V 2200mA battery (1 included)
• 55 mile per hour top speed
• Self-righting mode
Pros:
• One of the largest RC boats around
• Lots of professional grade features
Cons:
• Not recommended for beginners
• Only a 10-15 minute battery life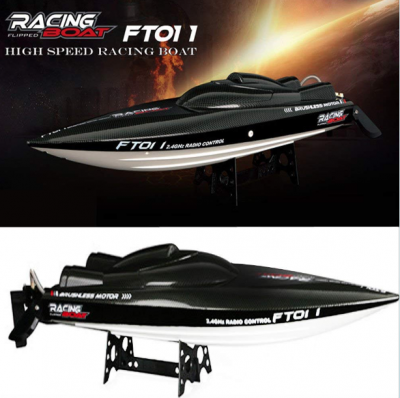 Click To Shop or Read Reviews
Best Remote Control Boats FAQ
What RC boat is best?
The best RC boat for Christmas is something you're going to have to find for yourself, as there are a wide variety of options with features that appeal to different types of users. We've highlighted several good remote control boats for Christmas above, as chosen by our staff of expert RC vehicle pilots and writers.
How do RC boats work?
You control this type of water vehicle using a transmitter of some kind, which sends a radio wave signal to a receiver somewhere on the boat itself. This receiver, in turn, interprets the radio signal and issues commands to a motor, telling the boat what to do. It might go faster, slow down, or turn based on your input.
Steering an RC boat is essentially the same as steering any other remote control vehicle, and most transmitters now use a two-stick layout similar to a video game controller. So even if the person you're buying a gift for has never piloted an RC boat before, they should have no trouble figuring out how to do so.
How fast are RC boats?
RC boat speeds are generally around 10-14 miles per hour, but they can be found at up to about 50 miles per hour. That's 25 kilometers per hour to 80 kilometers per hour for our friends across the pond.
Can you use RC boats in saltwater?
Usually, no – you cannot use RC boats in saltwater. The corrosive properties of the salt water can rust the frame, loosen the screws, and destroy the electronics if the boat capsizes. However, some boats are specifically designed to be saltwater proof. Moreover, you can sometimes take certain precautions to make it possible to sail through saltwater like wrapping the antenna in plastic and replacing the attachments with waterproof screws.
Dronethusiast does not recommend attempting to saltwater-proof your remote control boat unless you are an experienced pilot.
Find The Best RC Boat To Buy
Hopefully this article has helped you choose one of the best RC boats for Christmas to buy for yourself or a close family member. Kids and adults alike love getting these colorful, fast, and unique toys for the holidays. And if you've got a favorite RC boat that we didn't cover, or one that's currently on sale for the season, be sure to let us and our readers know in the comments!
Further Reading
Drone Gift Ideas via Dronethusiast
Best RC Boats for Kids via Dronethusiast

Kennedy Martinez is a resident writer who joined Dronethusiast at the beginning of 2019. She has years of experience reviewing drones and other tech products. When it comes to flying drones, Kennedy loves the ability to create artistic videos from a unique point of view. Kennedy enjoys researching new drones and other exciting products that are available to consumers which is why she is committed to creating the best buyer's guides for our readers.