10 Great Drone Gifts for Drone Enthusiasts

Updated:
With the holidays fast approaching, we wanted to weigh in with what the best drone gift ideas are. Being a technical hobby, buying a gift for a Dronethusiast can be a challenging task.
Since that many more drones are going to be buzzing around the skies, we decided to get down to business, and compile a list of ideas that anyone from a novice to pro would appreciate.
Hopefully we can help! Feel free to leave this article "accidentally" open in your browser for your better half or loved ones to see.
When you get out into the open and are ready to do some serious piloting, having any of these along with you for the day will definitely add some excitement to your outing (or indoor practice session) with your favorite UAV.
TOP DRONE GIFT IDEAS
Best Drone Gift
Outlaw SE
Camera:

1080p FPV 500 Meter Range

Range:

600+ Meters

Time:

18 Minutes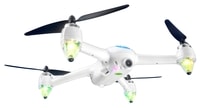 Best Beginner
Altair #AA108
Camera:

720p Realtime FPV

Range:

100 Meters

Time:

10 Minutes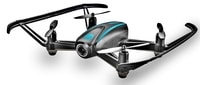 Best Intermediate
818 Hornet Plus
Camera:

720p

Range:

150 Meters

Time:

15 Minutes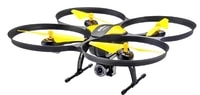 Fun & Powerful
Blackhawk Drone
Camera:

Compatible with GoPro

Range:

300 Meters

Time:

15 Minutes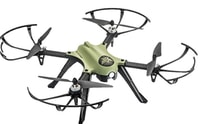 Check Out 10 Drone Gift Ideas
The season for giving is one of the best all-around, and these ideas will stoke your passion to please your friends and loved ones who are avid hobbyists.
Looking for a drone specific list? Check out our Best Drones for Christmas article!
Outlaw SE Drone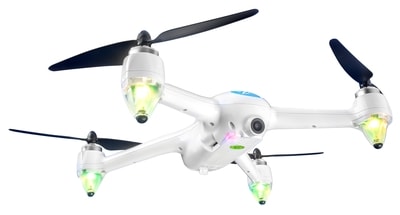 See the best price on Amazon.com or get Fast & Free Shipping from their Website at Altairaerial.com.
The Altair Aerial Outlaw SE is a new aircraft and has GPS capabilities. With many new features, like several Return-to-Home (RTH) functions, Follow-Me mode, a premium camera, and barometer altitude hold, the Outlaw SE is the most technologically advanced drone yet and would make a great gift for the drone pilot in your life.
Right out the box, this drone is fully-assembled; in a few steps, you are ready to fly. You are going to love the built-in 1080p camera. It is great for capturing stunning aerial photos and videos. Plus you will get 600 meters of range while flying and 18-20 average minutes of flying time. There are multiple flight modes that come with the Outlaw so dronenthusiasts of all skill levels are guaranteed to love this drone.
On top of all these great features, the Outlaw SE has a sleek black and white look and is sure to look stunning every time it takes flight.
Click Here to See Best Price!
AA108 Drone by Altair Aerial

See the best price on Amazon.com or get Fast & Free Shipping from their Website at Altairaerial.com.
The Altair Aerial AA108 ranks as the best drone gift for 10 year old boys! This drone is a fairly new aircraft that the typical Dronethusiast may have missed, but it's easily one of the best gifts for any quadcopter lover on a budget. As we say in our review, this $120 camera drone drone is especially good for beginners and first-time fliers, but it also has a great yaw and high speed settings that make it fun for aerial experts.
There's no assembly required, and the two batteries included will give you a solid 16-20 minutes in the air. The drone is highly durable and comes with a 720p camera that's great for aerial photography and video with almost no setup.
The Altair Aerial is our #1 gift for drone fans of all skill levels.
Click Here to See Best Price!
Altair Hornet 818 Plus Drone
Get super fast shipping and amazing customer service by purchasing at Altairaerial.com (click here). Or you can shop for the 818 Hornet on Amazon.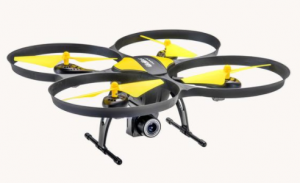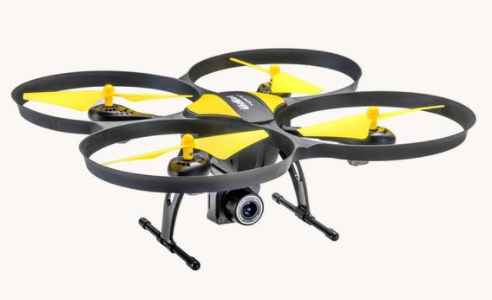 The Altair 818 Plus is an upgraded version of the AA108 with a lot of great features. It's a little more expensive, and maybe a little less durable in the hands of a beginner, but it includes all the features that made its predecessor great. It still has three difficulty settings so that it can be enjoyed by users of all skill levels, as well as a headless mode (which Altair refers to as "Heading Hold mode") and an altitude hold mode. In fact, the altitude hold mode actually works better on the 818 Plus because the body is designed and shaped for better stability.
But the 818 Plus also has a fifteen minute battery life (and comes with two batteries right out of the box), which is very rare in a drone that costs less than $200. It also has a 150 meter flight range and can maintain video for up to 60 feet, making it perfect for getting a bird's eye view – especially if you're into aerial photography or videography. And all backed by the same impressive Altair Aerial customer service. If the AA108 seems a little too puny for the dronethusiast in your life, this is a great alternative.
Click Here to See Best Price!
Long Range Aerial BlackHawk Drone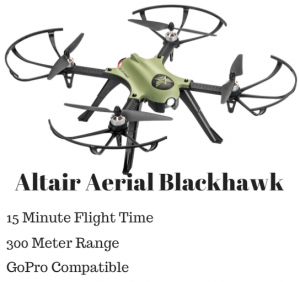 For $199.00 you're getting a killer powerful drone in the Blackhawk. Get super fast and free shipping when you order the Blackhawk from AltairAerial.com, or you can also see Best Price at Amazon. The Blackhawk is amore advanced level quad with 15-17 Minutes of Flight time and 300-500 Meter Range!
The Altair Aerial BlackHawk is another excellent drone with the same 15-minute flight time of the AA818 Plus. But it comes with a few other distinguishing features as well – most notably, the nearly-silent, brushless motors that make it ideal for taking video without the annoying hum of a loud drone engine. It's also highly durable (much more than you would expect from the look of the prop guards), which makes it a good option for both indoor and outdoor shoots.
That said, the BlackHawk is faster drone and can be harder to control, especially for beginners (since it doesn't come with any kind of automatic hover function.) It does not come with a camera – instead, it has a mount that works with the GoPro Hero 3 or 4. Hard to fault that considering the number of features you get for $160, and the GoPro will definitely give you a better picture than the built-in cameras of the AA108 and similar. Still, this is a great quadcopter for any skill level, perfect for videography, photography, or even recreational use (the copy on the Amazon page recommends trying to scare people with the near-silent motors, an action Dronethusiast cannot condone even if it is hilarious.) If you don't mind putting in a little extra money to buy the camera, this is a very high quality product that's sure to please.
Get further assistance finding gifts for this years holiday season or any birthdays or other occassions you may be celebrating, you can find great gift ideas at Pigtail Pals.
Click Here to See Best Price!
Waterproof Carrying Bag Case
The Powerextra waterproof carrying bag cases traveling backpack for Dji Professional is one of the best Christmas gift ideas we've seen for those who are on the move, and need to have faith that their gear is being well-protected during transit.
This backpack has features like double EVA protect, and has a make that is a bit lighter, and better for outdoor sports and being constantly on the go.
It is made of foam that is strong and high density, and is fit for Dji 3 Professional, Advanced, Standard Quadcopter Drone, and other accessories.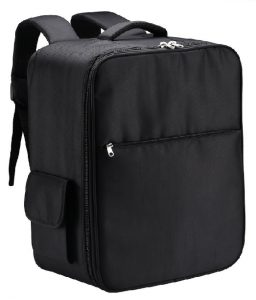 Click Here to See Best Price!
Camera Combo for Indoor FPV Drone
This Arris EF-00 FPV Camera Combo for Indoor FPV Drone is a device that has many positive reviews, and is an easy-to-install, excellent quality 800tvl camera that is suitable for adding on to any RC quad, plane, truck, or boat.
Perfect for flying close by or in the house, this device ranks high on our list of Christmas gift ideas because it offers the same performance as the FX797, while still being much cheaper. It's video transmitter supports NTSC and PAL, with a 75 Ohm output impedance.
When you order this you get the FPV camera, 1 wiring harness, 1 user manual, and the battery strap. Make racing more fun right away, and add this device to your holiday list.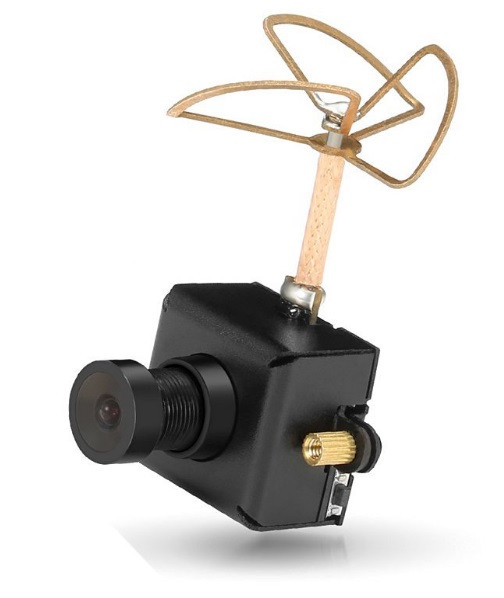 Click Here to See Best Price!
Drone Tool Kit
When you have found a drone that you know is your absolute favorite, you want to make sure that you can make altercations, reassemble the motor if needed, and make adjustments on the navigation board. This Parrot AR Drone 2.0 Tool Kit has the correct tool for removal and replacement of the C Clip, and a mini screw driver handle with a one-sided bit.
The tools included should last for years, and if you are someone who truly loves to fix things yourself after a crash or other mishap, this is one of the best Christmas gift ideas for the tried-and-true hobbyist.
Many have picked the Parrot AR as their drone of choice: it is situated right in the middle of the price range, you can review all of your flights modeled in 3D, and stream in HD to your smartphone or tablet.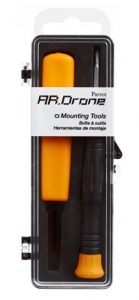 Click Here to See Best Price!
Flying Shark
Even though summer may be over, and the holidays are making us think of our loved ones and the best Christmas gift ideas, we all know that the fear of sharks is part of the fun of summer. Ever since that one wildly popular movie about shark attacks came out a few decades ago, we've all been fascinated by them.
Here is your chance to spruce up an indoor kids' party or gathering, and fly around this super-cool device that is controllable from up to 40 ft. away.
Made of durable nylon, this scary creature will stay inflated for up to two weeks, and is fun to watch swim through the air. Give everyone around you a big scare this holiday season, and enjoy this super-cool novelty item.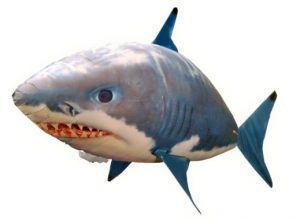 Click Here For More Details
Intelligent Battery for the Phantom 3
The DJI Phantom 3 Drone product line is definitely going to be hot this holiday season, and once you purchase one of their drones, some best Christmas gift ideas are batteries.
When you are at your favorite place to fly, sometimes just around 15 minutes of flight time isn't quite enough, and having a spare with you assures that you don't run out of time. This Intelligent Battery for the Phantom 3 has a simple slide-in design, with no unsightly wires, or plugs that are difficult to connect.
It features four LEDs that display remaining battery capacity, and power management is handled internally, so the battery does not require a separate lead for balance and charge control.
Make sure your favorite recipients on your gift list make sure they don't run out of juice, and that they have the power they need to keep them happily in the skies.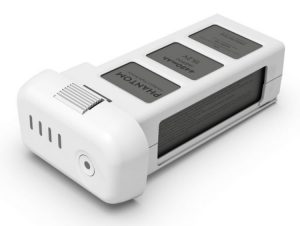 Click Here For More Details
SYMA S107G R/C Helicopter with Gyro
One of the best Christmas gift ideas for someone that loves drones and is on a budget is this SYMA S107G R/C Helicopter with Gyro. This is one of those items that is truly perfect for beginners, and is very easy to fly.
There is no assembly required, and this device runs on infrared radio bands and a lithium metal battery for power. It's very easy to hover, and will fly around for about 20 minutes on a charge.
It can also charge straight from the USB port of the Xbox one, and if you buy the landing pad separately, you'll have hours of fun practicing the perfect approach.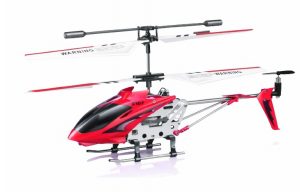 Click Here For More Details
RC Toy with EpochAir Flying Ball
When we were working hard to come up with the best Christmas gift ideas for 2017, kids and teenagers were a group that we definitely did not want to leave out. This very unique RC Toy with EpochAir flying ball has two balancing poles that light up when you turn on the remote.
When the ball shoots up, you just put your hand underneath it, and the gadgets makes interaction with your hand to control flying.
A gadget that would have perhaps cost hundreds of dollars if it even would have existed years ago, this is a stocking-stuffer that could quickly become the most favorite gift of the lot, since it has the ability to captivate and has an awesome sense of scientific wonder attached.
The gadget has about an 8-minute flying time, and will wow the adults as well as kids at the holiday gathering.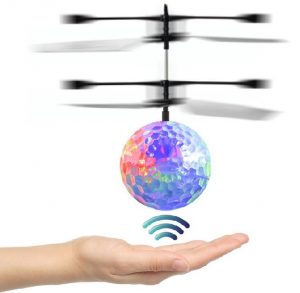 Click Here For More Details
Syma Toys Upgraded Version
Even for the pilot that has hours of experience with the best and baddest drones in the business, the Syma X5C-1 Remote Control Quadcopter New Upgraded Version has long been a best-selling drone in the "toy" category that has a camera and 6-axis flight control system.
All available for a very reasonable price, this is a drone with an average of a 7-minute flight time and 100-minute charging time that is a great one to just take outside and rip around without getting your big pricey rig in the air.
You can take this drone out for a spin and not worry so much about what may happen with wind and other elements, and practice grabbing footage at your own leisure.
Many experts with hours of experience claim it to be one of the best quads on the market, and it is truly a 5-star "starter" drone that is excellent for a Christmas gift.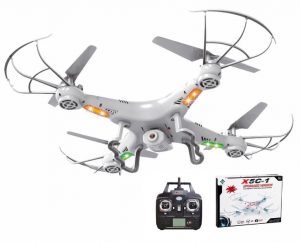 Click Here For More Details
Lipo Battery Safe Bag
Most of you will already know how potentially dangerous a LiPo battery can be. We have also provided suggestions about how to bring out the most of your LiPo-s in our series of articles. This is a really good cheap option.
If you haven't already, why not get yourself some safe storage options. Be sure to get the right size for your batteries! Safety is one of the best Christmas gift ideas!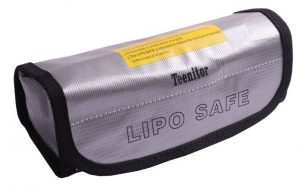 Click Here For More Details
These are just some of our ideas, but of course there's plenty more! Please feel free to add comments and suggestions below.
Other Great Gift Ideas
Looking for a great gift for Father's Day? Check out our other article on the topic!
We also reviewed these Walkie Talkies for Kids!
Summary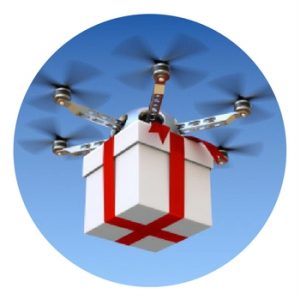 Article Name
10 Great Drone Gift Ideas for Dronethusiasts
Description
It would be a great idea to share some of our 'Must Have' or 'Just Want' accessories. Being a technical hobby, buying a gift for a Dronethusiast can be a challenging task. Hopefully we can help!