The Truth – British Airways Plane NOT Struck By Drone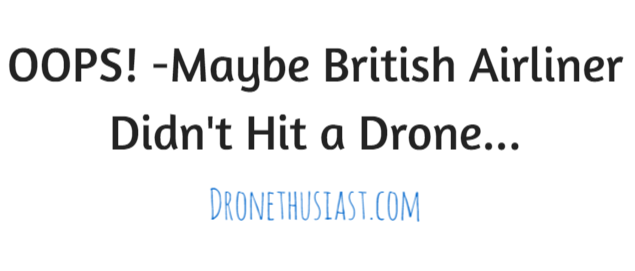 Please – Share or Tweet, whatever you can to get this news out.
The British Government came clean recently in the story about the supposed British Airways planed that was said to be struck by a drone when landing at Heathrow Airport. I'm sure most of you remember it, as it was in the news quite a lot and seemed to be a blow against the dronethusiasts of the world and encourage lawmakers to put further restrictions on drone flight.
Turns out the British Airways DID NOT strike a quadcopter, multirotor, drone, rc plane, whatever you choose to call it, the Drone community was thrown under the bus by the British government and now they're backing up and saying OOPS…
The investigation was done by the London Metropolitan Police who were the original group who had claimed the plane was struck by a drone.
Yesterday, (Thursday 4/28/16) The Secretary of State in Transport, Patrick McLoughlin said to British Lawmakers "It is now thought that that was not a drone incident."
-CUE Uproar from the drone community of laughter and cheering!!!
Too bad in my mine the damage is already done, the world thinks drones are running into planes left and right and should be regulated into non-existence.
The plane, upon inspection was found to have no damage and quickly allowed to fly again carrying passengers.
Lately there's been a huge amount of anxiety in the commercial airline business due to quadcopters. According to the Federal Aviation Administration in the USA there has been an increase in reports of unmanned aircraft flying around or near airports.
At least this I can believe, there are too many pilots out there who are not aware of their proximity to an airport when they fly their multirotors.
This problem can only be solved by us, the drone community. Be aware of where you are in relation to the nearest airport before you go out and fly!
Move on to another great post on our blog about mini quad kits.
Other Interesting articles in "
News

"