Colors Of The Leaves For Fall Makes For Great Drone Shots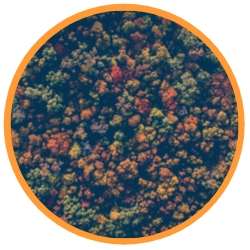 While many people might not like the dropping temperatures during the fall months, it's hard to deny the beauty of the changing foliage. The changing colors of the leaves can bring some breathtaking views and even those not a fan of fall have to admit that. While it's great to go on scenic drives and view this wonder of nature, there's an even better way to get stunning views of huge swaths of changing foliage. Of course we're talking about drones!
All around the United States, people are sending up drones to capture gorgeous views of the brightly colored leaves. It's a good time too, mid October is the best time to see the changing foliage. In places all around the country leaves are changing colors, and if they aren't already they will be soon.
Naturally, at the end of the summer the leaves begin to change color. This is a sign that the trees are preparing for the drought of winter, and ready to weather the harsh conditions. As the days get shorter, trees hunker down for the long winter.
For those looking to marvel at these shots news channels and enthusiasts all around the country are sure to provide them. For example, Fox news out of Detroit is starting to show off some of the shots they've taken from their drone. According to their post, they do this each year to give their viewers a glimpse of nature. It's likely news channels all around the country are following suit, at least those in the more temperate climates.
Fox news Detroit also put out a list of scenic places to go and experience the colors firsthand. This is a great resource if you're looking to find places local to you to view the changing leaves. Obviously, this particular list will only be relevant for those in the Detroit area, but there's a good chance that a news network near you has done the same thing. Check them out if you're looking for a scenic overlook or nice forested hike to view the leaves from.
If you're into drone flying, then this is a great opportunity to get some truly beautiful shots. Nothing can quite beat the birds eye view that the drone provides. It's even better with a high quality camera as a nice aerial video is quite stunning. If you're in a heavily forest area, the shots are that much better. Huge swaths of forest changing for the fall is very beautiful to look at.
Another fun idea is to experiment with taking videos or pictures at different times in the day. During sunrise or sunset for instance the sun might hit the leaves just right for a really neat effect. Don't be afraid to get a little creative with your shots out there.
A word of caution though, in many places storms can sweep in quite quickly during the fall and early winter. Make sure you're prepared for the weather and know the risks. This is important for your own well being, but also that of your drone. You don't want to have to pilot your drone in a storm and risk damaging it. That's especially true for some of the pricery ones with high end cameras that some you might be using to capture some of these shots.
Fall is quite a beautiful time, and it's the perfect opportunity to get some truly beautiful pictures of the changing leaves. Nothing signals the end of summer like fall colors. It's always exciting to see what great shots people will get this time of year. So get out there and take some special.