DJI and EENA Launches Program for Emergency Drones

The Chinese drone manufacturer, DJI, along with the European Emergency Number Association, EENA, have recently announced that they are working on a joint pilot project together for the purpose of using drones for European emergency services. This will be the second partnership between DJI and EENA thus far.
What Lies Ahead in the Near Future
The initial challenge was brought forward during the EENA convention, which took place in Slovenia. The aim of the game is to precisely grasp how drones can be used by emergency companies in order to create an operational and authorized framework.
While about to happen in Wales and Ireland, Europe-wide requirements in assisting extra nations to undertake emergency drones is in our future.
The first DJI and EENA project concluded technological advances where drones were concerned. Such results made it likely that promising results would no doubt be yielded. The Inspire 1 drones were outfitted with a DJI/Flir XT thermal camera or a visible light camera, along with the Matrice 200.
Now, however, we are seeing more technological advancements that are completely overtaking the work that was previously done before.
Emergency Drones – the New Reality
The first steps were taken during 2016 and 2017, where drone usage guidelines were created for emergency services in regard to working with the early adopters and further launching pilot programs across Europe.
The second phase will focus on next levels of integration, further testing, and the validation of recorded data. With everything based on the initial phase, that being phase 1, what was learned and witnessed in the field will be paired with the drone to become a tool that provides better and faster points of data.
Both software and hardware solutions continue to develop on a basis of the capabilities and the needs of first responders, which is expected to increase.
How Drones Are Able to Save Lives
During the first phase, one of the many conclusions was that there were clear benefits when it comes to a partnership with firefighters and search-and-rescue teams, which combined both effort and experience.
Combining data and experience, it was relatively easy to pinpoint where a drone can help in these instances of emergencies, what needs to be improved, and a number of other important information.
The second phase has plans to go a step further into aiming how to understand how drones are able to tactically integrate in certain emergency cases and back it up using data. Interestingly enough, drones can also be used in these instances for post-incident forensics and gather pre-incident data, making life saving as time goes by more effective and accurate.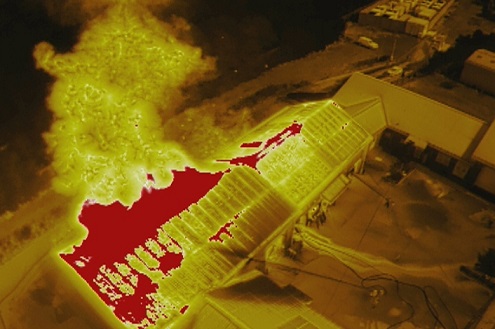 Ireland and Wales Soon Starting Drone Programs
Ireland's Donegal Mountain Rescue Team and Wales' Mid and West Wales Fire and Rescue Service is soon looking forward to their drone programs beginning.
Both Ireland and Wales were chosen by both DJI and EENA as a result of the experienced staff, favorable conditions, and providing an overall great dataset for the near future in regard to drone-aided emergency services.
There are a number of primary objectives currently on the table to work with.
For one, they aim to understand how to use drones during search-and-rescue and fire incidents in both pre and post activities on a basis of statistical analysis standards. Next, they aim to deliver all clear recommendations in regard to how drones may be used by first responders during an operation level.
Lastly, they aim to deliver certain recommendations to training and lawmaker entities for the purpose of gaining ground on first responders operating drones, how they can and will do it, and the type of training they will need in order to do it properly and effectively.