DJI Ferntech Invents Barking Drone To Replace NZ Sheepdogs

Automation is a wonderful thing, isn't it? Modern technology has the potential to change the way we think about fundamental concepts like labor and industry. Drones are often at the forefront of the conversation in this area, as they can be used to make a large number of traditionally human tasks cheaper and easier to complete. But DJI Ferntech is bringing automation to a whole new field by attempting to run sheepdogs out of a job.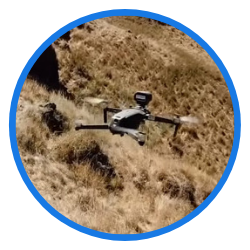 Okay, that's obviously reductive. In truth, Ferntech – New Zealand's DJI authorised retail store based out of Christchurch – is actually trying to make a drone that can help New Zealand farmers, admirably bringing this exciting new technology to the agricultural space. "The past two years have seen farmers embrace drone technology to help with those jobs that are dirty, dangerous or just plain dull," Ferntech's Adam Kerr told New Zealand FutureFive. "We have already seen success stories from farmers who have added sirens to larger Phantom craft. And the Mavic 2 Enterprise is specifically designed to make farming operations more efficient, effective and safe."
This new version of the Mavic 2 comes with many features useful to farmers. It has the same 12 megapixel still photo, 4K video resolution camera of the basic Mavic 2 models, but it also has an advanced optical zoom that makes it easier to carry out stock surveillance, especially around lambing and calving time. It was also designed to be modified with a siren which was designed and manufactured by Ferntech, after they observed farmers attaching sirens to DJI Phantoms.
And yes, this new siren allows you to record ANY audio and have it play back through a loudspeaker. And as per a video shared by New Zealand public broadcasting service RNZ, one major use of this siren is to record the barking sounds of a sheepdog, which helps herd large groups of animals across fields and hillsides.
According to Kerr, this feature is important mainly because it increases safety. When the drone is the one helping to lead the herd, it means that the farmer – or dog – can be safely away from the mob of animals. So far from putting man's best friend out of a job, it may actually be helping them in the long run.
According to Corey Lambeth, a shepherd on a North Canterbury sheep and beef farm near Rotherham who spoke with Radio New Zealand: "That's the one thing I've noticed when you're moving cows and calves that the old cows stand-up to the dogs, but with the drones, they've never done that." He also said that in winter, "it's ideal for flying it sitting at home on a cold day I don't want to go outside, so I fly my drone 'round, have a look make sure all my stock are behind the wire."
It's more than just laziness – although that's a completely understandable motivation, especially in the harsh cold of winter. These kinds of drone operations also save farmers a great deal of time and money, allowing them to run their farms more efficiently. That is, of course, assuming that they can afford the $3500 DJI Mavic Enterprise in the first place.
What do you think? Are barking drones a ridiculous flight of fancy? Will the high cost and many farmers' conservative view of technology keep the new Mavic Enterprise from breaking into the mainstream? Or will this technology revolutionize the flagging agricultural industry? Sound off with your thoughts in the comments!