Best Batteries For DJI Mavic Pro – Charger, Car Chargers & More

The DJI Mavic Pro is currently the best drone one can buy for a low price of $1000. When looking for current drones, the main thing to focus on is portability. You want a device that you can easily pack up and take anywhere you please. Aside from being one of the most portable drones on the market, DJI Mavic Pro is also one of the most feature-packed models available. But every drone needs batteries, and today we'll be looking at the best Mavic Pro batteries and chargers for sale.
This model comes equipped with a 4K camera and a super compact 3-axis gimbal. It also has ActiveTrack and Optical Flow software, which allows it to track objects and sense obstacles using just the camera and image analysis algorithms.
Mavic Pro is armed with an all new video transmission system called OcuSync – it stretches Mavic's maximum range to over 4 miles. At shorter distances, OcuSync can stream footage to you at 1080p resolution.
Check out our review where we compare the DJI Mavic Pro with the Mavic Air and DJI Spark here.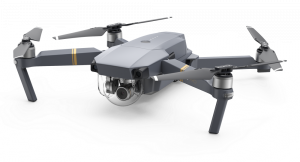 Click To Shop or Read Reviews
DJI Mavic Pro Battery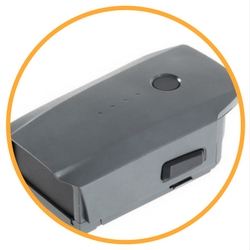 Despite its very compact design, this model has one of the longest flight times for a quadcopter. Mavic Pro can maintain a hiver for 24 consecutive minutes and can stay airborne for 27 minutes when fully charged! Mavic uses LiPo 3S battery type that has 3830 mAh capacity, and 11.4 Voltage.
As for recharge time, a nearly drained battery will take approximately one hour to fully recharge. A fully drained battery (which is not common since Mavic pro is set to auto-land when it nears that point) will take approximately 1.15 hours to recharge back up to 100 perfect.
DJI Mavic Pro Charger Accessories and Replacements
As mentioned earlier, Mavic comprises of an object tracking technology called ActiveTrack as well as its Optical Flow system which uses image recognition software to spot obstacles and track your drone's position while flying indoors.
This little device is also armed with gesture recognition software and adjustable focusing abilities. At the moment, it does not have a wide selection of accessories and upgrades. However, DJI recently unveiled FPV goggles that will be compatible with Mavic Pro when released.
Having one battery might seem like an okay thing but if you wish to have a full flying experience, it is always best to purchase a few things that will take your flying experience to the next level. This model comes with a charger.
For more flying, we would recommend you purchase the Fly More Combo package from DJI. Here, you will be provided with two extra batteries, a battery charging hub, extra props, a case, a USB Power Bank Phone charger, a car charger, and of course a Mavic Pro drone.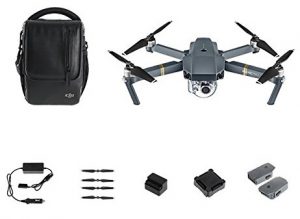 Click To Shop or Read Reviews
FAQs about DJI Mavic Batteries
1. What batteries are included in with Mavic?
DJI has introduced new Intelligent batteries that are used to power up Mavic Pro drone. These batteries can achieve 27 minutes of flight time. The two Charging Hubs can both charge up to 4 batteries at a time. In order to fully juice up the first battery, the Intelligent Flight Batteries are charged in sequence according to their power levels. They begin from high to low power levels.
2. How long does it take to charge Mavic Pro batteries?
The battery charging hub has the capabilities of charging up to four batteries at once. If you use your charging hub and a Phantom 4 100w adapter, you will be able to charge 4 batteries in approximately 130 minutes
3. What are the specs of Mavic Pro batteries?


• Battery type LiPo 3S
• Capacity 3830 mAh
• Voltage 11.4 V
• Energy 43.6 Wh
• Net Weight Approximately 0.5 lbs
• Operating Temperature 41 degrees F to 104 degrees F

DJI Mavic Pro Batteries & Chargers Review
1. DJI Mavic Pro Intelligent Battery
This model is made specifically for use as Mavic Pro batteries. This battery has 3, 830 mAh/ 11.4 V. It provides a user with approximately 27 minutes of flight time. Pro Intelligent Battery come inclusive of in-built sensors and bright LED's that prompt a user of their charge status and remaining power of battery in real time. All you need to do is press once on your button to see charge level and two times to turn on your drone.
You will be able to recharge Pro Intelligent items using Mavic battery charger or its charging hub that can charge up to 4 batteries in one session. This item requires a recharging time of approximately one hour. Keep in mind that these are intelligent power boxes and they will discharge themselves to around 50% if not used within 48 hours of a full charge.
– Item weight: 9 ounces
– Product dimension: 5.4 x 3.8 x 2.5 inches
– Capacity 3830 mAh
– Voltage 11.4 V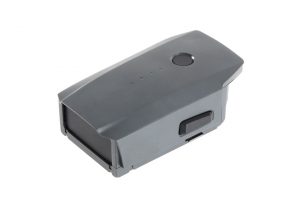 Click To Shop or Read Reviews
2. DJI Mavic Car Charger
This car charger is used to charge intelligent flight batteries through a car's charging port. The item comes in a beautiful black finish that integrates pretty well with any car's interior. No longer do you have to wait until you get home to recharge. Simply start juicing up your spare battery as you enjoy 27 minutes of uninterrupted fun with an intelligent battery.
This car charger comes with a low-voltage protection and on overheating protection features that will automatically cut off charging if your car's charging port exceeds a certain temperature. Overall, it is a fantastic item to purchase as you will always be able to juice up from wherever you are.
– Input Voltage: 12.3 – 16 V (Sedan); 25 – 30 V (Coach) DC Output: 13.05 V; 6A; 78 W
– Operating Temperature: 41 degrees to 104 degrees F (5 degrees to 40 degrees Celsius)
– Charge time: 54 minutes
– Item Weight: 8 ounces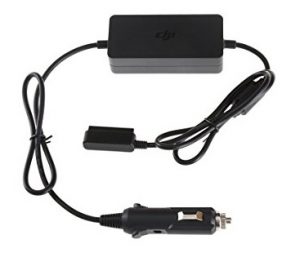 Click To Shop or Read Reviews
3. DJI Charging Hub
If you enjoy shooting videos and images from a bird's eye view, then you know just how frustrating it can be when your device runs out of charge just when you are about to capture some fantastic footage/ images. This is where a charging Hub comes into play. With this item, you no longer have to worry about your drone's juice running out on you and having no other alternative than to return back home.
Charging Hub works well with Mavic's Intelligent-Batteries. It is able to easily charge up to four batteries in one session. It charges in sequence meaning that batteries with high power levels are juiced up first then it moves on to 2nd highest and so on. You will have access to fully charged batteries at all times.
– Color: Black
– Item weight: 5.6 ounces
– Product dimension: 3.2 x 1.5 x 2.8 inches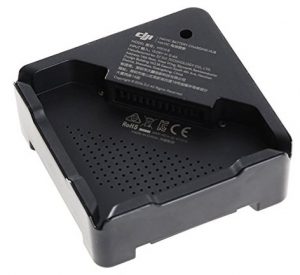 Click To Shop or Read Reviews
4. Mavic Pro Batteries to Power Bank Adapter
When you start using you drone, you will notice that DJI Go app drains your phone's charge pretty fast – it's always good to have a charger around. Sometimes purchasing a USB power bank from Amazon can be a bad idea (because some of them are bulky and might not fit into your drone bad when all accessories are inside).
A DJI Battery to Power Bank Adapter is able to use dead Mavic batteries to charge your phone after a flight. Also, you can use a fully charged battery and power your phone for many consecutive days.

– Item weight: 2.4 ounces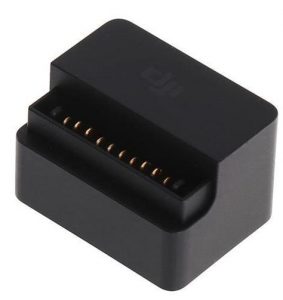 Click To Shop or Read Reviews
Conclusion – DJI Mavic Batteries & Charger
When it comes to a portable drone that provide a user with incredible features, is durable, easy to use, and provides exemplary performance, there is no match to DJI's Mavic Pro model. It comes inclusive of great features that work together to provide you with an incredible experience each and every time. If you have any questions regarding Mavic Pro batteries, do not hesitate to ask in the comments below.
Other Interesting articles in "
Reviews

"