DJI set to update its drones geofencing systems in Europe

DJI has just announced Geofencing 2.0 to airports and other sensitive facilities in 32 European countries. This is a result of recent drone scares at Gatwick, and Heathrow airports. This is no surprise as the upgraded system was deployed in the United States in October 2018 and DJI having geofencing technology since 2013.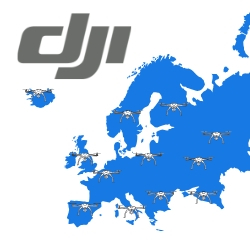 In July of 2017, a drone was spotted flying near Gatwick Airport, which caused some havoc. Research has shown that it is very dangerous if a drone were to hit an airplane. If there is even a slight safety risk, precaution must be taken to prevent drones from entering the airport's airspace. Hence, Geospatial Environment Online (GEO) 2.0 is born.
Some European countries are getting upgraded from GEO 1.0 to GEO 2.0 while other countries will have GEO 2.0 be their first geofencing system. The United States has had GEO 2.0 since October 2018.
The 13 countries getting upgrades are Austria, Belgium, Denmark, France, Germany, Ireland, Italy, Luxembourg, the Netherlands, Portugal, Spain, Switzerland, and the UK.
The 19 countries being introduced to GEO 2.0 are Bulgaria, Croatia, Cyprus, Czech Republic, Estonia, Finland, Greece, Hungary, Iceland, Latvia, Lichtenstein, Lithuania, Malta, Norway, Poland, Romania, Slovakia, Slovenia, and Sweden.
DJI has gun working with a new tech company, Altitude Angel, for the Geo 2.0 updates. They are a U.K-based start-up that was founded in 2014. DJI was previously working with Airmap.
One change that will be added to GEO 2.0 is Temporary Flight Restriction (TFRs). These will be imposed during major events or natural disasters.
GEO 2.0 will have detailed three-dimensional safety zones that will consist of complex polygon shapes as opposed to simple circles used in earlier geofencing versions.
The new system will apply the strictest geofencing restrictions to a 1.2 kilometer (¾ mile) ride rectangle around each runway. There are also three-dimensional flight paths at either end, where airplanes ascend and descend. However, more flexible geofencing restrictions apply to an oval area within 6 kilometers (3.7 miles) of each runway. This allows for more open areas on the sides of runways if you want to fly your drone. Plus, you are still able to fly on low-altitudes at 3 kilometers (1.9 miles) from the end of a runway.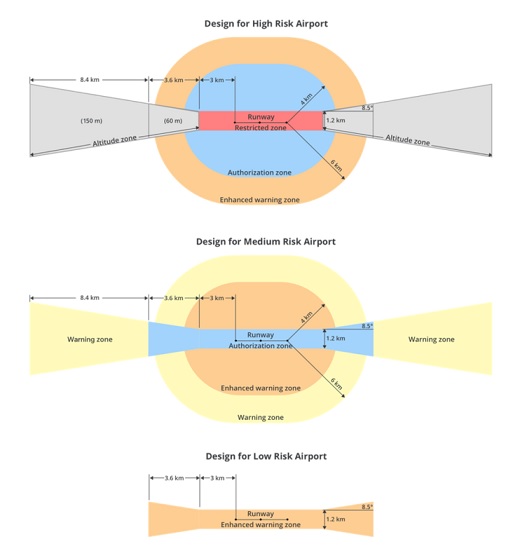 This is a big step in the right direction to keep airspace safe around airports and other sensitive facilities. However, lawmakers and law enforcement officials may not be completely satisfied. DJI drones are easily hacked to circumnavigate the GEO 2.0 and drone pilots may not choose to update to the latest software. Also, GEO 2.0 only works on DJI drones. Drones from other manufacturers like Yuneec, Parrot, or even homemade custom drones will not have this geofencing feature.
This new geofencing update should be live in all 32 countries by the end of February. If you are a DJI user, you'll need to update your drone's firmware and update the DJI GO 4 app.