The New DJI Spark: Specs & Features

DJI Spark Specs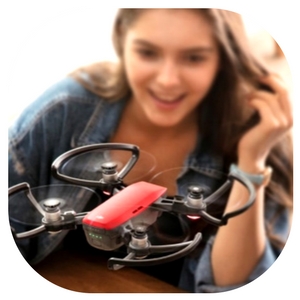 DJI has also worked hard to make sure that they can provide drones for users of all ages. Prior to the kid versions of drones, drones were made primarily for adults and older teens. As younger children saw the drones, they wanted to enjoy them and have fun with them too. Because there was a need for drones dedicated to smaller hands, DJI moved to incorporate new products that were made with all age groups in mind.
One major improvement that DJI saw that was needed was camera stabilization to ensure a beautiful picture that was in focus and not obscured by blur due to movement. This improvement allowed many of the users the opportunity to capture photos that they once tried to without luck. Now, users can have the confidence they need when they attempt to take videos or photos from above.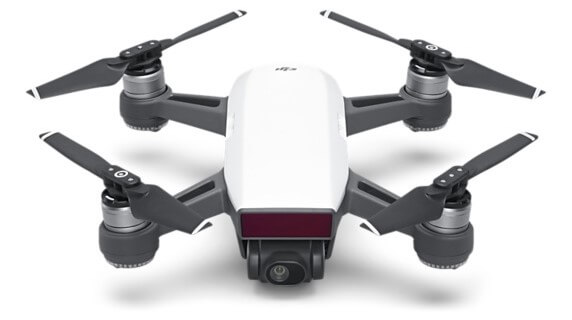 Click To Shop or Read Reviews
DJI's new Spark drone is an easy and fun camera that anyone can enjoy. As a leader in aerial imaging technology and in civilian drones, DJI created Spark, which is a small drone that fits and lifts off from the palm of your hand. In this DJI Spark review, we will discuss the drone in more detail, look at the DJI Spark Specs, and tell you just why it has so many rave reviews.
The DJI Spark drone is smaller than the other drone copters that you see on the market and it is about the size of a soda can, maybe a bit smaller or larger depending on the brand of drink. The drone was first released in June and had a price point of about $500. The drone itself is able to shoot video in HD and comes with a 2-axis stabilizer on the camera. With the ability to fly up to 31 miles per hour for a total of 16 minutes per flight, it is no wonder that people are in love with the new drone.
One of the most noteworthy features of the Spark is that it is gesture controlled when it is in flight mode. This means that you can control your drone when it is in the air with the movement of your hands or fingers. For example, you can signal the drone to take a picture of you from above. In addition, you can wave at the drone and it will fly 10 feet away from you.
Lastly, there are numerous automated software controls that come equipped in the companion app for you to control the Spark without any issues. For example, you can make the drone do a circular orbit, do a sweeping crane shot, or even zoom in or out.
The DJI Spark Drone is the perfect drone for anyone of any age and it will fit perfectly in your hand for takeoff. Check it out now!

DJI Spark Specs & Drone Review
This DJI Spark review will provide you with an overall idea of what this product is, DJI Spark specs, and even the pros and cons that come along with it. This information can be used to inform yourself about the product and help aid in your purchasing decision.
Spark is a mini drone presented by DJI and uses its technologies to provide you with the ability to capture moments while on the go. No matter where you are, you can take a snapshot. The takeoff weight of the drone is 300 grams and is able to sit securely in the palm of your hand. Takeoff also occurs from the palm of your hand.
The DJI Spark specs in terms of speed are pretty good. The maximum ascent speed of the Spark is 9.8 feet per second and the same for the descent speed. You can expect your Spark to reach maximum speeds of 31 miles per hour without wind in the air. This specific drone provides a total of 16 minutes flight time and a max hover time of 15 minutes.
The optimum operational temperatures for the Spark are 32 degrees to 104 degrees Fahrenheit, which makes it a very applicable and useful drone. The maximum transmission distance is 100 meters in distance and 50 meters in height.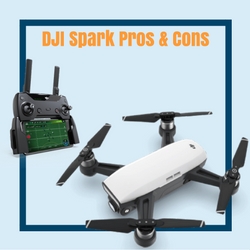 Pros:
– Lightweight and small
– Supports gesture controls
– Takes automated shots
– GPS stabilization
– Smartphone controlled
– Safety features built in
– Subject tracking
Cons:
– Battery life
– Video limits of 1080p
– Limited flight and hover time
– No high frame rate support
The DJI Spark price point is about $500 for a new, handheld, gesture featured drone. In comparison to other drones, the price point is about on par. Some of the accessories to go along with your DJI Spark have price points of $15 up to $150.
Compare the DJI Spark with the Mavic Air and Mavic Pro in our review here.
DJI Spark FAQ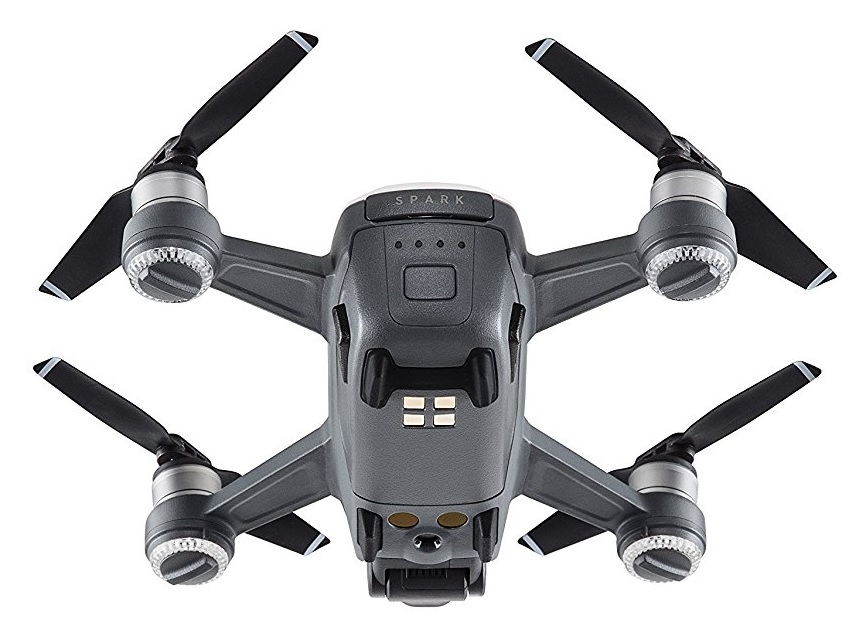 How Do I Charge My Spark?
There are two ways that you can charge your Spark and which one to choose is up to you. The first way to charge Spark is by using the included USB cable that came with your Spark. You do not want to remove the battery from Spark as it charges. The second way to charge Spark is to use the charging hub to charge three batteries simultaneously. You do need to remove the batteries from the aircraft to charge them. Once placed in the charging hub, do not remove the batteries until they are completely charged, which will be indicated on the hub for you to see.
How Is Spark Activated?
Spark is activated one of two ways. The first way to activate Spark is to connect Spark with your mobile device and then follow all of the instructions in the DJI GO 4 to finish your activation. The second way to activate Spark is to tap on the top right icon in the DJI GO 4's main page and then scan the QR code provided to you. From there, you will need to use your mobile phone to complete the setup and complete activation.
What Is the Maximum Distance and Speed at Which Spark Can Sense an Obstacle?
Spark automatically will avoid obstacles that it senses in front of it up to 16 feet away. The maximum speed at which Spark is able to sense obstacles is about 3 meters per second.
Should the Propellers Be Removed When Transporting or Storing?
No. You do not have to worry about removing the propellers when you store or transport your Spark. If space is an issue, you can easily just fold the propellers to ensure safe transport or storage. Note: Folding the propellers will not damage the Spark.
Should your propellers become damaged at all and you are in need of replacements, DJI does sell replacement propellers and propeller guards to ensure complete protection of your Spark drone.
Is Spark Waterproof?
No. Spark is not waterproof and it is recommended that you avoid flying Spark if it is snowing, raining, foggy, or there is wet weather nearby. You also want to make sure that you do not land or attempt to take off near puddles, lakes, or any areas of water or bodies of water. If Spark does land in water, it may be damaged, so it is best to avoid these situations altogether.
What are the DJI Spark specs?
You can find a comprehensive list of specifications on the DJI Spark website or look at our own review above.

Which Pano Modes Are Available with Spark?
There are two main Pano modes that are available with the Spark. The first one is Vertical Mode, which is where the camera will work to capture three photos vertically and then combine them to make a single vertical panorama for you to see. The second Pano mode is Horizontal Mode, which is where Spark's camera will take nine photos from different angles both horizontally and vertically. Once the nine pictures have been taken, they will then be combined together to make a horizontal panorama for you to see.
DJI Spark: Seize The Moment
This DJI Spark review should have provided you with some useful information about the handheld drone. With speeds, up to 31 miles per hour and an operation time of 16 minutes, you are sure to enjoy this small drone. One of the loved features by others is the gesture feature that allows you to control your new drone with the simple wave of a hand or finger in the air. The DJI Spark drone has a handsome price point at $500, which is considered to be affordable in the drone world. If you want a drone that is perfect for anyone of any age and you want a drone that will allow you to take pictures, no matter where your creativity sparks, this is the perfect drone for you!
Other Interesting articles in "
Reviews

"