Drone Delivery Plans Hindered by New FAA Proposed Rules
As this past Sunday, – the day after Valentine's (sic!) – marks a great step forward towards integrating commercial Unmanned Aerials Systems (UAS) into US airspace, there is one group of companies that many see as pioneers of drone technology but for the moment seem to be pulling shorter. Amazon, DHL, Domino's and other companies worldwide have been announcing drone delivery programs and Amazon is clearly the top US contender with a strong synergy with the technology. Similar to DHL, being a company dependent on delivery, UAS solutions could give Amazon the power to charge premium fees if a product is delivered within like half an hour. DHL could also revolutionize the last leg of a shipment's route by delivering it via UAVs, but most courier packages travel a lot more than a drone's reach so clients would not see much of a difference. Pizza deliveries at the same time seem like publicity stunts though hot food delivery is indeed a time sensitive task. Let's face it, pizza delivered within half an hour (plus preparation time) is not such  big deal and a scooter could probably deliver one in roughly the same amount of time.
The new proposed rules by the FAA and DOT would require an operator to maintain visual line of sight of a small UAS. The rule would allow, but not require, an operator to work with a visual observer who would maintain constant visual contact with the aircraft. The operator would still need to be able to see the UAS with unaided vision (except for glasses). The FAA is asking for comments on whether the rules should permit operations beyond line of sight, and if so, what the appropriate limits should be.
Flights would also be limited to daylight only (official sunrise to official sunset, local time), which is also a quite preventive limitation for deliveries, though theoretically this in itself would not ground Amazon style delivery programs. Another limitation is that drones may not operate over any persons not directly involved in the operation which is pretty much impossible to even foresee in case an autonomous flight.
According to International Business Times, unmanned aerial vehicle (UAV) advocates say the proposals are too restrictive and plan to vigorously contest the regulations during the upcoming public comment period. "That to me is the death knell of these proposed rules," said Michael Drobac, executive director of the Small UAV Coalition, which represents various companies interested in drone usage, including Amazon and Google. "The idea that … you have to ensure that every person on the ground is associated with the project is absurd. It can't be done, and it shouldn't have to be done."
In the past year and a half, both Amazon and Google have announced their hopes to launch drone delivery services. Amazon Prime Air and Google's Project Wing would carry products purchased online to consumers and drop the items at their doorsteps. Under the proposed rules, Amazon and Google others would not be able to operate their services in the U.S., and that already has Amazon saying it will take its air delivery service to countries that are not so restrictive.
Amazon's vice president of global public policy, Paul Misener, said the proposal would bar the company's delivery drones in the United States. Misener also urged the FAA to address the needs of Amazon and its customers as it carried out its formal rulemaking process. "We are committed to realizing our vision … and are prepared to deploy where we have the regulatory support we need," Misener said in an emailed statement to Reuters.
Other countries have taken a more permissive stance towards delivery drones. In September, logistics firm DHL said its use of drones to drop off packages to residents of a German island was the first such authorized flight in Europe.
"The United States cannot afford to lag behind other countries in technological innovation because of regulatory foot-dragging," U.S. Senator Cory Booker, a New Jersey Democrat, said.
After checking www.regulations.gov where the new proposed rules should be up for debate I personally have not been able to locate the document. I guess the announcement had to be rushed because of the leaked document came to light, but FAA is not rushing the debate to start that much. 
As Google's self-driving cars are allowed to drive autonomously in California and Nevada, it is interesting to consider why autonomous drone delivery flights should be ruled out. Of course, the public road infrastructure provides a much more controlled set of routes, but NASA is involved in an air traffic control system for drones which could promise the same for UAVs. After all, a driverless Toyota Prius or the small "bug" below could cause the same if not a lot more damage than a drone weighing less than 55 pounds. 
So it will be interesting to see how Amazon and Google's Project Wing will contest the current set of proposed rules. If they are serious about being committed to drone delivery, they will have to. Otherwise, those who voice their concerns that drone delivery announcements from tech companies are just publicity stunts will see their points justified. My personal bet is that the current set of rules were not aimed at delivery drones. After all, 55 pounds (about 55 kg) total weight (including the package itself) might not even  be the ideal size for a delivery UAV platform. FAA was facing pressure from Congress to propose regulations so they started with the most common size range and delivery drones might just come next.
Feel free to comment below and let us know if we've missed something!
Summary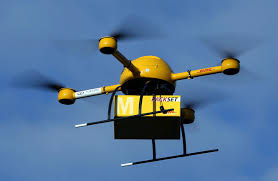 Article Name
Drone Delivery Plans Hindered by New FAA Proposed Rules
Description
Recently proposed UAS regulations hinder drone delivery programs of major companies by requiring line of sight and other limitations.
Author
Other Interesting articles in "
News

"