Starting on August 25, 2017, Hurricane Harvey struck Texas as a devastating category 4 hurricane, which means it had winds in the upwards of 130 and 156 miles per hour. With such horrible weather expected, many south Texas residents faced mandatory evacuations from their homes while countless others chose to stand their ground in the wake of the scary storm approaching. As the impacts of Harvey are still unfolding with an already reached 15 to 25 inches of rain received, as much as 50 inches can be expected as the final tally. As one can imagine, this makes for some incredible, heart-wrenching drone footage that will hopefully give meteorologists more insight before another weather catastrophe similar to this occurs.
With an expected destination that was supposed to take Harvey on a route across Texas, it was quite shocking when the hurricane paused in Houston, leaving a scene of destruction like no other. Death tolls continue to rise, but thankfully not as quickly as the water continues to rise. Dams have been forced to release water and the rain keeps coming down, with the area finally noticing it beginning to slow up on Tuesday, August 29, before the next wave of rain is set to hit. Drones have been a key resource in helping others outside of the path of the storm understand exactly how devastating the effect this storm has had on this area.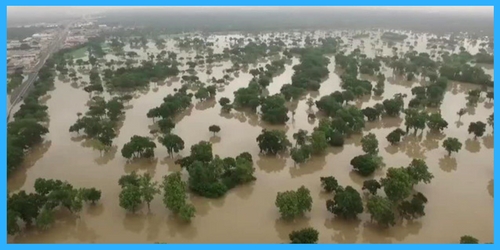 Many images that are being viewed from drone cameras are those of elderly or family with small children that are staked out on their rooftops with homemade signs and very little supplies in the hopes that they will be rescued in time for their family to survive. In addition to the drone photos, some people have taken to Twitter as a last plea with their address in hopes that they may be found. Rescue efforts continue as volunteers from other areas make their way in with boats and supplies to find survivors and take them to dry land. The drones are playing an integral part in locating these victims and getting the help that they so desperately need quickly.
Another major way that these drone views are helping, whether they are taken by amateurs or professionals, is that they are catching the heartbreak and the strong need for everyone to join together to help their fellow man. They are capturing the images that otherwise may not have been captured that show exactly why donations are needed in situations like these. Sadly, many of these people do not have flood insurance that will cover these damages. This leaves so many of the people of Houston and surrounding areas of destruction wondering exactly how they will ever rebuild and if their lives will ever be the same. Anyone that is wishing to help and is unable to make a monetary donation can always consider donating their time, clothing they no longer wear, or food. Many of those affected have lost everything and will be gracious to all help that is given. Without a device such a drone, many of us would only hear about the damage done by this horrible storm while remaining blissfully unaware of the true effect it has had on so many families and lives.