Drones are consistently on the rise, so it's important to educate yourself on the law, rules, and regulations that come with flying a drone in the state of New York.
More Resources
This article will give a brief overview of the laws in your state, but we can't keep cover all the minutae in only two thousand words. That's why we highly recommend that you do some research on your own time and, ideally, enroll in a professional course if you're actually looking to get certified. Though there's lots of options for learning more about drone laws, we highly recommend the#1 Rated Professional Course: Drone Pilot Ground School. Get $50 Off as a Dronethusiast reader, just click the link and sign up. It's a great way to learn about drone laws and piloting that's cheaper than most of its competition, you can purchase it once and own it forever and they're constantly updating their professional training.
All that said, let's move on to the important stuff.
Flying Over New York
Even though there are a lot of cities in the state of New York that have banned the use of drones, which we will touch more on further down, there are still some great places to fly!
Model Aircraft Fields
New York City specifically has a number of Model Aircraft Fields that are legal to fly in. Other than the areas listed below, you are not allowed to fly a drone anywhere else in the city:
Calvert Vaux
Marine Park
Flushing Meadows Corona Park
Forest Park
La Tourette Park (Greenbelt)
Stop worrying about the best holiday drone gifts this year, read our best drone deals article!
Flying anywhere else in the state of New York, and not just in New York City, should be cleared with local law to ensure that you will not be breaking any laws, rules, or regulations.
State Parks
It's currently unclear whether or not you can obtain a permit to fly a drone in the state parks of New York. Calling ahead and inquiring about obtaining a permit is up to you, and is highly recommended before making the trip to any of them.
At this time of writing, the only legal areas to fly a drone in the entire state of New York sit in New York City. If you have found a location elsewhere in the state, please let us know.

The Registering Process in New York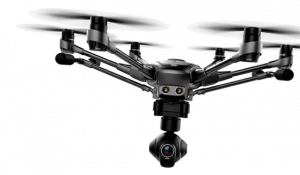 The Federal Aviation Administration (FAA) requires that all Small Unmanned Aircraft Systems (UAS) owners follow strict regulations and laws. You will need to file your name, home address and your email address as a start.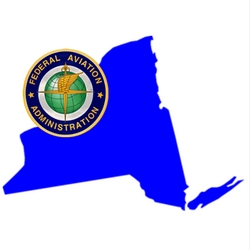 From there, you will receive a Certificate of Aircraft Registration and Proof of Ownership. These will include an identification number for your aircraft. You must have this number displayed on your drone at all times. The number will be valid for up to three years.
All aircraft that weighs more than 0.55 pounds, or 250 grams, and less than 55 pounds, or 25 kilograms, must be registered. This also includes any added payloads, such as an onboard camera.
You must be at least 13-years-old in order to register and, effective December 21st, 2015, all newly purchased or made drones must be registered before their first flight. You are able to register through a paper-based process, but you can also do so online by clicking here.
Proximity to Airports in New York
As a general rule of thumb, and in accordance with the law from the FAA, you may not fly within a 5-mile radius of any airport. In 2012 the FAA enacted the Modernization and Reauthorization Act which requires hobbyist drone operators, meaning residential, to contact air traffic control and/or airport management if they are operating within a 5-mile radius of any local airport.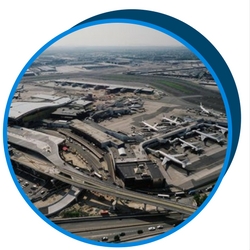 This is enacted nationwide, not only in New York, under Part 101 of the Act, being Special Rule for Model Aircraft, to ensure that drone operations under unsafe conditions are disapproved before the drone can be launched.
Regardless of the local airport you will be flying near, and possibly breaching airspace, you will need to contact either the airport air traffic control tower or the airport operator.
You will need to establish an agreed-upon operating procedure with airport air traffic or the airport operator and answer a couple of questions. For example, questions relating to how long you are going to be flying for.
However, you should only be flying in the designed, permitted airspace within the locations you are legally able to fly a drone within the limits of New York. If none of the designated flying areas apply to the airport proximity, you may disregard this section completely.
Unique Drone Laws in New York
The information listed for you below is in effect and listed as accurately as possible at this time of writing.
Article 28, Part 3, 1115
Exemptions from sales and use taxes. (a) Receipts from the following shall be exempt from the tax on retail sales imposed under subdivision (a) of section eleven hundred five and the compensating use tax imposed under section eleven hundred ten:
(21-a) General aviation aircraft, and machinery or equipment to be installed on such aircraft. For purposes of this subdivision, "general aviation aircraft" means an aircraft that is used in civil aviation, that is not a commercial aircraft as defined in paragraph seventeen of subdivision (b) of section eleven hundred one of this article, military aircraft, unmanned aerial vehicle or drone.
Chapter 99. Peace and Good Order. Article II. Unlawful Trespass. 99-3. Prohibited Activities. Orchard Park, NY.
D. Operation of unmanned aircraft/unmanned aircraft system. [Added 7-15-2015 by L.L. No. 5-2015]
It shall be unlawful for any person to operate an unmanned aircraft or unmanned aircraft system upon or in the airspace within one mile of an open-air event in the Town of Orchard Park wherein more than 200 individuals could gather for an organized event, including, but not limited to, parades, concerts, street dances, festivals, art shows, sporting events and recreational events.
It shall be unlawful for any person to operate an unmanned aircraft or unmanned aircraft system upon or in the airspace within three miles of the Ralph Wilson Stadium Complex on the day of any event held at the Ralph Wilson Stadium Complex or four hours prior to and two hours after any event held at the Ralph Wilson Stadium Complex.
Definitions. As used in this section, the following terms shall have the meanings indicated:
UNMANNED AIRCRAFT
A device that is intended to navigate in the air without an onboard pilot; and
(b) An aircraft that is operated without the possibility of human intervention from within or on the aircraft.
(c) Unmanned aircraft are also referred to as "drones."
RALPH WILSON STADIUM COMPLEX
All of the approximately 197.65 acre parcel of land situated in the Town of Orchard Park, New York, locally known as One Bills Drive, inclusive of Ralph Wilson Stadium, the ADPRO SPORTS Training Center, the Fieldhouse, parking lots, entrances, walkways and practice fields.
UNMANNED AIRCRAFT SYSTEM
An unmanned aircraft and associated elements (including communications links and the components that control the unmanned aircraft) that are required for the pilot-in-command to operate safely and efficiently in the national airspace system.
Exceptions: express written permission required. The use of an unmanned aircraft or unmanned aircraft system is permitted pursuant to written permission issued by the Town of Orchard Park. This permission, when issued, will be subject to all applicable Federal Aviation Administration (FAA) regulations and shall designate the boundaries of the event an operation of such unmanned aircraft or unmanned aircraft system.
Violations. This article shall be punishable by a maximum fine of $250 or by imprisonment of not more than 15 days or both.
Other Legal Issues With Drones in New York
The information listed for you below are yet to come in effect and are listed as accurately as possible. Everything within this section, at this time of writing, are bills and laws that have been proposed and/or newly introduced and are being pushed forward.
New York Assembly Bill A01670
AN ACT to amend the penal law, in relation to unlawful use of a drone
The People of the State of New York, represented in Senate and Assembly, do enact as follows:
Section 1. Section 240.00 of the penal law is amended by adding three
new subdivisions 7, 8 and 9 to read as follows:
"Drone" means an unmanned aircraft which is operated remotely without the possibility of direct human intervention from within or on the aircraft.
"Restricted airspace" means any airspace over the property of a correctional facility as defined in section forty of the correction law or airspace within five miles of an airport.
"Personal use" means the operation of a drone solely for the purpose of pleasure or recreation.
The penal law is amended by adding a new section 240.80 to read as follows:
240.80 Unlawful use of a drone.
A person is guilty of unlawful use of a drone when during the personal use of such drone, except as otherwise provided by federal law, he or she knowingly operates a drone:
1. more than four hundred feet above ground level; or
2. weighing more than ten pounds; or
3. without a visual line of sight of such aircraft; or
4. within a restricted airspace; or
5. in a reckless manner wherein such operation creates a risk of harm to the public; or
6. with the intent to harass or annoy an individual or individuals; or
7. below one hundred feet above ground level on private property with-
out the owner's consent.
EXPLANATION–Matter in italics (underscored) is new; matter in brackets
[ ] is old law to be omitted.
LBD00380-01-7 A. 16702
Unlawful use of a drone is a violation.
This act shall take effect on the first of November next succeeding the date upon which it shall have become a law.
Potential DEC Regulations
Though there are no solid regulations or public comment from the Department of Environmental Conservation, they are currently seeking public input on the subject of determining whether or not public drone use will be permitted on state land.
The potential regulations and policies are being introduced to the public within the next couple of months ahead, mostly due to the concern about using a drone where lands have been classified as wilderness. This includes Catskill and Adirondack parks, for example, which are classified as canoe and primitive.
Though the FAA has regulations that control the use of recreational drones, the DEC currently holds jurisdiction over launching and landing a drone on land owned by the state.
This means that the DEC is able to issue tickets for certain instances, such as if a person brings their drone into the Adirondack wilderness and launches it from there. However, if they have launched it elsewhere, and are simply flying over the wilderness area, there is very little that the DEC can actually do.
With all of this in mind, the DEC is going to be releasing a firm public comment and some potential regulations on the subject of recreational drones within the next couple of months.
The DEC do not currently have any set regulations on recreational drones, however, but they do have a ban on motors within the majority of the forest preserves. Because drones have been considered as being motorized equipment, this is why you can be ticketed for launching one.
New York State Senate S2125
BILL NUMBER: S2125
TITLE OF BILL : An act to amend the correction law, in relation to
civilian drone use near a correctional facility
PURPOSE :
To prohibit civilian drone use within one thousand feet of a
correctional facility.
SUMMARY OF PROVISIONS :
Section 1 amends the correction law by adding a new section 625
prohibiting drone use within 1000 feet of a correctional facility or a
local correctional facility in this state. This section also defines
the term drone pursuant to this provision and provides penalties for
violating this law.
This prohibition shall not apply to the operation of a drone by any
person or entity that the federal aviation administration has
authorized to operate a drone from commercial purpose, where the drone
is operated in a manner that complies with that authorization.
FAQ on New York Law and Drones
If you do not see your question, or an answer to it, listed below, feel free to get in touch with us and we'll gladly give you one.
Is a drone/UAS considered the same as a model aircraft?
The United States Congress has defined and concluded that a model aircraft is only considered a drone or a UAS when the following points are met:
– It's flown for recreational purposes or as a hobby and not for any business or commercial reasons
– It's flown within visible distance, meaning being able to see it at all times, of the individual operating it
– It's capable of sustaining flight within the atmosphere, meaning that it can fly
If your model aircraft, regardless of whether or not you acquired it pre-built or built it yourself, meets the above points to your knowledge, it's considered a drone/UAS.
What is the Small UAS Rule?
The Small UAS Rule requires those who have unmanned aircraft systems, or UAS, that weigh less than 55 pounds, payload included, to register their aircraft with the FAA. This only applies to recreational or hobby fliers and not commercial drone use, however.
Is the FAA's Small UAS Rule still in effect?
Yes, it has been in effect from August 29th of 2016 and is still in effect at this time of writing.
Do I have to carry my Certificate of Aircraft Registration while flying my UAS at all times?
Yes, you must have the registration certificate from the FAA at all times during flight operation. In accordance with federal law, all UAS operators must show their certificate of registration to any local, state, or federal law enforcement officer when they are asked to do so.
What do I do for registration if my UAS is over the 55-pound limit?
If your UAS weighs more than 55 pounds, including payload, you will need to register it by clicking here.
Drone Laws in New York
Knowing the laws, regulations, restrictions, etc., regarding drones in your state is extremely important. Remember to educate yourself, follow the rules, fly safely and responsibly, and have fun!