Knowing the laws, rules, and regulations for flying a drone in the state of Ohio will ensure that you keep yourself out of trouble when flying your drone. Abiding by the local law and regulations where drones are concerned is important for not only your safety but the safety of the general public, as well.
Learn All The Drone Rules & Regulations
This article will give a brief overview of the laws in your state, but we can't keep cover all the minutae in only two thousand words. That's why we highly recommend that you do some research on your own time and, ideally, enroll in a professional course if you're actually looking to get certified. Though there's lots of options for learning more about drone laws, we highly recommend the#1 Rated Professional Course: Drone Pilot Ground School. Get $50 Off as a Dronethusiast reader, just click the link and sign up. It's a great way to learn about drone laws and piloting that's cheaper than most of its competition, you can purchase it once and own it forever and they're constantly updating their professional training.
All that said, let's move on to the important stuff.
Flying Over Ohio


Chagrin Falls in, ironically, Chagrin Falls, Ohio is one of the best places to fly a drone, especially if you're looking to get some killer footage of the outdoors. You don't even need a large, high voltage drone to explore it considering it's smack in the middle of town.
Lake Ladue, which used to be known formerly as the Akron City Reservoir, located in Akron, Ohio is the perfect spot to view the sunsets and sunrises over the tops of the trees.
Daree Fields Park in the greater Columbus, Ohio area is another good flying location. This one, however, is all about timing.
During the early hours on the weekends and evenings throughout the week it can become busy with sporting events, but if you go at the right time it's a great spot to practice flight maneuvers and master your droning skills.
The Registering Process in Ohio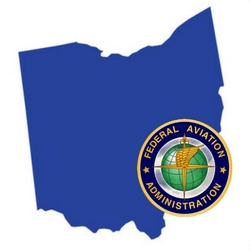 The Federal Aviation Administration (FAA) requires that all Small Unmanned Aircraft Systems (UAS) owners follow strict regulations and laws. You will need to file your name, home address and your email address as a start.
From there, you will receive a Certificate of Aircraft Registration and Proof of Ownership. These will include an identification number for your aircraft. You must have this number displayed on your drone at all times. The number will be valid for up to three years.
All aircraft that weighs more than 0.55 pounds, or 250 grams, and less than 55 pounds, or 25 kilograms, must be registered. This also includes any added payloads, such as an onboard camera.
You must be at least 13-years-old in order to register and, effective December 21st, 2015, all newly purchased or made drones must be registered before their first flight. You are able to register through a paper-based process, but you can also do so online by clicking here.
Proximity to Airports in Illinois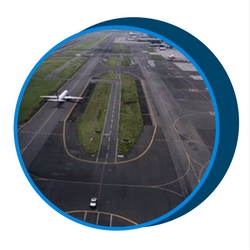 As a general rule of thumb, and in accordance with the law from the FAA, you may not fly within a 5-mile radius of any airport.
In 2012 the FAA enacted the Modernization and Reauthorization Act which requires hobbyist drone operators, meaning residential, to contact air traffic control and/or airport management if they are operating within a 5-mile radius of any local airport.
This is enacted nationwide, not only in Ohio, under Part 101 of the Act, being Special Rule for Model Aircraft, to ensure that drone operations under unsafe conditions are disapproved before the drone can be launched.
Regardless of the local airport you will be flying near, and possibly breaching airspace, you will need to contact either the airport air traffic control tower or the airport operator.
You will need to establish an agreed-upon operating procedure with airport air traffic or the airport operator and answer a couple of questions. For example, questions relating to how long you are going to be flying for.
Unique Drone Laws in Ohio
At this time of writing, there are no drone laws in the state of Ohio. However, there have been multiple bills proposed with a majority failure rate, but the Ohio Legislature created an aerospace and aviation technology committee for the state that does tie in with drones altogether.
122.98 Ohio aerospace and aviation technology committee.
(A) There is hereby created the Ohio aerospace and aviation technology committee, consisting of the following members:
(1) Three members of the senate, appointed by the president of the senate, not more than two of whom may be members of the same political party;
(2) Three members of the house of representatives, appointed by the speaker of the house of representatives, not more than two of whom may be members of the same political party;
(3) Fifteen members representing the aviation, aerospace, or technology industry, the military, or academia. One such member shall be appointed by the governor, and fourteen such members shall be appointed by majority vote of the six members representing the senate and house of representatives.
The legislative members of the committee shall be appointed not later than September 1, 2014, and the remaining members shall be appointed within ten days thereafter.
The initial term of all members shall end on December 31, 2016. Thereafter, the term of all members shall end on the thirty-first day of December of the year following the year of appointment. Vacancies shall be filled in the manner of the original appointment.
The first legislator appointed to the committee by the speaker of the house of representatives after the effective date of H.B. 292 of the 130th general assembly shall serve as the first chairperson of the committee and shall serve until December 31, 2016.
Every general assembly thereafter, the chairperson shall alternate between the first
legislator appointed by the president of the senate and the first legislator appointed by the speaker of the house of representatives.
(B) The duties of the committee shall include, but are not limited to, all of the following:
(1) Studying and developing comprehensive strategies to promote the aviation, aerospace, and technology industry throughout the state, including through the commercialization of aviation, aerospace, and technology products and ideas;
(2) Encouraging communication and resource-sharing among individuals and
organizations involved in the aviation, aerospace, and technology industry, including
business, the military, and academia;
(3) Promoting research and development in the aviation, aerospace, and technology
industry, including research and development of unmanned aerial vehicles;
(4) Providing assistance related to military base realignment and closure.
(C) The Ohio aerospace and aviation council shall serve as an advisory council to the committee.
(D) The committee shall compile an annual report of its activities, findings, and
recommendations and shall furnish a copy of the report to the governor, president of the senate, and speaker of the house of representatives not later than July 1, 2015, and the first day of July of each year thereafter.
Added by 130th General Assembly File No. TBD, HB 292, §1, eff. 9/17/2014.
Prior History: (Repealed by 129th General AssemblyFile No.39, SB 171, §2, eff. 6/30/2011.)
(Effective Date: 10-24-2001 .)
Other Legal Issues With Drones in Ohio
Though this may not be new information to some, legislation was passed by the Cleveland City Council as of last year in Cleveland, Ohio that allows authorities to regulate the use of drones while assisting the FAA.
There are also rules and regulations regarding the State Parks of Ohio, which you can get the proper information for by clicking here.
Rules and regulations aside, you should always call the office of any State Park in the state of Ohio before you fly your drone there.
FAQ on Ohio Rules and Drones
If you do not see your question, or an answer to it, listed below, feel free to get in touch with us and we'll gladly give you one.
Is a drone/UAS considered the same as a model aircraft?
The United States Congress has defined and concluded that a model aircraft is only considered a drone or a UAS when the following points are met:
– It's flown for recreational purposes or as a hobby and not for any business or commercial reasons
– It's flown within visible distance, meaning being able to see it at all times, of the individual operating it
– It's capable of sustaining flight within the atmosphere, meaning that it can fly
If your model aircraft, regardless of whether or not you acquired it pre-built or built it yourself, meets the above points to your knowledge, it's considered a drone/UAS.
What is the Small UAS Rule?
The Small UAS Rule requires those who have unmanned aircraft systems, or UAS, that weigh less than 55 pounds, payload included, to register their aircraft with the FAA.
This only applies to recreational or hobby fliers and not commercial drone use, however.
Is the FAA's Small UAS Rule still in effect?
Yes, it has been in effect from August 29th of 2016 and is still in effect at this time of writing.
Do I have to carry my Certificate of Aircraft Registration while flying my UAS at all times?
Yes, you must have the registration certificate from the FAA at all times during flight operation. In accordance with federal law, all UAS operators must show their certificate of registration to any local, state, or federal law enforcement officer when they are asked to do so.
What do I do for registration if my UAS is over the 55-pound limit?
If your UAS weighs more than 55 pounds, including payload, you will need to register it by clicking here.
How do I request flight permission from Air Traffic Control to operate within airspace class B, C, D, or E?
You can contact Air Traffic Control for flight permission through the FAA portal available online by clicking here.
Drone Laws in Ohio
The best way to avoid issues when flying a drone, not just in Ohio but nationwide, is to do your research and abide by the laws, regulations, and rules that go with flying a drone in your state.

Other Interesting articles in "
News

"