Keeping Your Best Drone Photography Around for Long Haul
Interested in learning how to edit and produce the images and videos you take with your drone? Check out this great Aerial Post Production course with UAVCoach!
Click here to learn more about the photo editing course.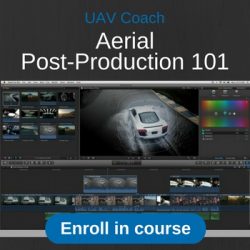 After a few really good runs in the sky with your favorite UAV, you may find that drone photography is right up your alley, and that you are capturing some top-notch images that you would like to hang up and show off.
You may be flying over the ocean, through the mountains, or just in your favorite neighborhood park, and beginning to really get a feel for the controls, and how to capture the best drone pictures, even if you're in a bit of a tight spot or different location.
Realizing that you're getting pretty good with your drone pictures?
When you have taken some top-notch pictures of the places you are flying over, in many cases it just doesn't make sense to invest time and money into the ability to make and frame prints in a home-based shop.
It's so nice to just get online, pick a size and type, and then know that the print will be arriving soon.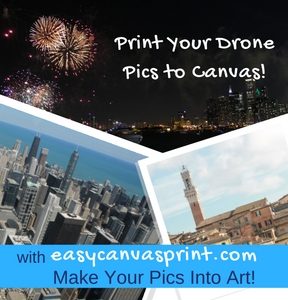 We looked at a lot of different websites that will turn your images into permanent art, and easycanvasprints.com jumped out at us as one of the coolest places on the web where you can do so.
Some of the cool options they offer
Once you have the aerial photography drone image selected you want to display, the options for canvas are many. 8 x 10, 11 x 14, 12 x 18, 16 x 20, 18 x 24, and 24 x 36 are all available for purchase, and the pricing for minor retouching begins at just $13.50.
There are two different types of border wrap on all of the canvases: .75", or 1.5". Then, you pick whether you want a standard hanger, or easel back that allows you to display the work on tabletops or your desk.
For no extra charge, you can apply an "image wrap" to your favorite work of drone photography: it is a cool feature that has your image wrapping around the sides of the canvas, or you can opt for a colored border wrap: the images stops along the edge of the canvas front, with a solid color border.
You can pick black and white or sepia for color scheme, as you will be starting to get excited about how awesome your image is going to look as a birthday gift or reminder to yourself of your favorite in a collection of drone pictures.
Options available if anything needs retouched
In the realm of drone photography, some wouldn't think that they would want any re touching done to their photo. Portraits sometimes need teeth whitening, wrinkle removal, and to isolate color as well as removing objects.
When you deal with landscapes from the air, you may have the itch to remove a blighted building, area of land that is not the same hue as others in the photo, or even replace elements of the background.
When your creation is shipped to your residence or business, it will be placed in a box that is specifically designed to protect your canvas while it is in transit.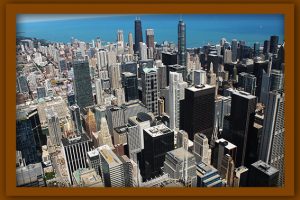 There is a plastic bag to keep moisture at bay, and shrink wrapping to keep your aerial photography drone masterpiece intact while it moves cross-country.
The canvas is a polyester material, and the finished product has a semi-gloss surface that will make your landscape pleasantly jump out at you.
Many pilots who had been out and about gathering footage that they wanted to preserve for a lifetime were asking us about canvas printing services, and question regarding which were the best.
One of the best things about this service is that it lives up to its name by being accessible and easy: you can call or reach support by email, and your order will always be at the top of their priority list.
Other Interesting articles in "
Awesome Drone Tricks & Tips to Maximize Your Enjoyment

"