Dronethusiast $500 Women in Science UAV Scholarship – 2019


In What Way Can Drones Positively Affect Our Lives Today – 2019 Global Scholarship For $500.00 USD Scholarship.
See our 2016 Winner: Deanna Kenyon
See our 2017 Winner: Ashley Hanson
See our 2018 Winner: Samantha Wood
-Please share this with any students or universities that may have an interest! Thanks!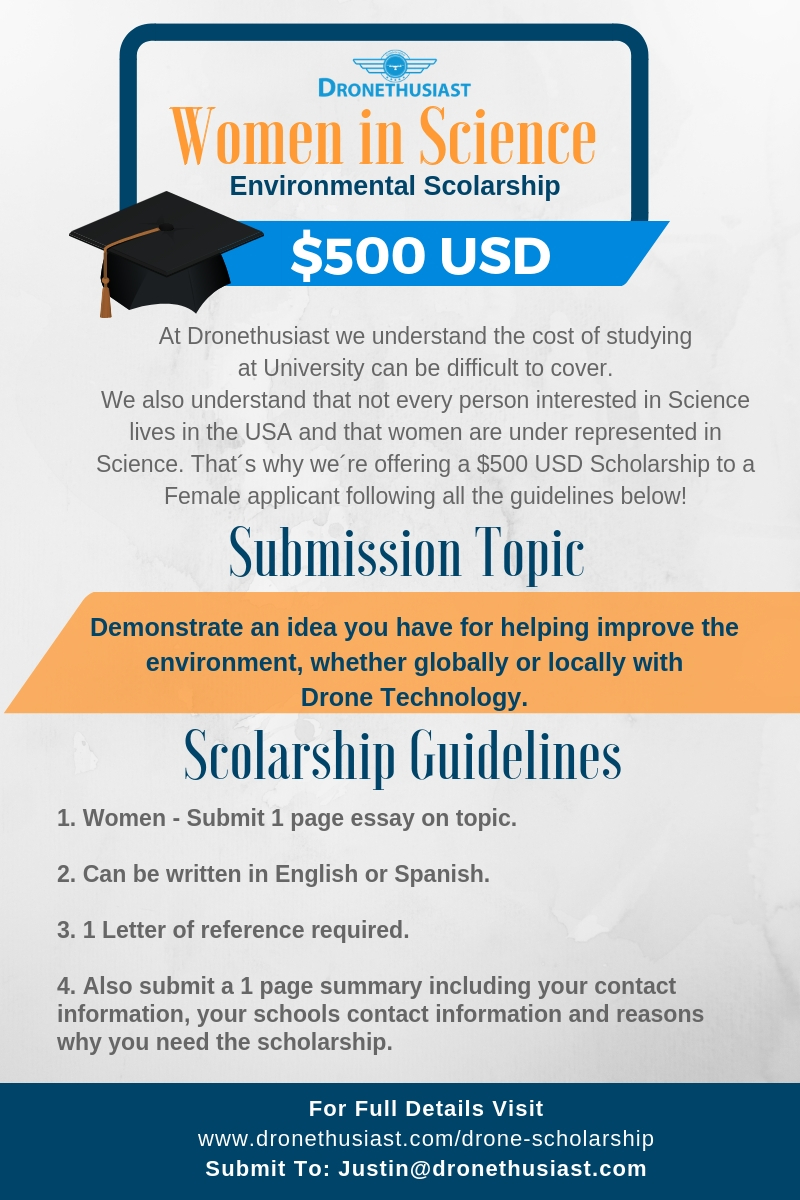 As a website that puts a very high level of regard on issues regarding science, we understand better than almost anyone that the younger generations who will soon be entering college are one of the most important resources we have. As college costs have risen by more than 1000% since the 1980's, even the best and brightest in America feel as if they may not have all of the resources necessary to pay for college.
Even if some scholarships and financial aid are achieved, there are other impending costs such as books, housing, and supplies that add up so fast it makes new students' heads spin. When a gifted mind is pulled in many directions by the stresses of making ends meet, it is distracted from the learning and productivity it is capable of!
That's why we here are Dronenthusiast are happy to give back to female students who are choosing to pursue science. We have already documented just how important drones can be when it comes to operations such as search and rescue, geography and mapping, along with having some good leisure time flying with friends.
We felt that truly doing our part includes offering a $500 scholarship for a college-bound individual, and they just have to write an impressive essay at the attention of our staff. The deadline is Dec. 1st of every year, and 1 winner will be chosen by Jan. 1st.
If you're done thinking about the scholarship and looking to get your 2019 Holiday shopping done, check out our great new Black Friday 2019 Drones article.
Requirements:
You must be currently enrolled as a high school or college student
Email your application to Justin Ford at justin@dronethusiast.com by December 1, 2019. This E-mail will include a 1-2 page essay, a 1-page submission document, and 1 letter of recommendation.
You must demonstrate some need for financial assistance.
This scholarship is available to women of all majors who are going to school anywhere in the world – this is NOT a US-only scholarship.
Your application will be evaluated based on:
Individual determination and will to succeed
Future goals and detailed plans to achieve them
Ability to communicate the hardships you have overcome or currently face
Self-motivation in completing challenging coursework
Demonstrated need for financial assistance
Submission Guidelines:
In order for your application to be considered you must submit a 1-2 page essay written in either Spanish or English. In this essay, you must describe an idea you have that will use drone technology to improve the environment on a global or local scale.
Along with this essay, you must submit a letter of recommendation and an additional 1-page application document which will include:
Your name and contact information
The school you attend and their contact info
An additional 1-paragraph demonstration of your need for the scholarship money
This document and the letter of recommendation must also be written in either Spanish or English.
The deadline to apply is 12:00 AM on December 1st, 2019. The reward will be distributed before February 1st, 2020 to your school's financial aid department.
The reward will be sent directly to the student's school, in the name of the financial department of the school. All information you send to us in lieu of this scholarship will be completely private, and not shared with anyone for marketing or any other commercial purposes.
All information submitted in your essay and application will be kept private and never given or sold to anyone. The winner will be displayed on this website for purposes of promotion.
Check out the best cheap drones for sale or if you're looking for more information on drones..
Check out our drones with cameras or drones for sale articles as well. We also love Star Walk Kids they have always been great to work with and write up great product & gift guide reviews!
Winner Of Dronethusiast's $500 Global Drone Scholarship 2016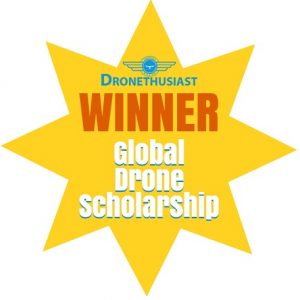 Deanna Kenyon
I am an Environmental Science Major at the University of Massachusetts Amherst and a member of the Commonwealth Honors College, with an integrated concentration of science in Renewable Energy.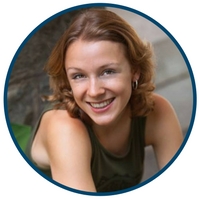 I grew up in North Chelmsford Massachusetts, and attended grade school at Charles D. Harrington Elementary, Parker Middle School, and Chelmsford High School, and graduated in 2015. I aspire to become an Environmental Engineer and help begin to create new renewable energy solutions to help foster a more sustainable future for our children, and generations to come. I am equally curious and inspired by the complexities of natural science, and strongly believe that the key to our future lies in discovering how humanity can take advantage of the information locked in biological and chemical systems. After I finish my Bachelors of Science at UMass Amherst, I intend on pursuing an Master's in Environmental Engineering, to create a rich synthesis of natural sciences and engineering for a career.
Check out these Cyber Monday 2019 Drone deals if you're trying to get your holiday shopping done!
Winner Of Dronethusiast's $500 Global Drone Scholarship 2017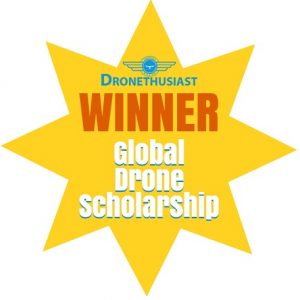 Ashley Hanson
I currently am an advanced sophomore at Embry-Riddle Aeronautical University (ERAU) in Daytona Beach, FL. My current major is Interdisciplinary Studies with minors in Business Administration, Finance, Flight, and Unmanned Aircraft Systems.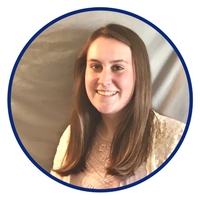 I grew up in a small town in Southeastern Minnesota where I attend grade school and high school. For the last two years of high school I dual enrolled at a couple local colleges and universities and earned my Associates of Arts and Sciences Degree in 2016. I love a lot of different aspects of aviation, from flying manned aircraft to flying unmanned aircraft and the environment surrounding the field. For most of my life I grew up on a farm and was involved in many aspects of production.
Because of this, after graduating from ERAU, I aspire to work in the agriculture industry as a Precision Agriculturalist that utilizes the use of drones. I plan to apply my knowledge of aviation and agriculture to help farmers increase their yield potential and save them money; along with helping the environment by decreasing the amount of inputs needing to be spread. Being able to help farmers in this way will help them to be able to produce more food for the ever-growing population while keeping the environment more sustainable for future generations.
If you're shopping for drones this year and you're not sure which to pick, let dronethusiast help you. Check out one of our most recent articles, the best drones of 2019!
Winner Of Dronethusiast's $500 Global Drone Scholarship 2018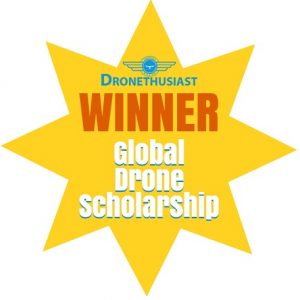 Samantha Wood
I currently am a senior at Harry A. Burke High school. In the fall of 2019, I will be a Biological Sciences major and pre-Physician's Assistant at the University of Nebraska-Lincoln. I then plan to obtain my Master's in Physician's Assistant Studies.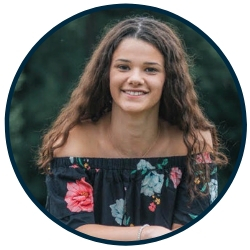 I grew up in Omaha, Nebraska and attending Prairie Wind Elementary and Alfonza W. Davis Middle School. Since a young age, I have been interested in science and the way things work. From biology to chemistry to physics, trying to figure out how things work has kept me busy. I have been involved with a health enrichment program at the University of Nebraska Medical Center where I have taken college-level courses and conducted research to help me prepare for my future career in medicine. Additionally, I have been able to involve myself in HOSA Future Health Professions chapter, a student lead organization geared towards those hoping to pursue a career in healthcare, and become president of the UNMC High School Alliance Chapter.
With my roots in science and particularly medicine, I aspire to become a Physician's Assistant and help those in both rural and urban areas have access to quality healthcare where ever they are. With various health disparities affecting people in rural and economically disadvantaged area, I want to do my part to make sure that those individuals can live happy healthy lives.
CONGRATULATIONS!
Other Interesting articles in "
Scholarship

"