Drone Spectacle Opens the 2018 Winter Olympics

As with any Olympics, there is a certain expectation of greatness when it comes to the opening ceremony. The Pyeongchang Winter Olympics certainly did not let viewers down with their curtain unveiling. They actually created a record-setting never before witnessed site involving drones.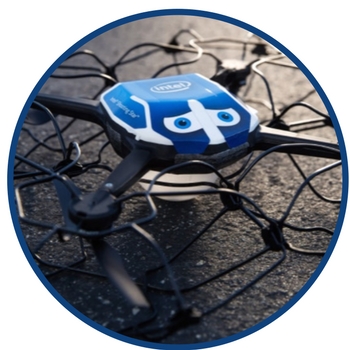 It isn't possible to deny that drones continue to increase in popularity as the years move forward. They're being used for a variety of purposes that no longer include just recreational. With incredible cameras equipped on many of them, they are able to film and capture pictures that would have never been imaginable in the past.
Intel, which is a major computer manufacturer and sponsor of the Olympics, went all out with the opening show this year. They used a coordinated swarm of 1218 Intel Shooting Star drones to create something that has never been seen before.
While coordinating these drones, Intel also managed to capture a Guiness World Record for "the most aerial unmanned vehicles simultaneously." Each of the drones involved in this event were a foot long and weighed approximately 8 ounces. These drones were constructed of plastic and styrofoam and lit up the skies in pre-designed animation.
These Intel drones are also equipped with LED lights and have the ability to display over four billion color combinations. Since that is the case, the show is designed by an animator and the number of drones as well as their colors at a specific time are pre-programmed using an animation board. An entire swarm of these drones can be flown by one pilot at a computer and has the ability to create astonishing images with the use of drones and different colored lights.
South Korea has tightened their drone security throughout these games, and it is now clear why. Since the Intel drones will also be performing for certain medal ceremonies as well as competitions, the thoughts of a rogue drone in the area would be unsafe. They have lasers to find rogue drones in the sky, drones equipped with nets to capture rogue drones, and even a helicopter that is ready to fly in and assist if needed. The area above the Olympics has also been declared a no-flight zone, which should also deter pilots from flying in the area.
If you missed the opening ceremony of the Olympics, it is definitely recommended that you view it online. Seeing that large of an amount of drones working simultaneously to display stunning images is pretty amazing. It is safe to assume that there will be many more incredible light shows with these drones as technology continues to advance.