Drone Startup Changes How Businesses Manage Inventory

Drones aren't just for play anymore. In fact, these unmanned aerial vehicles are continually being used for more and more types of real-world work in the business world. A new startup company based in Pittsburgh called Gather, is doing just that.
Using drones, they're able to automate their inventory management, and make it cheaper and safer for everyone involved. Equipped with computer vision software, Gather's drones are poised to revolutionize the world of inventory management and save businesses time and money at the same time.
Gather, founded in 2017, is a Pittsburgh based company made up of Robotics Institute at Carnegie Mellon University graduates. Their company uses autonomous drones and software to help manage warehouse inventory.
Using this software, businesses can connect with existing inventory management software and IOT devices like sensors. They then use computer vision on the drone to track inventory and record it back to the software. This
allows businesses to more easily manage their inventory and saves them time in the process which saves money.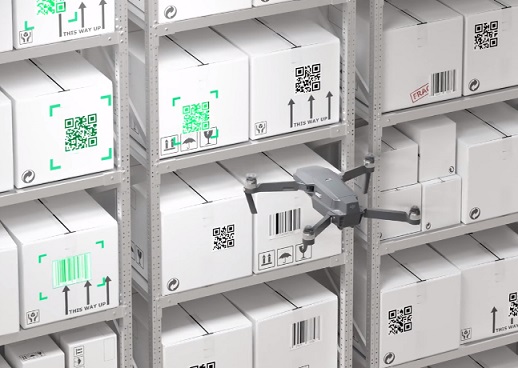 Gather is already in use in an undisclosed amount of locations, and the preliminary results are very promising.
Overall, the solution is about 60% cheaper than using people alone and is a big win for inventory management. Some companies are reporting that Gather has allowed them to do their inventory 10x quicker than it takes without using the system. This is serious news for any business that needs to manage their inventory efficiently. The time and money savings for businesses using drones is already looking very promising.
What's also very cool is what Gather is calling their "semantic mapping" system. This allows the user to map routes and identify objects up to 150m. The example Gather gave was keeping drones at least 15 feet away from forklifts. These sorts of cues allow users to create complex pathing to keep the drones and users safe. This is hugely important in a warehouse environment where safety is a high priority. Having the drone being able to intelligently navigate this type of environment is essential to their adoption in the workplace.
Speaking of safety, this is another big perk of drones being used in this capacity. Being able to use drones to traverse a warehouse will keep employees at their desks and out of harm's way. As technology improves, this can be extended to a range of tasks in the workplace. Gather is working in the warehouse environment, but it's easy to see how their work can be extrapolated out into a variety of other dangerous jobs.
The big challenges remaining are getting drones to work in a dynamic environment. A warehouse for example is an ever-changing environment and is filled with vehicles, people, and more. When you add in all these variables, it becomes much more difficult to account for all the potential situations. Gather is hard at work though and looking to solve these and other difficult problems for bringing autonomous drones and computer vision to business.
While Gather is working on inventory management, it's a sign of the times that drones are being used for more serious tasks. The technology has grown leaps and bounds over the past years, and it's now being taken seriously by business. Gather is just one of many companies inventing new uses for drones. There are a bunch of other companies out there that are solving interesting problems through the use of drones and computer vision. It's exciting to watch the future of drones and see what other great uses they will be put to both inside and outside the business world.