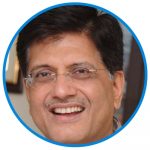 Drones have taken over the world. Piyush Goyal, the "Union Minister of Mines" has decided to implement; increase the usage of drones in the mining industry. He's currently in charge of RE, power and coal ministries.
In his Twitter account, the minister stated the launch of a drone to help mining company determine field's potential.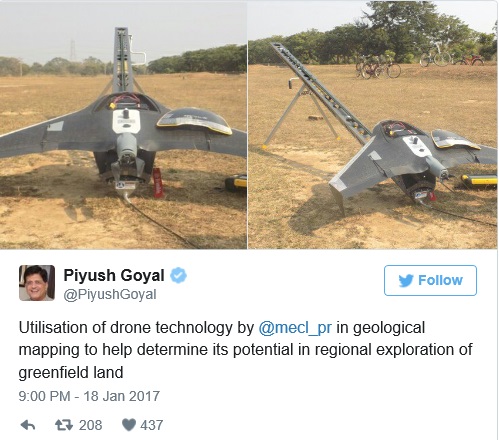 The minister has already talked with all the major enterprises that handle the mining business to experiment with drones so that they can reduce both human effort and energy in the long run.
Noamundi Iron Mine (NIM) is the first mine in India that introduced drone to mine monitoring. It's truly such a big step. Technology can increase the progress of anything. To make the process successful Balvinder Kumar (Union Mines Secretary) requested Tata Steel to demonstrate the use of drones in Noamundi Iron Mine (NIM) to make the whole mine monitoring easy. TATA Steel has already launched their first drone trial at Noamundi mine.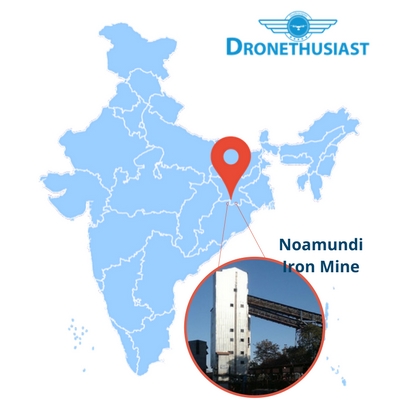 The minister asked Mineral Exploration Corporation Limited (MECL) to buy at least one drone on an experimental basis and do further research on how to make things better. The Ministry of Mines developed the Mining Surveillance System (MSS) in 2016. It is mainly a satellite-based monitoring system.
India is already at its peak in technology; it's only a matter of time when they will finally take power sectors entirely in their hand as well.
MECL, GSI and IBM are the organizations that work with the ministry of mines. An aerial survey will be a lot easier when drones do it.  Drones can speed up the whole process.
The minister requested all PSU's to use drones in their work so that they can reduce the work timeline.
India is not the only country that's working on mine monitoring using drones. British-Australian firms Rio Tinto and BHP has invested tons of money in technology that includes mining sector.
Canada's firm Barrick Gold is also spending money on this. So it's clear that the scope of using drones in mine monitoring is no longer invisible to anyone.
People are now actually working on automated machines that can carry tons and tons of load. And that can also be controlled from hundreds of kilometers away.
Skycatch is a San Franciso-based startup that offers enterprise customer with super accurate data collection. They also do the analysis. All these things are done with a drone.
Japanese construction equipment company Komatsu has developed a system with Skycatch. The name of the system is smart construction process. In the smart construction process, the drone fly above one area. It's programmed to take a series of photos. Then the drone sends those pictures to the server.
From those pictures, a 3D rendered topographical model is created. Based on that model people can plan to do further investigation of the whole area. The software can be used with different type of drones.

Illegal mining has become a significant problem in the mining industry. It's impossible for a person or even an organization to keep an eye on the whole area. But it can be done easily with drones. Drones can reduce the amount of illegal mining done in the current world.
The efficiency that can be brought by drones is immense. Big companies realized that. That's why big companies like BHP Billiton and Caterpillar Mining are investing millions of dollars in technology.
Famous drone technology company Airware drone data analytics company Redbird are now working together in the mining industry with a lot of mining companies. One of the companies is CAT mining.
In the mining sector there is not only surveying but tons of other works that are being done by drones. 3D modeling, digital elevation modeling of mines, volumetric analysis of the extractions and dumps, tracking movements of trucks, reclamation studies, lease boundary fixation.
The mining business is a huge market. And the process of mining can be fastened by drones. It's not a million but billion dollar market. Recently a new chain of mine was found, and the drones can surely make the cost significantly less.
Illegal mining can be solved with the presence of drones. Not only that, a lot of other things can be expected to improve with the presence of this amazing technology. Institutes like IIT have also agreed to help the ministry of mining with their resources. It's great when tech institutes and companies merge with mining organizations. When all these work together miracles in the mining industry is bound to happen.