Drone Videography Guide [9 Best Videography Drones]

Drones are rapidly becoming one of the most popular hobbies, and with it the growth in drone videography has grown as well. Drone videography is the act of filming video or taking still images from a drone. Many drones come built in with cameras, or have the ability to mount a camera onto it. Even more, some drones come with additional capabilities such as intelligently taking selfies, following a set distance from the controller, and more! Drone videography use has really skyrocketed recently, and is used by everyone from hobby fliers up to Hollywood movies!
Guide To Drone Filming
Getting started with drone videography can be tricky, there's a lot to learn and figure out. We put together a handy checklist to help get you out the door and flying in no time.
1. Using The Proper Equipment
Starting with the right drone and equipment is important. There are a lot of drones out there, but not all are good for filming. For beginners, it's important to pick a drone that was made for both filming, as well as ease of flying.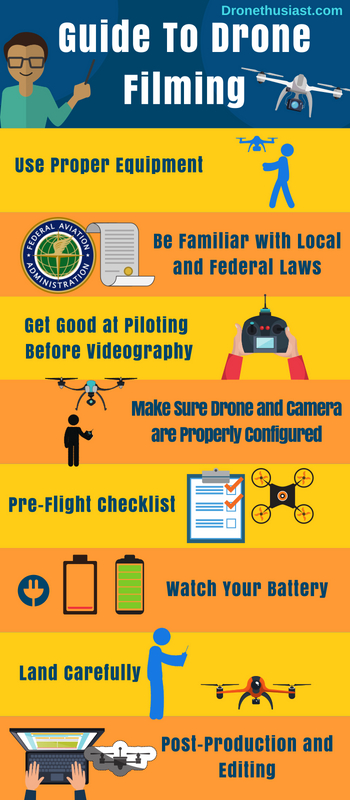 Also keep in mind additional features like First Person View (FPV). These types of features aren't available on all drones, and if it's something you're interested in you'll need to select a drone that supports it.
We recommend the Altair Aerial 818 Hornet as a great beginner photography drone. This drone couples ease of flight along with a high quality camera and additional filming features. It makes a great starter drone for hobby fliers and filmers.
2. Be Familiar With Local and Federal Laws
Before you start flying, make sure to read up on any local or federal laws. While most small hobby drones are fine, many larger ones actually need to be registered with the FCC. There are also restrictions on where drones can flown. For example, flying in close proximity to an airport is typically prohibited. Make sure to read up on any of these restrictions so you don't end up with a nasty surprise later on.
3. Get Good at Piloting Before Your Try Videography
Start slow and learn to fly your drone proficiently before you jump into videography. It's more difficult to keep your drone steady and get a good shot, so it's important to be able to effectively fly the drone first. Then, once you've mastered the basics, add on the extra difficulty of filming at the same time.
4. Make Sure Your Drone and Camera Are Properly Configured
Before flying, always check to make sure everything is configured properly. There's nothing worse than getting your drone into the air and having something not work right. This also includes settings like sensitivity and other preferences you might have with your control scheme.
5. Use a Pre-Flight Checklist
Having a quick checklist to run through before you start flying helps ensure that everything is setup and ready to go. It doesn't have to be super involved, but just a quick pre-flight check to make sure everything is good to go.
6. Watch Your Battery
A common mistake beginners make is to not watch their battery. Many models of drones only have batteries that last for 7-15 minutes, and it's very easy to go over that. While some drones land automatically when the battery gets too low, many won't and not paying attention to the current level is a good way to send your drone crashing down to earth.
7. Land Carefully
Landing is one of the more difficult parts of flying a drone, and can be especially tricky for beginners. It can take a lot of practice to get right, but it's an important part of drone flying. Luckily, many drone models come with assisted landing that can handle the hard work for you with only the click of a button.
8. Use Post Production and Editing
Once the video is filmed take it to the next level with post editing. There are a large variety of both paid and free software that can help you edit and add effects to your drone videos. This could include things like transitions, additional animations, or text overlays, among other things. Some drones even come with their own software that can help you edit them as well.
Videoing Tips and Techniques
Once you've got some experience under your belt you can start implementing some more advanced filming techniques. These can help improve your videography skills, and let you film more interesting and well put together videos.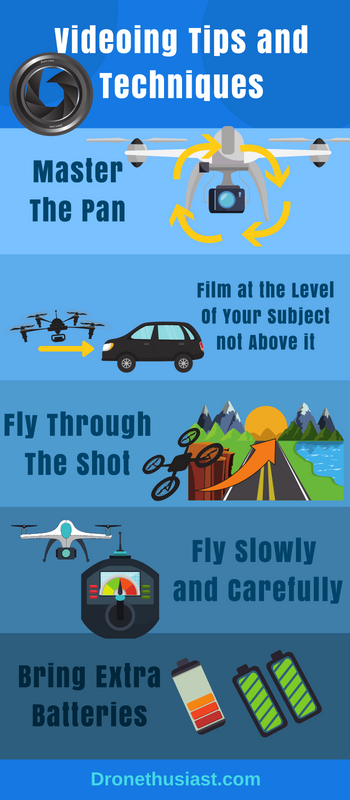 1. Master The Pan
Pans are different ways of controlling your drones to create different ways to film a subject. An easy pan is thes birds-eye, which is when you position your drone above the subject.
There's also pans like slide-side where you film at a steady altitude while the subject passes by and Fly-Through which has you pilot your drone through a gap or tight area.
2. Try To Film at The Level Of Your Subject Not Above It
Getting a good angle is essential to filming good videos. In general, you'll want to film at the level of your subject to get the best effect. This helps keep your subject in focus, and gets you a better shot overall.
3. Fly Through The Shot
In general, try to have some space at both the beginning and end of a desited shot. You should plan to start flying a bit before and after your intended shot. This gives more room to make edits and creates a better end product.
4. Fly Slowly and Carefully
Slow, careful, and deliberate movements make the best videos. Movements that are too fast and jerky are hard to watch, and create a less desirable end product. Making minor adjustments as you fly helps create a smooth and enjoyable video.
5. Bring Extra Batteries
Getting That perfect shot can take time, so always bring extra batteries. Nothing is worse than having to wait for your batteries to charge and that can really derail a shooting session.
Best Hobbyist Videographer Drones
For those new to the hobby, buying a video drone is a great way to add some fun to the flying. It's important though to understand what makes a good filming drone, and the specs that will make it easier to learn. In general, a hobby flyer doesn't need a super HD camera or all the extra features. Nor do they need to pay the extra cost to get all these extra features. The following drones are hand-picked for beginners, even those completely new to the hobby looking for a good videography drone.
Altair 818 Hornet
Get free shipping and amazing customer service by purchasing at Altairaerial.com (click here). Or get the best price on Amazon!
The 818 Hornet by Altair is a fantastic drone for filming. It comes with some really nice features that make it great for hobby fliers, but also packs enough punch that it stacks up against some of the professional level drones.
To start, it comes with three different flying levels, making it easy to fly for beginners while giving those with a bit more experience a challenge. It also comes with a built in 720P camera. While this might not be as high quality as a professional drone, it's still a very good camera and works well for hobby fliers.
On top of all that, it comes with a full 15 minute flight time per battery, and includes two batteries. This gives it an effective flight time of 30 minutes, almost unheard of for hobby level drones.
Key Features


– 720P Camera
– 3 Flight Levels
– (2) 15 Minute Flight Time Batteries
– Durable, Long Lasting Construction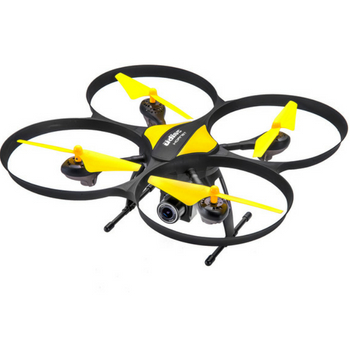 Click To Shop or Read Reviews
Altair Aerial AA108
Get free shipping and amazing customer service by purchasing at Altairaerial.com (click here). Or get the best price on Amazon!
Next up is another drone made by Altair Aerial, the AA108. While not quite as powerful as the 818, it does come with a reduced price tag which can be a nice selling point for the budget conscious.
This drone also features 3 flying modes that made it easy for fly for even beginners. What's more, this drone is also small enough to fly indoors while also being sturdy enough for outdoor flight.
It too comes with a high quality 720P camera perfect for aerial video. Where this drone falls short of the 818 is in flight time. The AA108's battery only lasts for 10 minutes, which is more typical of drones at this price point. That said, it does include two such batteries, so getting 20 minutes of flight time per charge cycle is definitely doable.
Key Features


– 720P Camera
– 3 Flight Modes For All Levels
– (2) 10 Minute Flight Time Batteries
– Flight Distance of Up To 100 Meters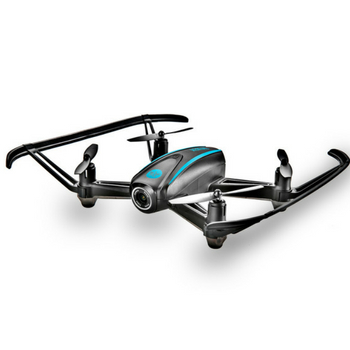 Click To Shop or Read Reviews
MJX Bugs 2 WiFi
Next up the MJX Bugs 2, which while a bit more expensive than the other comes with some seriously impressive specs. To start off, it comes built in with a full 1080P HD camera. This is really impressive, and gives hobby level filmers access to tools usually reserved for higher end models. (Read our review on the recently released MJX B2W SE).
It also comes with a battery that supports up to 18 minutes of flight time. THis is fantastic at this price point, and you'll be hard pressed to find one with longer. Like both Altair models, the Bugs 2 comes with two batteries, doubling its effective flying time.
This drone also has a range of up 1500 meters on an open field giving it some serious range.
For ease of use, the drone includes one click take off and landing. One of the more difficult parts of flying is taken care of at the push of a button, great for beginners! It also features an auto-land feature that will land the drone after a few seconds if it loses signal.
Key Features


– 1080P HD Camera
– Up to 1500 Meters of Range
– (2) 18 Minute Flight Time Batteries
– One Click Landing/Takeoff and Auto Land Functionality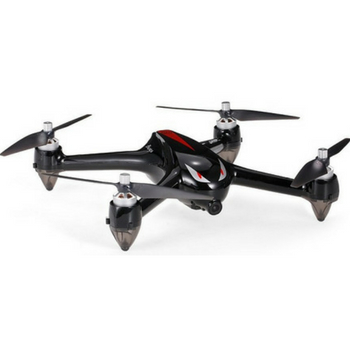 Click To Shop or Read Reviews
Holy Stone F181W
The F181W is a great little drone for beginner videographers. The price point on this drone is also very attractive, and it makes a great drone for a first time flyer.
The drone features a great, wide angle 720P camera. Coupled with its built in altitude hold mode, and you can take some really impressive videos and images from the drone.
It also features a very durable construction, and take a bit of abuse. This makes it great for beginner fliers, and allows them to learn the ropes without damaging their drone.
Key Features


– 720P Camera
– Altitude Hold Feature
– Flight Time of 7-10 Minutes
– Real Time Video Over Wifi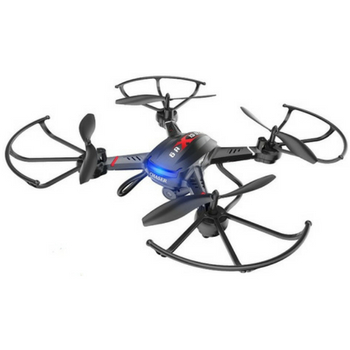 Click To Shop or Read Reviews
Sky Viper Video Drone
Last up for hobbyists we have the Sky Viper Video Drone. This drone features a 720P camera, and some really cool features for amateur videographers.
One of the cool features is it's one touch panoramic shooting. With the touch of the button the Sky Viper will rotate in a 360° circle producing some beautiful shots.
The drone is also extremely durable, and is marketed that it will survive any flight sustained impact. This makes it an excellent started drone, and first timers can comfortably learn to fly without fear of damaging their new drone.
Key Features


– 720P Camera
– One Button Panoramic Shots
– Very Durable
– Perfect For First Timers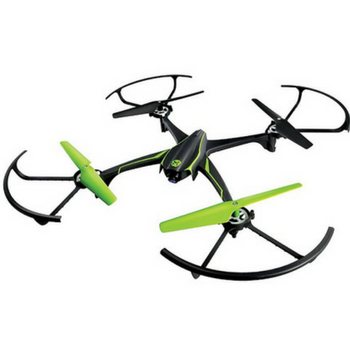 Click To Shop or Read Reviews
Best Professional Videographer Drones
For those looking for a bit more, we've put together a list of drones for professional videography. These drones are generally a bit more expensive, but come with additional features to justify the extra price. This might include things like enhanced stability control, extra battery life, and high quality filming equipment. This all makes them ideal for those who need to film for more than just personal use.
Parrot BeBop 2
For our first professional drone we have the BeBop 2. This drone comes with some serious features, at all at a decent price point that won't break the bank making it a great entry level, professional videography drone.
First up, it comes equipped with a full 1080P HD camera that is also capable of taking 14Mpx Photos. This is pretty standard for professional quality drones, and is a must have for any serious videographers.
It also comes with a flight time of up to 25 minutes. Coupled with a flight range of up to 1.2 miles and it allows for some really nice shots over a decent amount of time.
Another really cool feature of this drone is the include VR headset. This gives a first-person view from the camera and can really help with filming.
Key Features


– 1080P HD Camera
– 1.2 Mile Flight Range
– 25 Minutes of Flight Time
– Digital Stabilization To Ensure Clear Video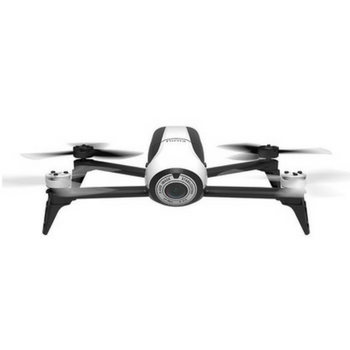 Click To Shop or Read Reviews
DJI Mavic Pro
The next professional quality drone is the DJI Mavic Pro. This drone comes with a hefty price tag, but comes with one of the best feature sets available on a drone.
For starters, it comes with a full HD 1080P camera. The camera can film in true 4k and at 30 FPS. This is a true professional quality camera, and can take some absolutely gorgeous shots. You also get advanced stability features that help ensure none of your video or images come back blurry.
The Mavic Pro also comes with a whopping range of 4.3 miles. With a flight speed of up to 22 mph, it can cover that whole range quickly. You also get a two batteries with up to 27 minutes of flight time, giving it some serious time in the air.
Key Features


– Full HD 1080P Camera
– Full 4k 40fps Filming
– 4.3 Mile Range
– (2) 27 Minute Batteries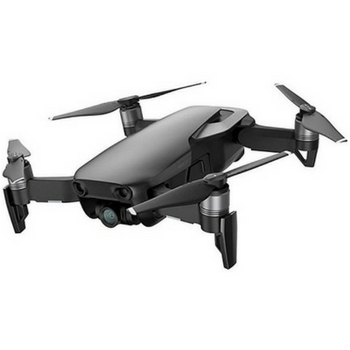 Click To Shop or Read Reviews
Yuneec Typhoon H
The Yuneec Typhoon H is another great filming drone for professional videographers. It packs in some great features, and includes a top of the line camera for beautiful shots.
The camera itself films in 4k and takes gorgeous video and still images. The drone is equipped with stabilization features that help take smooth video and prevent any sort of blurriness. The camera is also mounted in such a way that allows for a 360° field of vision.
The battery allows for a flight time of up to 22 minutes, which is pretty solid and allows for a decent amount of time in the air.
The drone also comes with a wide variety of filming features. This includes things like selfie mode or point of interest mode. These add very easy ways to complete some very common filming tasks.
Key Features


– 4k Camera With 360° Field Of View
– 22 Minute Flight Time
– Extra Camera Modes Like Selfie Mode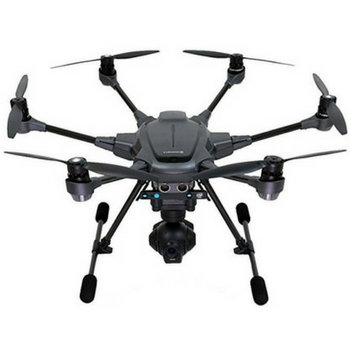 Click To Shop or Read Reviews
DJI Phantom 4
Last up we have the Phantom 4 by DJI. This is another great drone by DJI, and packs in a lot of features professional videographers are going to want.
The camera films in 4k Ultra HD, and will produce quality video and imagery. The drone comes pack with stabilization and hover functionality to allow for crisp, clear camera shots.
The drones range reaches 3.1 miles, giving it the ability to cover a good amount of distance. The 28 minute battery life and top speed of 44mph means it can easily cover it's entire range on a single charge.
The drone also comes with auto landing and take-off, making it super easy to get up and running with.
Key Features


– 4k Ultra HD camera
– 3.1 Mile Range
– 28 Minute Battery Life
– Stabilization and Hover Technology.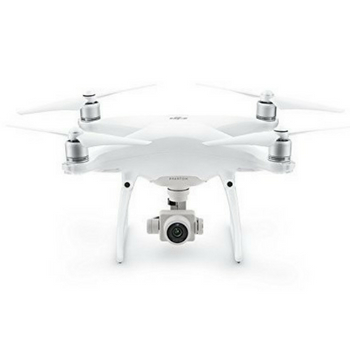 Click To Shop or Read Reviews
Drone Videography FAQ
What Makes a Good Videography Drone?
Outside of the camera itself, a good videography drone comes with a long battery life and technology that helps take clear video. You want a long battery life to extend the time you can take videos for, and you also want something to help stabilize the camera while the drone moves.
What Kind Of Camera Should My Drone Have?
For hobby use, a 720p camera will do for most cases. For professionals, you'll want at least a 1080p camera, but getting something that films in 4K is even better. Also, don't skimp on the drone itself as even a fantastic camera will look bad if the video is blurry or choppy.
Can I Use a different Camera Than What Comes With The Drone?
It depends on the drone. Many drones will come with a camera, but this can swapped out at will. Others might come with the camera built in, and it won't be possible to change it out.
Also, be mindful of how much the camera you want to use weighs. Some drones only have enough power to carry lightweight cameras. Heavier cameras might limit the drones ability to fly or drain its battery much more quickly.
Are There Good Video Drones For Beginners?
Yes! There are a number of drones that are good for beginners that can also film video. These are typically a bit lower in price with lower quality cameras, but also come with features that make it easier to fly, and extra care paid to durability that help it survive a few bumps and crashes.
What's The Difference Between a Hobby and Professional Videography Drone?
One of the big differences is the camera. Amateur drones will typically have a 720p camera while professional quality drones have 1080p minimum. Professional quality drones also have a variety of filming features like selfie mode that might not be present on a hobby drone.
Conclusion
Drone videography is an exciting and fun way to fly drones. While it can be a bit tricky to get started with, it's well worth it and can lead to some really beautiful shots. We hope this brief article has answered any of your questions, and got you on the right track to filming your own videos with your drone. If you do have any more questions feel free to drop us a comment and we'll be happy to answer them for you!
Other Interesting articles in "
Reviews

"