Drones and Wildfire Do Not Mix – Or Can They?

The destructive, powerful sight of a spreading wildfire is something that makes most of us stay out of its way. Some drone users, however, see a blazing wildfire as the perfect opportunity to take to the skies and get some footage.
Just this year alone, at this time of writing, drones were responsible for shutting down aerial wildfire fighting in the West 15 times. What's more, the Department of the Interior has, shockingly enough, reported 19 incursions caused by residential drones this year when it came to firefighting efforts across the nation.
The Department of the Interior reported 36 drone incursions in 2017, 41 in 2016, 25 in 2015, and 16 in 2014. Based on these statistics, it's clear that more drone users are choosing to take a serious risk in order to get some footage.
The problem with drone users taking flight to capture footage of wildfires, especially when they get too close, is that the aircraft used in firefighting operations have no way to communicate with the drone users on the ground. Drone users don't have the same radio communications as pilots do, so coordination is impossible.
Because radio communication and coordination are impossible, the likeliness of a drone colliding with a smokejumper, helicopter, or airplane is incredibly high. Federal regulations made interfering with firefighters extinguishing a fire illegal long ago.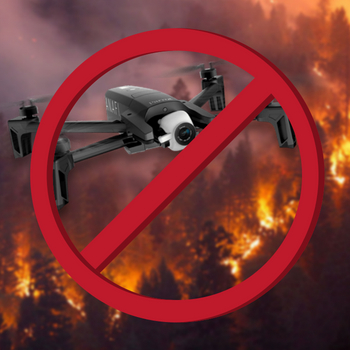 It is illegal to "resist or interfere with efforts of firefighter(s) to extinguish a fire; U.S. Code of Federal Regulations 43 CFR 9212.1 (f)
During the Chicoma Fire that took place in April of this year in Espanola, New Mexico, air tankers had to wait for a drone that was spotted over the line where the fire retardant was supposed to be.
A pilot doing bucket work in Idaho during July of this year for the Rattlesnake Fire had to back off from the work until a drone that actually made eye level flew away.
With that said, just because you're flying a drone at a lower altitude than any aircraft in the air, and at a higher altitude, at the same time, it doesn't mean you're not taking a huge risk.
Because of the mayhem that drones cause when it comes to being around wildfires and other situations where firefighters are called to the scene, city officials and firefighters in San Diego have given drones a shot in a new way.
Their new partnership has the potential to use drones to respond to emergencies a lot faster than they currently do. They showcased the emerging technology in a number of ways, including using a drone in order to pinpoint the exact site of a fire for firefighting crews using live streaming footage in multiple locations to multiple devices.
Officially as of last year, the San Diego Fire-Rescue Department has begun to not only use drones, but share their experience through a pilot program to further using drones in emergencies through the federal Department of Transportation.
The pilot program is a combination of 10 agencies located across the nation with the purpose of bringing private companies, the Federal Aviation Administration, and fire departments together.
The program goes into possible regulations to put in place in order for fire crews to get permission from the FAA to launch their drones as soon as possible. It also explores ideas for what's needed and the potential of fire crews using drones.
City officials also noted when they announced their spot in the federal program that tests would be included on using drones to fly medical specimens out from UC San Diego, as well as testing the delivery process for Uber.
Possibly the best use of drones for the San Diego Fire-Rescue Department is using them to show where a wildfire is located and the direction in which it's heading. This type of intelligence is crucial in determining which resources are needed the most and where they need to go as soon as possible.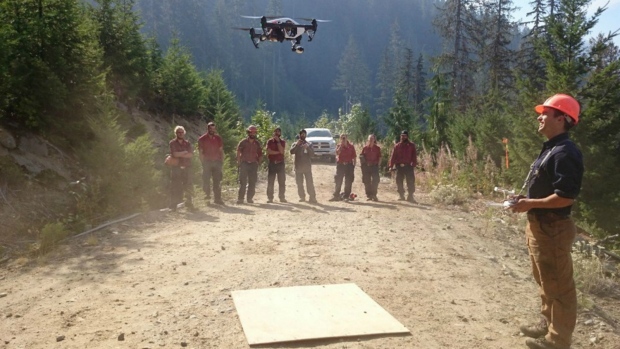 In fact, at this time of writing, the San Diego Fire-Rescue Department has used their drone twice now, which was used for the second time earlier this year to go over a fire that spanned over a single acre.
The official first use took place late last year at the end of a commercial structural fire. The idea of using the drone, which worked perfectly, was to aid in the arson investigation to let the diggers know where the origin point of the fire was. What would have normally taken days of work using manpower alone took much less than that thanks to the drone.
Fire-Rescue Capt. Jeff Ring is in charge of running the program, which will be adding 2 more drones within the next couple of months. At this time of writing, there are a total of 9 San Diego Fire-Rescue firefighters and bomb squad members who are also FAA-certified drone pilots.
Interestingly enough, bomb squad members were added because of their ability to use remote machinery and have a background in using robotics.
"One of the main concepts of the pilot training is knowing where your camera is positioned. We're training pilots to be mindful of where their cameras are positioned so we only see what is beneficial to our operations," Ring commented in regard to privacy and for those who have their drones flying over their homes.
The senior coordinator from San Diego's Office of Homeland Security, Tiffany Vinson, noted that drone testing will be done over the next 2 years in San Diego, Chula Vista, and spots that are run by the Port of San Diego.