Updated:
Looking for a great gift for a dad who has it all? Why not look into the exciting world of drones? These RC aerial vehicles are fun to fly and to build. And while they might have been very expensive once, high-tech quadcopter toys and camera drones are now available to anyone for a reasonable price. We've taken a look, found 5 of the best drones for Father's Day, and reviewed them all in this comprehensive guide.
5 Drones For Father's Day
There are lots of different drones out there, and if you're looking for a more comprehensive guide to the best drones for sale we have one here. To narrow it down to our 5 best drones for Father's Day, we decided to pick some choices that are relatively cheap, enjoyable for beginners and intermediate fliers alike, and which serve different needs so that you can find the choice that's gonna make the best gift for your Dad.
Outlaw SE – Best Drone for Father's Day!
If your dad is a technology lover and has flown drones before, give him an awesome gift this father's day with the Outlaw SE drone. This GPS drone has some fascinating and advanced features that Dad will love to try out.
First, it's high-quality 1080p camera will capture the most amazing aerial photos and videos that the whole family can enjoy watching.
The Outlaw SE also has follow-me mode which is super exciting. With this Dad can walk around on the ground and the Outlaw SE's GPS features will follow Dad wherever he goes.
Other great features such as altitude hold and one-touch takeoff and landing, plus the fact that it costs less than $300 make it a perfect Father's Day present.
Specs:
• GPS Flight Mode
• 1080p HD built-in camera
• Altitude Hold
• Headless Mode
• Return-to-Home Function
• 600-meter flight range
• 18-20 minute flight time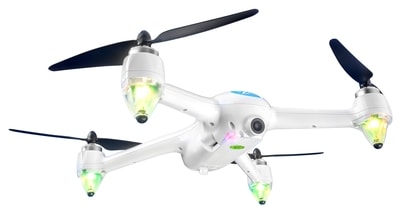 Click To Shop or Read Reviews
DJI Mavic 2 Pro – For the Outdoorsman
So many dads out there love to spend their time outdoors, and lucky for them there is a drone out there that can fit their adventurous lifestyle. The DJI Mavic 2 Pro is the perfect drone for any dad who's always outside.
The Mavic 2 offers 31 minutes of flight time and 44mph speeds which means Dad can fly this drone fast and fly it far. It comes with an extra battery to so Dad can get double the time to explore the outdoors with drone.
Another great part of this DJI drone is it comes with an obstacle sensing feature to help it avoid running into anything. This takes a lot of stress off losing or damaging your drone.
Since this drone does have more professional features, it does cost a little bit more than some other drones on this list, but nonetheless, any outdoorsy dad is sure to love the DJI Mavic 2 Pro.
Specs:
• 1080p HD Hasselman Camera
• 31 minute flight time
• Obstacle Sensing
• 3-axis gimbal
• 44 mph speeds
• Object tracking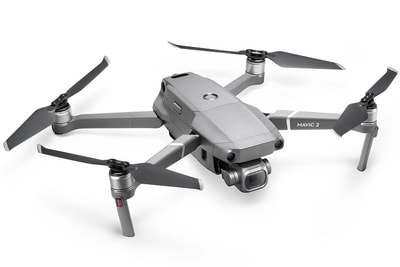 Click To Shop or Read Reviews
AA818 Hornet – Budget Camera Option
Get super fast shipping and amazing customer service by ordering from Altairaerial.com (click here). Or you can shop for the 818 Hornet on Amazon.
The AA818 Hornet is a drone that is specifically optimized for drone photography for those on a budget.
It can fly for 15 minutes off of a single battery – a flight time that's much higher than anything else in this price range and which makes it ideal for a longer photo shoot.
The Hornet also has a range of 150 meters, which makes it easier to get sweeping pans and to get perfect photos or video of hard-to-reach places.
Finally, the Hornet has a body that's built for stability. Just look at the large propeller guards – when you put this thing in altitude hold mode and let it hover on its own, it barely hovers at all! Attention to detail like that is what makes it the best photography drone you can buy for under $700.

Specs:
• 3 Flight Skill Levels
• Affordable drone for Father's Day (on sale for $160 at time of writing)
• Headless mode for easy beginner flight
• Altitude Hold Function keeps the drone hovering on its own
• Can be controlled with a smartphone
• 150 meter range
• 720p HD camera
• 15 minutes of battery life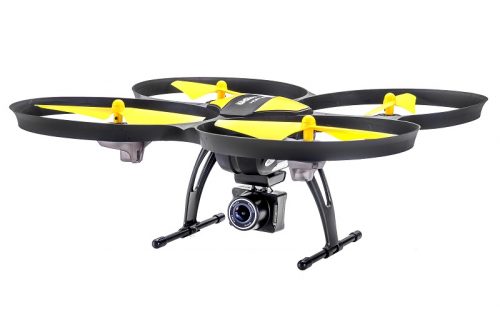 Click To Shop or Read Reviews
More Great Gifts for Dad
AA102 RC Boat – For the Water Lover
See the best price on Amazon.com or get Fast & Free Shipping from their Website at AltairAerial.com
Not only does Altair Aerial have amazing drones, but they also have exciting remote-controlled boats, too!
The AA102 is an awesome RC boat that is perfect to spend some time outside and race on the waters. It's great for any dad who loves to spend their time at the pool or lake.
One great feature on the AA102 is its anti-capsize hull system. What this does is help you easily turn your boat upright if it were to get overturned in rough waters. Dad can go fast without having to worry about losing the boat.
Not only does this boat go fast, but it goes far too. You can easily control this boat up to 390 feet and it really thrives in those larger bodies of water.
The AA102 is great fun for the whole family and you can have fun racing the AA102 with other boats too. Check out this review for the AA Wave to see how much fun you can have racing these boats together.
At a price of less than $100, you can't beat this fast and fun RC boat for Dad.
Specs:
• Anti-capsize hull system
• 2 3.7V 15000mAH Li-ion batteries
• Reaches speeds of 30 km/h
• 390-foot range
• 10-minute battery life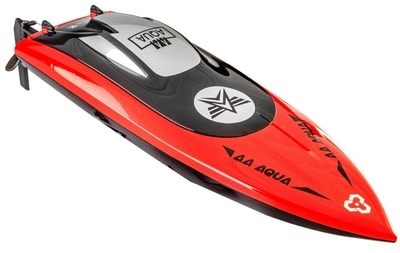 Click To Shop or Read Reviews
For the fisherman: SwellPro SplashDrone 3
See the Swellpro at Swellpro.com
What dad doesn't love fishing? Now, your dad can take their fishing experience to the next level with the SwellPro SplashDrone 3.
Not only is this drone waterproof, but it can actually release a payload so it can fish with you. Dad will love to take this drone along on any fishing trips to help get the perfect catch.
It has a striking orange color scheme so there isn't a need to worry about losing sight of the drone while on a boat. It also has 3 levels of battery warning as well so Dad knows when it's time to land his drone.
Because this drone has so many technical features, it does cost quite a bit, but your fishing fan of a father will love this drone for his special day.
Specs:
• 20 minute flight time
• 1.6KM flight range
• Waterproof model
• Floating capabilities
• 3-axis gimbal
• 4K Camera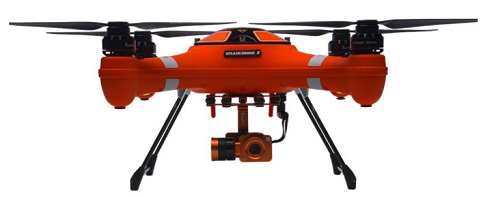 Click To Shop or Read Reviews
Drone Gifts For Dad FAQ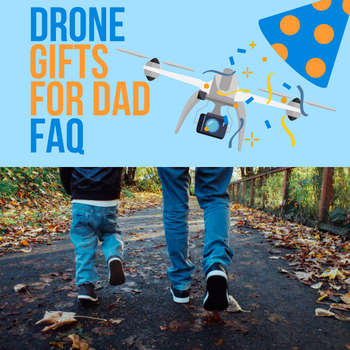 What make a drone a good Father's Day gift?
Have you ever raced RC cars? Drones are a similar thing, but they can fly, and they're also on the cusp of cutting-edge technology. If your father is a hands-on pilot they can be built or upgraded like a modern model kit.
Fast drones can be raced competitively, but a lot of drones have practical applications and are perfect for anyone interested in photography.
In short, drones are a great gift for anyone, fathers included.
Are there Father's Day drone sales?
Most major drone manufacturers will indeed have Father's Day drone sales. Just check the Amazon listings we've linked to above – if you look around Father's Day, you'll see that most of them will have the usual price crossed out with a red line and there will be a new, lower price next to it.
What type of drones are there?
There are lots of different types of drones – pro drones, camera drones, racing drones, DIY drones. You can find full product review guides for all of these different categories elsewhere on our website, and we've picked some of the best from each to feature in this very article.
Conclusion
Well, now you know what we consider the best drones for Father's Day. Hopefully we've helped you find a great gift for Dad at a reasonable price. And if your father has a favorite drone that we neglected to mention, or you know about a great deal we missed, be sure to let us know all about it in the comments so that we can keep this article up-to-date with all the best information.
Other Interesting articles in "
Reviews

"