AA Wave RC Boat Review | Altair Aerial's New RC Product

Dronethusiast is filled with detailed reviews of hundreds of drones for people of all skill levels and I love reviewing drone's of all kinds. Big, small, fast, you name it. But today, I'm taking a different turn to review a different product. A new RC boat that is available, the AA Wave from Altair Aerial.
Ready to purchase? Click here to check the best price available on Amazon.com, or you can find more information on the Altair Aerial website by clicking here!
I'm still fairly new to the world of RC boats but was excited to try out this boat especially because it was from Altair Aerial. While they are known for their high-quality and affordable drones it was nice to see that they have ventured into selling some new products. I had big expectations for the AA Wave especially since I love Altair's drones so much.
Unboxing the AA Wave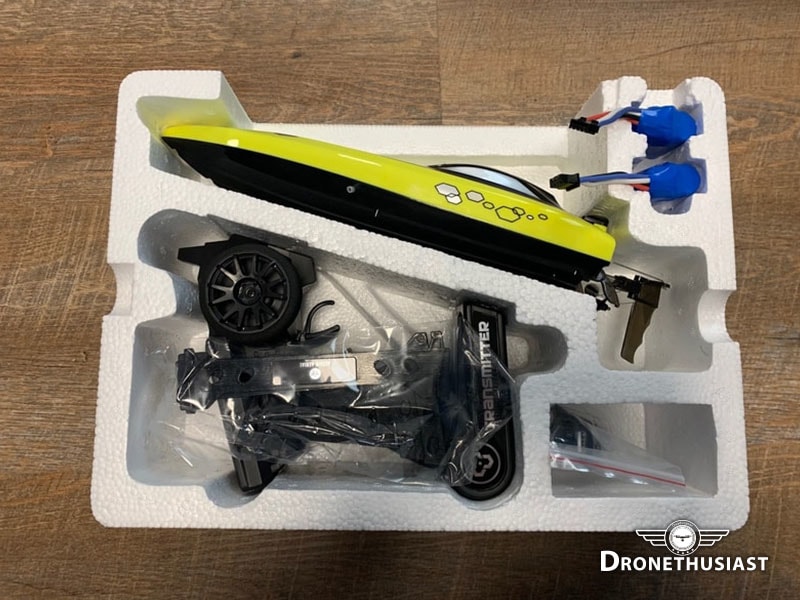 I opened the box and was surprised to see such a bright and sleek design. The AA Wave is black and yellow which I think is a standout color to watch speed across the water. The boat also comes completely assembled out of the box so I was able to take it to the water quickly. All I had to was install the batteries into the boat and transmitter. I loved this simple setup time.
The AA Wave Includes:
– 1 x Fully Assembled Boat
– 2 x Li-ion batteries
– 1 x Charging Cable
– 1 x User Manual
– 1 x Stand for manual
– 1 x Rubber Cap
– 1 x 2.4GHz Radio Controller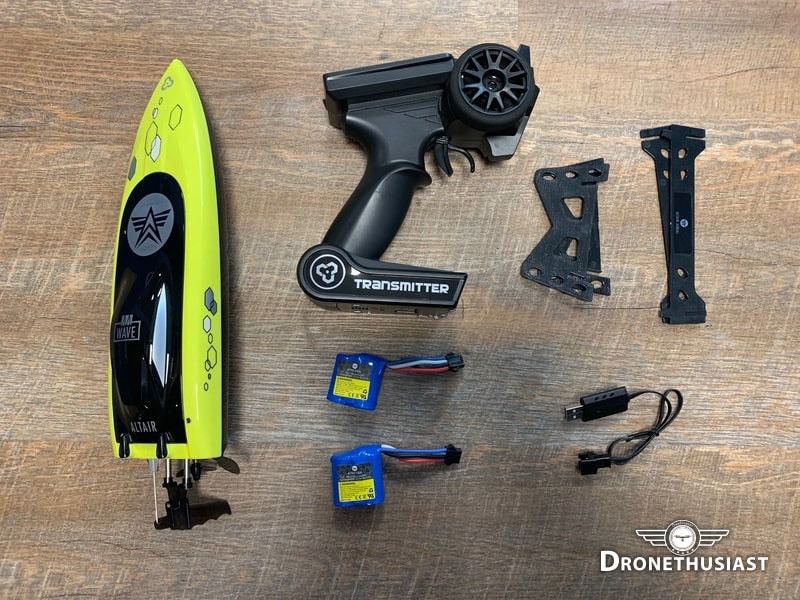 All of the pieces come wrapped in styrofoam and the rudder of the boat is connected so everything was nice and secure. Another thing I want to note is the radio controller requires 4 AA batteries which aren't included with the product, so I had to run and find some before I was able to start driving.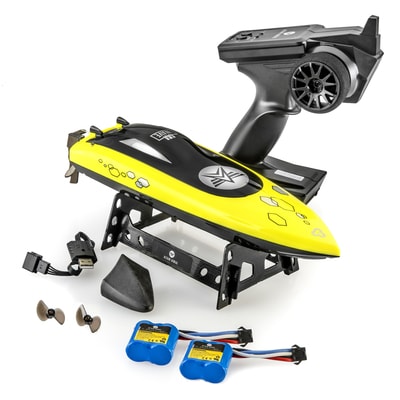 Click To Shop or Read Reviews
Check out this Video from Altair about the AA Wave:
Battery Installation
Assembling all of the batteries is incredibly easy which is always favorable. Anytime I test a new product, the shorter the assembly process the faster I can get to having some fun. For the controller, all I had to do was slide the bottom cap off and install your 4 AA batteries.
After I installed the transmitter's batteries, I went and installed the boat's battery. There were to clips on the back of the boat that I took off to remove the black piece of the boat. To install the boat's battery, take the two clips off the back of the boat and remove the black piece of the boat. Then, there was another piece with four locks that I had to unlock to remove. Taking this off revealved the hull where I could then place the battery in and connect it. Finally I was able to replace the pieces and turn on the boat.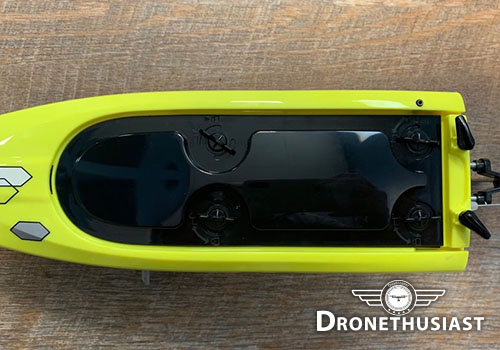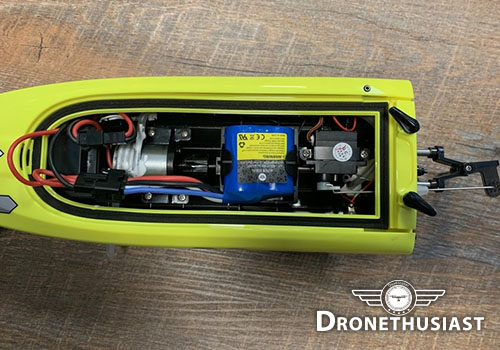 While I was unboxing, I saw that the AA Wave comes with two batteries for the boat. Drones sometimes have this, too and I love it because it means double the driving time, and double the fun. A general rule of thumb that I always remeind myself of is to remove the battery after each session. For most electronics the battery will become unsuable if you leave it plugged into the boat, and you won't be able to charge it again. I didn't want this to happen to my AA wave.
I took out the controller out of the box to get a good feel of it, too. It was large and sturdy and felt comfortable in my hands. The steering control is on the side of the transmitter, which is different compared to the drone controllers that I'm used to handling. However, it seemd to easily turn forwards and back.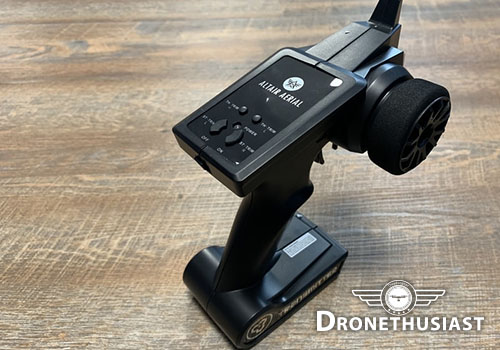 Also, I saw that there were four buttons on the top that were labelled as trim functions. Honestly, these are new to me but it says that they are trim buttons for left, right, forward, and back. I didn't 100% know what they do or how they work so I had to take a good look at the instructions before I used them.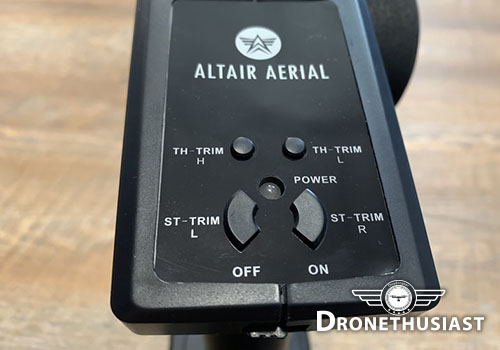 Before I started driving, I read the user manual carefully so I could learn more about the boat's pieces and how to drive it. Altair Aerial does a fantastic job with their manuals and they are incredibly easy to read and understand. Altair also has information how-to videos to help you learn to drive your boat. Since I'm new to RC boats I took the time to watch them and I learned a lot. I highly recommend doing this if you're new to RC boats too, I felt much more confident after doing so.
Driving the AA Wave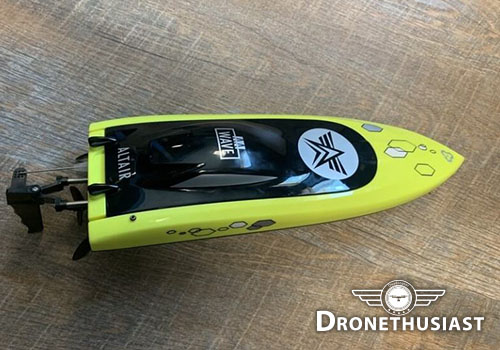 Listed below are the specs:
– Anti-capsize system
– Can be controlled up to 390 feet
– Reach speeds up to 25 mph
– Remote Trim Functions
Anti-capsize System
The AA wave comes equipped with an Anti-capsize system. Since I've never really driven RC boats before, I wondered how this worked. Atlair says that if your boat experiences any rough waters and overturns, the anti-capsize system will help you flip the boat upright.
I went to a small lake to test the boat, and wanted to be sure to test this feature and see if it really helps. I flipped the boat purposely to see if it was easy to turn back upright. It was kind of tricky at first figuring out how to turn the wheel to get it to flip. After a little practicing, I nudged the weheel back and forth then gave it one good turn and press on the gas, and it flipped back over pretty easily.
After I got the hang of it, I was impressed with this feature and it takes a lot of stress away. I wasn't ever worried about losing my boat in the water.
Trim Functions on the Remote
As I pointed out, there are four trim buttons on your remote controller. Again, these are completely new to me but I read that the top two buttons help control the forward and backward functions of the boat, and the bottom two buttons help control left and right. Altair Aerial does have a how-to video on how to use these which I watched multiple times to try and understand these betters. Bascially, if your boat is idling or not turning quite the way you liked, these trim buttons are there to help you better control it.
It did take a great deal of practice and hand-eye coordination to be able to use these while steering at the same time. It kinda took a while to really got the hang of it so I would recommend driving a smoother or straight path and practicing a lot if you're first starting out. I was able to get a hang of them by the time I was finished driving for the day.
Range and Speed
The box says that the AA wave can be controlled at up to 390 feet and can reach speeds of 25 mph. When I took the boat out to a small lake and dropped it in the water and was impressed with how quickly I was able to adjust to the controls. I wasn't quite comfortable driving the boat at 390 feet if I'm being honest and don't think I drove the boat nearly that far before finishing for the day.
I did really enjoyed how fast the boat goes and was in awe watching it speed across the water. I don't think you can get a much better deal for a boat that is so affordable yet goes pretty fast.
Searching for other great remote control boats? Check out our rc boats for kids article and read all the details you need to know before you shop.
Final Verdict- Is the AA Wave right for you?
I truly enjoyed trying the AA wave for the first time. This is an amazingly affordable RC boat costing only $69.80. Most boats with similar features cost more than $100 so you're really getting a good deal with this boat.
It's a great compact size yet seems rather durable, especially with the anti-capsize system that is built-in with the boat. If you're a beginner when it comes to RC boats, it might take you a while to get the hang of using the anti-capsize features so I would recommend staying away from super rough waters until you master the radio controls. Same goes with the trim controls on the remote. Until you are used to using them and understand how they work, it's probably best to drive an easier water route.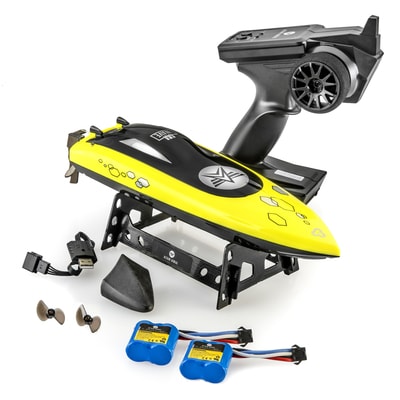 Click To Shop or Read Reviews
Overall, I believe this boat is great for hobbyists of all ages, especially families looking for a way to spend some quality time together. I also think that experienced RC boat drivers will enjoy driving this boat and meeting up with other hobbyists to race and compare and boats.
I've enjoyed reviewing drone's from Altair Aerial for a while now, and I am happy to see them branching out from their specialty into new RC boat products. If you've been considering buying an RC boat for a while now, I definitely recommend checking out the AA wave and taking to the waters. You won't be disappointed.
Check out the Altair AA Wave Website or Facebook page.
Other Interesting articles in "
RC Boats

"