Dubai is well on its way to having the first flying taxi. The Volocopter has been recently debuted to Dubai as the first autonomous flying taxi. Within the next five years, it is the company's hopes that these will easily replace taxis.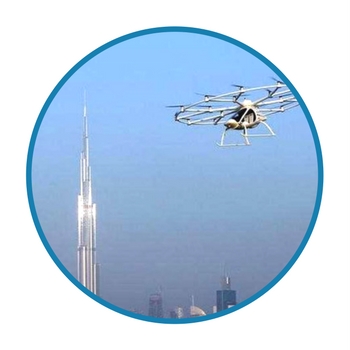 Flying to your next short stop is going to be as easy as summoning an Uber. That's the goal that they have in Dubai. The test flight of this new drone took place as part of the ceremony for Dubai Crown Prince Sheikh Hamdan bin Muhammed. The test flight was short, taking only about 5 minutes at 200m above some sand, but it went smoothly and made the dream of flying vehicles seem much more like a reality.
The drone is setup to allow two passengers. Each passenger will be equipped with a parachute in case of any malfunction, and the drone will have extra batteries and and rotors as backups. Each flight will last 30 minutes or less as passengers have chosen which voloport they would like to land at. These voloports serve as hubs for the drones to land at and will be selected each time a customer chooses which port they would like to depart from. It is likely that there will be an app on each phone that allows potential customers to choose their voloport departure time and destination.
The drone will likely fly on GPS tracked routes, but they are looking to implement full sense capability before the drones take flight with the public. This will allow them to sense other aircraft as well as any other flying objects that may be in the flight path. The idea is to make each drone similar to a flying cell phone by inserting a SIM card into it. They will also include a radio for communication purposes. Since the drones won't be flying higher than 200m, they will still reach service like a cell phone would and they will be able to communicate via the radio if any unlikely issues were to happen.
Since these flying taxis are set to take to the sky in the next five years, it is likely that we will see a lot of technological advances made to the original Volocopter. Though this is being developed in Dubai, the U.S. is likely to follow close behind with their own models in the near future.