Extraordinary Lake Garda's Floating Cycle Path Captured by Drone

Footage taken from a drone's point of view has given us a gorgeous insight into the progress that is currently going into the 140km, or 87 miles, cycling path project in Italy around their largest lake, the Lake Garda. Italy receives up to an average of 220,000 visitors for cycling each year, which excites this project much further.

Lake Garda is already a favorite when it comes to cyclists, but be prepared for an entirely new adventure to arise within the next couple of years. The most astonishing paths for cycling in the world will be erected, giving Lake Garda more beauty than ever before.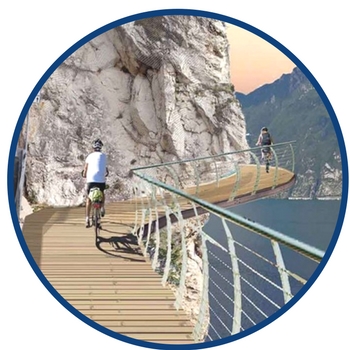 The "floating" path is to be created by having it hanging off of the side cliffs located on the west side of the northern lake, while covering a rugged and remote lakeside sector between the border with the region of Trentino two kilometers to the north and Capo Reamol.
The Ciclabile di Limone sul Garda cycle path section will be a formed path part, completely circumnavigating the lake, while covering over 140km total.
Because the path is still much under construction, the drone footage taken with Garda Outdoors is of the path being built while construction took place next to the road, as well as hanging off of the side of the cliff earlier mentioned.
David Bertoldi, an Italian photographer, shared the footage with the Facebook page of Garda Outdoors, The breathtaking video gives us a small sliver of insight in what's to come, which has been viewed on multiple social media platforms tens of thousands of times, quickly creeping into the hundred thousands.
Judging by the footage, you will quickly notice that the newly constructed path on the cliff's side will give cyclists a view they have never seen before throughout every twist and turn. One section is expected to give the feeling of floating and riding on the water.
The path is said to become more difficult in certain areas, and offers easier and more challenging feats to explore and conquer. There will be, however, alternative transportation methods for cyclists. Boats, for example, will be needed and used for the purpose of bypassing the more difficult areas of the path, should a cyclist need a helping hand in passing them.
At this time of writing, cyclists are able to ride along a short stretch of the path, which reaches from Torbole to Riva del Garda, located at the northern end of the beautiful lake.
The entire cost of construction is estimated to be approximately US $125 million, and we should expect to see full completion sometime during 2021.