FAA Drone ID Marking Change Means New Rules for U.S Drones

The Federal Aviation Administration is continuing to make strides in drone regulation laws in the United States. It has recently become a law that drones in the United States must have visible ID numbers on the outside. This new rule goes into effect on February 25, 2019, and will have drones sporting license plates of their own. All drones must have these markings before taking flight after this date.
The drone registration program was first launched in 2015 which called for commercial and recreational drone pilots to have registration ID numbers placed inside the battery compartments of their aircraft. The did not need to be visible from the outside of the aircraft, now it's a must.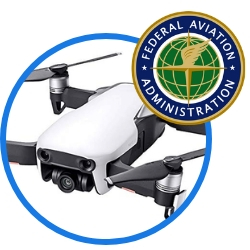 For clarification, your FAA registration number is not a part of your Part 107 certification. Whether or not you plan to pursue your Part 107 or even if you already have it, you must register your drone through the FAA.
This most recent law has come into place for security reasons. The FBI, Homeland Security, and FAA's interagency security partners have all expressed terror-related concerns regarding ID number placement. There is the risk that a concealed explosive device could be hidden inside battery compartments of drones which could be activated when the drone is opened to find the registration number.
This new law does not specify a specific external surface that the registration number must be placed. The only requirement is that it can be seen upon visual inspection of the device's exterior.
The FAA believes that this new ID marking change will enhance safety and security by allowing someone to view the identifying number without handling the drone. Since the new rule is considered for "good cause", the FAA is not required to give notice or accept comments prior to the issue of the final rule.
However, before the final rule is completely official, the FAA is looking for comments from the public about this new rule. They are looking for anything about the new law that is impractical, unnecessary, or contrary to the public interest. Basically, if the risk to first responders outweighs the minimal inconvenience change may impose to small drone owners, this would justify the new change without a prior public comment.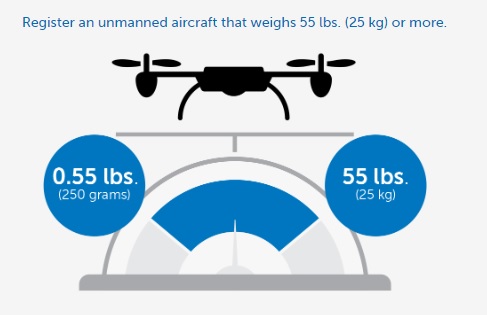 This time for public comments will be open until March 15, 2019. After that, any comments made will be reviewed to determine any changes. You can submit comments at http://www.regulations.gov and search for "RIN 2120Al32"
You don't need a new registration ID with this new rule, you can continue using the one you already have. However, If your drone still needs to be registered, you can obtain one from the FAA's web-based registration system, DroneZone. Official FAA registration lasts for three years and only requires a one-time, $5 fee.
These changing and evolving drone laws to the original Part 107 seem to be preparing the industry for even more comprehensive set of laws that would allow for the full integration of manned and unmanned aircraft in controlled airspace. We may still be a few years away from full integration but the steady pace of changes and relaxation of certain regulations in the USA is a positive development.