Flying Motorbikes Take Flight at Drone Show

Move over Hagrid, flying motorbikes are coming to a drone show near you, and it's not magic. The Amsterdam Drone Week is kicking off, and among its features will be a couple of very futuristic looking flying motorbikes. The event is a place where drone lovers from all types of backgrounds come together to share their love of drones and view the new prototypes. Among the show are two new flying motorbikes from two TU Delft teams, the Hermes II and the Silverwing S1.
Hermes II
Hermes is the motorbike brought to us from the startup Talaria and the 30 students working there. This will be the first unveiling of the motorbike, so will certainly be a big draw for the show. Current renditions show it as a cross between a motorbike and a helicopter. It will be very exciting to get the first glimpses of the vehicle at the show.
The vehicle is meant to be a single person person flying machine with plans in the works to make it fully autonomous. The machine stands at roughly 2m tall, and has a total diameter of 2.6m making it of decent size. The vehicle will be able to make short trips, although details on the exact length haven't been released as of yet.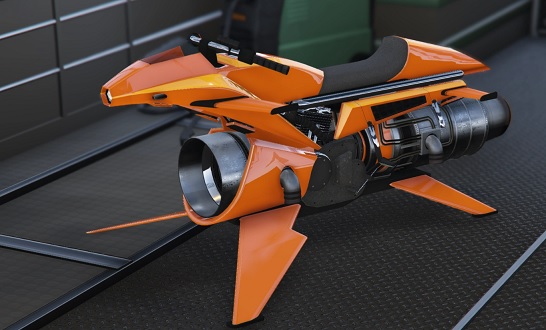 While it's still a prototype, the team is already excitedly talking about future plans. Some ideas have been to replace helicopters to fly people into difficult terrain like mountains or jungles, or even just between cities. The team claims that the motorbike will be able to do so both more effectively and more efficiently. This gives it a lot of exciting applications from tourism up to making remote regions more accessible to researchers.
Other ideas have a more businesses side to them. Being able to quickly and cheaply transport goods across the city would be a perfect use case for the flying vehicle. This type of savings is what really gets business owners and investors excited. While there is still a lot of work to do, it will be exciting to watch future developments on the Hermes II.
Silverwing S1
The other flying motorbike at the show will be the Silverwing S1 which is also built by a TU Delft team. Looking like a cross between a small airplane and a helicopter, the Silverwing is able to take off and land vertically while switching to horizontal flight while in air. This makes it more efficient and conserves energy. Better yet, it's able to do all this autonomously. In its current state, the vehicle is built to fly up to 40km and has enough room for a single rider.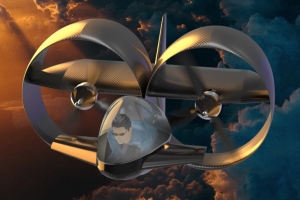 The team recently completed their first test flight with a full scale prototype. They've built their way up from a half-scale prototype, and are eager to show off their invention to the crowds at drone week. There's already been a lot of interest expressed about the vehicle in the delivery and disaster relief sectors, a great sign for future development.
While a bit different than drones, these motorbikes show the next evolution in aerial technology. It's crazy to see the huge advancements in the last few years, and even more so to think about what we might see in the future.
Both of these aerial vehicles will be on display at the Amsterdam Drone week running from December 4th-6th. The show will be an awesome showcase of these and many other drones and flying technology. It will certainly be a can't miss event for drone enthusiasts, and it will be exciting to see all the treats on display during the event.