French Manufacturer Elistair Creates Drones On A Leash

In early 2017, Massachusetts-based company CyPhy Works provided tethered drone security for the Boston Pops Fireworks Spectacular, saying that it was "an efficient and effective solution for keeping a drone in one place" without running down the battery. Last year, Homeland Security announced that it would use a tethered drone to observe Trump National Golf Course in New Jersey during a presidential vacation.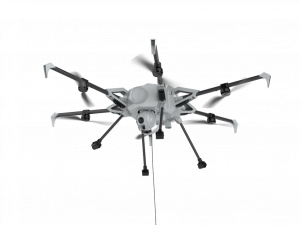 Now, French drone tech manufacturer Elistair hopes to bring this growing security technology to the world of industrial surveillance with the first commercially available "drone on a leash." This new unmanned aerial vehicle, known as the ORION UAS, is specifically created for semi-persistent aerial surveillance and telecommunications functions, particularly in the public safety, defense, and law enforcement sectors for security and crisis management missions.
"The structure of the ORION drone," the company said in a press release, "is designed to sustain fierce winds with a maximum stability for its size-factor. The ORION boasts X30 [thirty times] optical zoom and can detect a moving person over several miles. The micro-tether deploys high-speed and interference-free data transmission technology, and Flir and Sony industrial sensors."
Some readers may be asking the question: why would you want to keep a drone tethered to the ground? Isn't the whole point to take flight? But the so-called "leash" does more than just hold the drone down – it actually acts as a charging cable connected to Elistair's Safe-T smart powering station. This computer controlled, fully programmable, and remotely actionable device uses a patented ultra-light micro-tether secured by a UPS safety battery to keep drones flying in the air for literal days.
Despite its ridiculous name, the Safe-T has been successfully deployed by governments, public services and industrial companies in over 30 countries. It works best with heavy lifting drones like the Yuneec H920, DJI Matrice, or DJI S900. The company also offers the even more ridiculously named "Ligh-T tether", a more compact station designed to be easily transportable and deployable on any type of terrain. It can be used with the same heavy lifting drones as its big brother, but is also recommended for the DJI Inspire series.
But the ORION UAS will be the company's first actual vehicle, a weather-resistant model that can be used with the simple touch of a button and which is designed for continuous aerial day and night surveillance over extended time periods over large areas. The website seems to be specifically pitching this drone at law enforcement agencies, which is a bit of a frightening thought. Can you imagine seeing police drones hovering constantly on street corners, recording your every move for days on end? While no doubt good for public safety, there's something vaguely dystopian about the idea.
Of course, the company also suggests elsewhere that the same technology could be used for land surveillance by farmers, or for television broadcasting of live events (like the aforementioned Fireworks Spectacular), or even for humanitarian purposes. Like any tool, the ORION UAS could be seen as a good thing or a bad thing depending on who's using it.
The ORION UAS is not yet priced, but considering its size and impressive feature set, plus the fact that it's clearly being marketed as an enterprise solution rather than a consumer product, we can assume it will cost well into the thousands of dollars.For comparison the DJI Matrice 100, which is on the cheaper side of heavy duty drones, still costs $3,299 USD. And most smaller companies have to charge more than DJI because they have less factory infrastructure.
So what do you think, readers? Are you "all in" on the idea of tethered drones? Is the Elistair an exciting new piece of tech, a dangerous piece of surveillance equipment, or a pipe dream that's doomed to commercial failure? We know many of our readers actually work in various surveillance industries – would you ever consider buying such a product for the right price, or do you need a drone with a full range of motion? Be sure to sound off in the comments and let us know what you think about these new technological developments!