GDU O2 Drone Review – Can The GDU O2 Replace The Mavic Pro? [2020]

GDU Technology is a Chinese drone company that most casual quadcopter enthusiasts have probably never even heard of. Their biggest claim to fame is creating the world's first foldable drone, the GDU Byrd, an achievement that was sadly overshadowed by the fact that DJI released the far superior and more widely-marketed Mavic Pro a few months later.
GDU's steadily put out some solid but minor quads since the Byrd – the Sky Warrior, the WRJ-D6B heavy lifting drone, and a couple of other prosumer quadcopters. But they've been getting a lot of attention lately with their newest folding drone: the GDU O2. A number of drone fans have nicknamed this vehicle "The Mavic Killer," and now that it's been released, we just had to find out for ourselves how well this thing really stacks up against the Mavic Pro.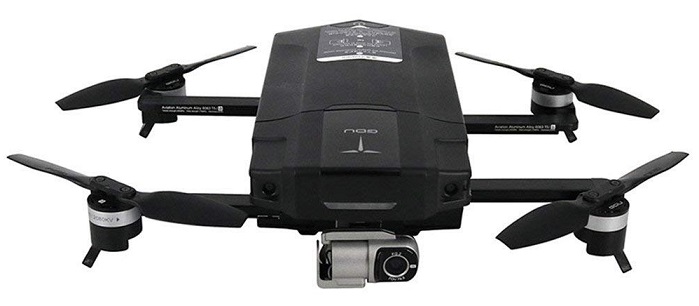 Click To Shop or Read Reviews
GDU O2 Features And Specs
If you buy the GDU O2 (available here on Amazon), here's what you're getting in the package:
In The Box:
– 1 GDU O2 drone
– 1 5.8 GHZ remote controller
– 1 4000 mAh LiPo battery
– 1 13.05V wall outlet battery charger
– 8 extra propellers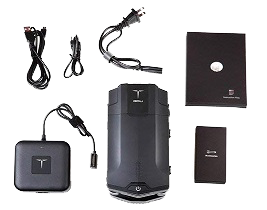 GDU O2 Drone Specs:
– 1.6 pound weight
– 7.3" x 2.04" x 3.66" unfolded size
– Three video resolutions: 4K, 1080p, and 720p
– 30 fps video
– 4208×3120 max resolution for still images
– 90 degree tiltable gimbal
– 3-axis gyro
– 20 minute flight time
– 4 mile transmission range, 0.6 mile FPV range
– Can be flown in wind speeds up to 12 miles per hour
– Top horizontal speed of 33 miles per hour
– Top vertical speed of 11 miles per hour
– 16 GB built-in memory, no SD card slot
– Obstacle avoidance detection from about 10 feet away

In the next sections we'll cover some of the most important features of the GDU O2 in more detail.
GDU O2 Sliding Arm Design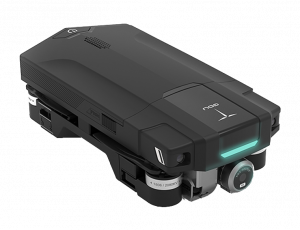 The big innovation that GDU Technology is bringing with their latest drone is known as "sliding arm" design. Most foldable drones have arms that fold back and sit outside of the body of the vehicle. This leaves the propellers and rotors exposed during transit and can potentially cause the drone to be damaged while it's being carried around.
The GDU O2's arms are already extremely robust because they're made of aviation-grade aluminum alloy. But the arms also slide into the body of the drone during transit, which should hypothetically protect them better while it's being carried. The sliding arms also make the drone smaller and allow you to attach the controller to the drone so that you can carry the whole thing in one convenient package.
It's always exciting to see new technology in the drone space, and the GDU O2 sliding arm design is a lot easier to figure out than the DJI Mavic foldable drones' method of folding (the Mavic Air in particular is infamously annoying to fold.) However, be honest here – have you ever really experienced serious damage to the propellers on a folding drone while it was in the folded position? Sure, folding drone arms have a tendency to have weak joints and might break faster in a crash, but personally we've never seen more than perhaps a small scratch while it's in the carrying case.
So while the GDU O2 sliding arm is mostly a gimmick, the fact that it folds to such a small size even with the controller is very nice and makes this one of the most portable drones on the market.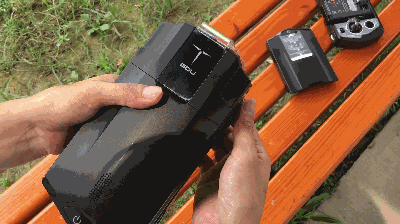 GDU O2 Camera
The GDU O2 camera is solid for its price range, but nothing to get too excited about. You can choose from three video resolutions: 4K, 1080p, and 720p, all of which are filmed in 30 FPS. Serious photographers or videographers will of course need a much wider range of resolutions than this, but these are the three basic "HD" resolutions which will make it easy for beginners to take good pictures and video with the O2.
The camera itself is mounted on a three-axis gimbal with a 90 degree range of movement (which means it can point straight forward, straight down, or at any angle in between those two points, but low-angle shots where the camera is pointing up are impossible.) Again, this is fairly standard for a mid-tier drone camera.
The GDU O2 can also record slow-motion and time lapse footage without additional editing by changing the number of frames per second. However, the in-camera slow motion video is pretty choppy, so it's probably better just to slow down regular speed footage with an editing program.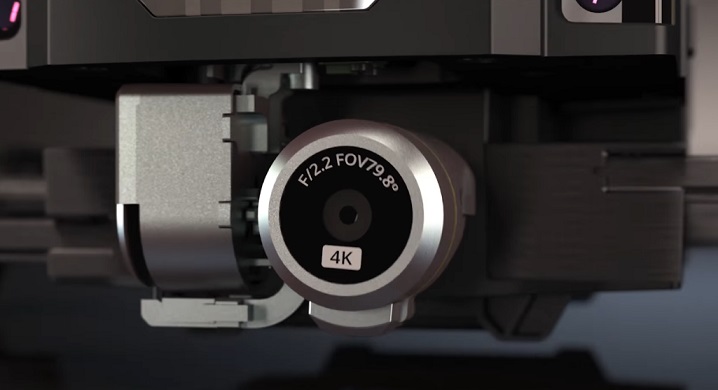 GDU O2 Range & Flight Time
The GDU O2 gets twenty minutes of flight time from a single battery and takes about an hour to charge. The controller also uses a LiPo battery and takes about 45 minutes to charge. Again – and we know we're starting to sound like a broken record here – this is all fairly standard for a drone at this price range.
The GDU O2 range should be enough to satisfy most consumer drone pilots – video streams from 0.6 miles away and the drone itself can be flown just with the transmitter for a pretty astonishing four miles. However, if you're flying with the cell phone app, the range is capped at 260 feet (a little under 80 meters.) This, again, shouldn't be a problem for most hobbyist users.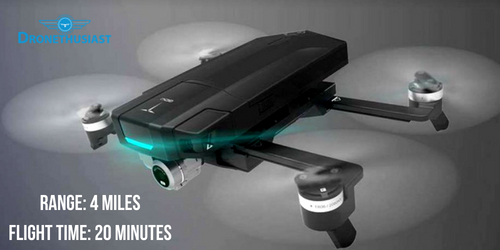 GDU O2 Price
The GDU O2 price comes in at just under $770 USD. When compared to its competition in the foldable prosumer drone space, that's $30 cheaper than the DJI Mavic Air and $230 cheaper than the Mavic Pro. However, the new Parrot Anafi (which also wants to be a "Mavic killer") only costs $700 even, so the O2 is not quite the cheapest drone in this category.
Also, it should be noted that the GDU O2 is not eligible for Amazon Prime, so you'll have to pay more for shipping the vehicle than you would for most drones.
Flying The GDU O2 Drone
The GDU O2 has two flight modes which you can switch between in the GDU Mini app. In "novice mode," you choose from a variety of flight patterns and the drone basically flies itself. You can have it follow you, circle a target point, rocket into the air, etc. These features are nice if you don't want to worry about doing any flying yourself, but here at Dronethusiast we usually prefer beginner drones like the Altair Aerial line, which are still manually controlled but just easy-to-use.
The GDU O2 does, of course, still have manual controls which you activate by putting the drone in "professional mode." As far as flight goes, the drone handles pretty well. The controller is a nice size that fits comfortably in the hands and isn't too small like the controller on a lot of portable drones, and the O2 responds to inputs with no noticeable lag.
The O2 has solid obstacle avoidance that didn't fail any of the tests we put it through and could consistently detect obstacles from about 10 feet away. As seems to be the case with most of the drone's features, it's very solid but nothing special.
Mavic Pro VS GDU O2 – Which To Buy?
Like many drone review sites, we at Dronethusiast consider the Mavic Pro one of the very best drones on the market today. However, we are always interested in seeing more competition in the drone space. DJI is such a massive monopoly that it's hard not to root for any underdog company willing to try and go up against it.
Having said that, there's no denying that the Mavic Pro is a far superior drone. It has a better camera, a more precise controller, 7 more minutes of flight time per battery and a much longer range. Plus, the DJI flight app is a lot more intuitive and just overall functions better than the GDU Mini app. And if you're a serious photographer, there's simply no competition – the Pro has a huge range of filters, features, and cinema-quality resolutions you could possibly want, while the O2 only has very basic camera functionality.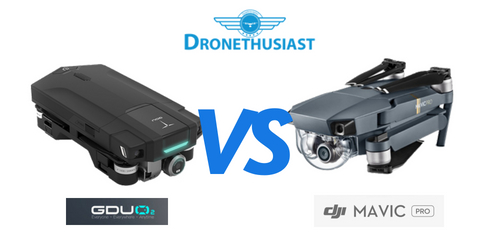 The GDU O2 is significantly cheaper, but even if you don't want to spring for the Mavic Pro it's hard to see why you wouldn't just pony up the extra thirty dollars for the Mavic Air, which has more features than the O2 as well as a better camera, app, and flight time.
Conclusion
The GDU O2 isn't a bad drone by any means, but it fails to distinguish itself in any way. It's hard to see why you would pick this drone over other options on the market – there are a great number of beginner foldable drones that are cheaper and better at teaching first-time fliers the ropes. The DJI Mavic Pro and GoPro Karma are better pro-level drones and can actually be used for serious photography. And the O2 just doesn't have any unique features that set it apart, other than the gimmicky and largely pointless sliding arm design.
The obstacle avoidance? Decent. The range? Decent. The camera? Decent. The GDU O2? Decent, and nothing more.