How Drones And Robots Helped Fight The Notre Dame Fire

Last Monday, on the 15th of April, a fire started under the roof of France's legendary Notre Dame cathedral. The 856-year-old building experienced significant damage to its roof, spire, and stained glass windows, but the work of experienced firefighters and the stone vaulted ceiling helped keep the damage to a relative minimum. Nevertheless, restoration of the building will likely take 20 years or more, and the event was a sad day for art and history lovers everywhere.
One of the methods used by the brave Parisian firefighters actually involved those devices that are so very near and dear to our hearts – drones. The most significant unmanned vehicle used to help fight the Notre Dame fire was Colossus, an 1100 pound water-firing tank-like robot created by French technology company Shark Robotics. Colossus has a range of nearly 1000 feet and is highly durable. It can even withstand water exposure and thermal radiation.
Colossus, which can be controlled by an operator using a joystick or tablet, is designed to help transport equipment and wounded people, is equipped with cameras that can give a view of an area that's too dangerous for humans to go into, and can fire a significant amount of water from a pressurized hose.

The products of the extremely popular prosumer drone company DJI were also used. A heavy lift DJI Matrice 120 and multiple Mavic Pros were borrowed from France's Ministry of the Interior and Ministry of Culture to provide aerial reconnaissance and thermal imagery. DJI director of public safety integration Romeo Durocher told French media sources that the Mavic's thermal cameras and electronic zoom provided the most value to firefighters, allowing them to monitor the enormous building from a bird's eye perspective and track the spread of fire.
Drone flights are technically prohibited over Paris (with French reporter Tristan Redman being fined almost $1,200 for trying to capture drone footage on the day of the fire), but French officials quickly lifted the restriction for the firefighters themselves and DJI lifted its geofence protections over the city for the drones in question.
Fire brigade spokesman Gabriel Plus told the French press that "The drones allowed us to correctly use what we had at our disposal." In other words, they didn't change the fire fighters' strategy, but they did allow them to better understand how to deploy said strategy and the tools at their disposal.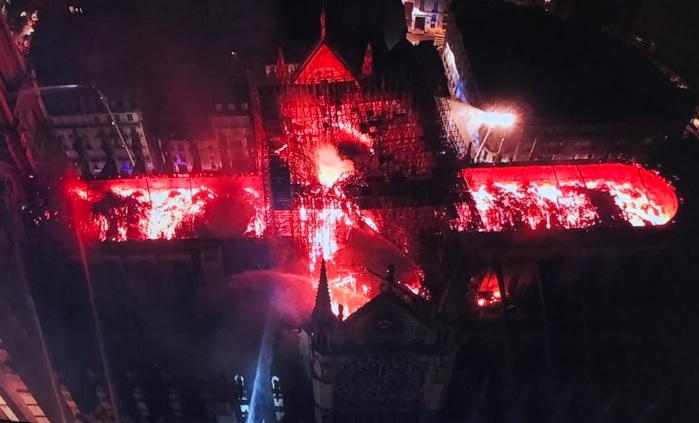 It's good to know that drones are already helping to deal with dangerous real-world situations, and if DJI has their way there will be many more collaborations of this kind in the future. Earlier this year the Chinese megacorporation announced their desire to start a Solution Development Partnership with the Los Angeles Fire Department. A DJI press release said this partnership would be formed to "create, test and deploy DJI drone technology as an emergency response and preparedness tool." And DJI has already formed smaller partnerships with other fire fighting organizations across the United States.
So it's clear that drones and robots are more than just the future of fire fighting technology – they're actually its present. Let's hope that as these unmanned vehicles improve, they can help the brave men and women of the fire brigade save more people, equipment, and buildings from the deadly inferno.