Human VS. Drone Who win this battle?

As we begin to wind down the year 2017, it becomes more and more apparent that we are becoming more reliant on technology. In many aspects of life, we have technology taking the jobs of humans because in a business perspective, it ultimately saves the business owner money. An example of this is the machines that are in some McDonalds that allow hungry patrons to enter their own order and pay without the need of a person taking their order.
In many cases, it seems that automated technology works better than those that are powered by humans. It decreases the chance of errors that you would typically see if a human were managing the action that it was performing. Would this be the same though if a human were flying a drone versus a autonomy drone? NASA decided to find out.
In October of 2017, a group of researchers in California at NASA's Jet Propulsion Laboratory (JPL) put a drone piloted by Ken Loo, who is a professional drone pilot, against an AI-drone. The AI-drone represented two years of drone autonomy research powered by Google. The goal was to see if the piloted drone could outperform an AI drone in a preset course.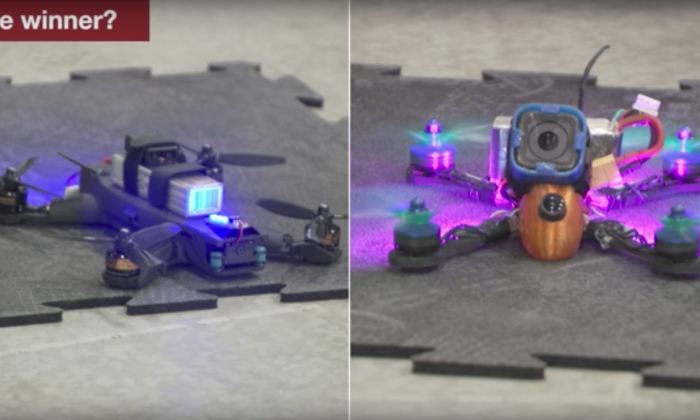 For this experiment, three drones were customized with algorithms created by Google's Tango. Tango is a platform that uses computer vision, which helps navigate the settings that surround them. Each of the drones, both the piloted and the AI one, were capable of reaching speeds of up to 80 miles per hour, but because of the turns in the course they were racing on, each one could only reach about 40 miles per hour.
When looking at the results of this race, you can see that the AI drone had a much smoother path whereas the piloted drone had sharper turns and jolts here and there due to minimal human error. Both were able to complete the course, but the path of the AI drone was much less rigid. Ultimately, the piloted drone did beat the AI drone by 2.8 seconds.
Drones that are autonomous will continue to make improvements as we continue to use them more each day. Since they will be taking to the skies more frequently as various tasks are being completed by them, we can only expect their technology to continue to grow. NASA is hoping these technological advancements will also be used in robots that could autonomously navigate the space station.