Racing Quadcopters – an Intro to FPV Quacopter Racing

The world of racing quadcopters is still in its infancy, but it's rapidly gathering momentum across the world as people discover the thrill of being able to zoom around with their friends, defying gravity in a 3D space. If you're into drones and FPV, you've almost certainly seen the post about the French Airgonay team, featuring pilots zooming through the forest Star Wars style, in a scene very reminiscent of Return of the Jedi. If, not then be sure to head back there and watch it first!
In this article, we'll discuss the history of racing quadcopters, how to build a super-fast quad of your own, a quick guide to which ready-to-fly racing quads are the best on the market, and tips and tricks to start flying and setting up races of your own. By the end of this page you should be a true expert on FPV racing!
Racing Quadcopters FAQ
How did racing quadcopters get their start?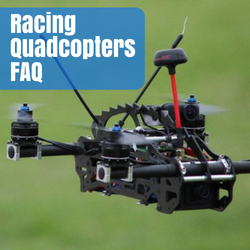 Without a doubt, the biggest development that has driven the FPV racing scene has been the development of smaller "mini" copters. Before these became widely available, most FPVers were flying larger 450 sized quads and hexes.
A year and a half ago, the first few designs appeared when people made concerted efforts to purpose build mini quads. The initial power plants we had were puny by today's standards, but we still had enormous amounts of fun, because there was basically no pain when we crashed.
Larger quads are great for cruising, but lack the agility and – more importantly – durability of the minis. It's simply a question of mass; less mass means you can crash into all sorts of things, and most of the time all you break are props. The ability to crash and continue after minor repairs has enormous appeal to anyone on a limited budget. It also lets you push your boundaries, and when you do that, you improve as a pilot very quickly indeed. As they say, if you aren't crashing, you aren't learning.
Mini quads are cheaper to run as well – the batteries are smaller and therefore cheaper. They also require a lot less space to have fun. You can head to your local park, find a few clusters of trees, and set up your own practice course in a few minutes.
It wasn't long before Lumenier jumped on the bandwagon with the QAV250, and Openpilot brought out the Kwad. Mini frames started appearing everywhere. Since then, we've seen huge progress in the power plants, with 6″ props, big 3S and even 4S motors, and insane power to weight ratios of nearly 10:1 becoming feasible, turning these humble little park fliers into agile little missiles capable of exceeding 120kph.
Once you have these conditions, FPV racing becomes inevitable.
How fast are racing quadcopters?
The fastest recorded quadcopter speed is 163.5 miles per hour. But that's obviously an extreme case – most racing quads fly along at about 75 miles per hour. In a quadcopter race, maneuverability is actually more important than speed in most cases because it allows you to make those tight turns and avoid obstacles better than your opponents.
Should you buy or build racing quadcopters?
It depends what you want from a racing quad. If you want to be a serious contender in the racing world, you're almost certainly going to need to build you own. A custom-built quadcopter is "future proofed" because you can upgrade it whenever new technology comes out and will give you a better understanding of the sport because you have to put each piece together yourself. It's easier to repair and will likely be able to reach faster speeds and control more smoothly than a ready-to-fly racing quadcopter.
On the other hand, building a racing quadcopter is an expensive and time-consuming task – and one which shouldn't even be attempted by a beginner. For the casual drone racer who just wants to fly with their friends and have a solid mid-to-high-tier racer for a low price, buying is definitely the way to go.
How much will a racing quadcopter cost?
If you're starting from scratch, be prepared for some initial sticker shock. Realistically, a full FPV racing setup will probably set you back something in the order of $1000-$2000. The quad itself is not super expensive, but all the gear around it does add up. You'll need a decent radio, an FPV setup, high C-rated batteries and a charger on top of the quad itself.
How can you set up a quadcopter race track?
First and foremost – safely! Remember that these little racing quads can cause nasty injuries, both to pilots and bystanders, so choose your location carefully. Check the local rules and regulations; they vary enormously from country to country. In Australia, different local councils have different laws when it comes to park use, so make sure you are familiar with the regs.
When it comes to formalising a circuit, remember that the sky is the limit! You can pick a route that sticks close to the ground, or incorporate some altitude changes for that real 3D feeling.
Formal tracks can be roped off and laid out using flagging tape, and "gates" can be constructed from goal posts, pool noodles, cardboard, hula hoops, or whatever you have on hand. LED strips can even be used for dusk or night time racing to add additional thrills.
When it comes to FPV racing, you can either do time trials, or have multiple racers at once. In practice, video interference limits the field to no more than four people – not to mention the physical crashes!
Have spotters on hand too, to keep an eye on where crashes happen, and to let the pilots know of any hazards on the field (eg animals, fleshy children, etc).
At the end of the day, it's up to us to keep the sport safe and legal. Remember that your actions reflect on everyone, so fly hard, but fly safe!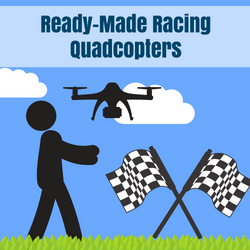 Ready-Made Racing Quadcopters
If you want the fastest racing quad on the market, you'll need to build your own (a topic we'll discuss later in this article.) But if you're just looking to get into the sport of FPV racing without breaking the bank, here's three of the best racing quadcopters for sale.
You'll see the word "RTF" a lot when you're looking at this and other racing quadcopter guides – this acronym stands for "Ready To Fly" and simply means that the drone will not require you to purchase additional parts.
Altair Aerial Blackhawk – Best Budget Racing Quadcopter
Get super fast and free shipping when you order the Blackhawk directly from AltairAerial.com, or check out the best price at Amazon.com
If you're looking for the best cheap racing quadcopter around – but one which is still fast and upgradeable enough to be relatively "future proofed" – we highly recommend the Altair Aerial Blackhawk quad. It's durable and relatively easy to fly, so beginners and casual racers should be able to pick it up with no problem.
Vital Statistics:


• 7.4V 1800mAh Li-Po battery
• 2 pound weight
• 15-17 minute flight time
• No camera, GoPro mount included
• 500 meter range
• Beginner-friendly design
• Ready to fly right out of the box
• Plenty of extra parts included
• EXTREMELY AFFORDABLE $109 price tag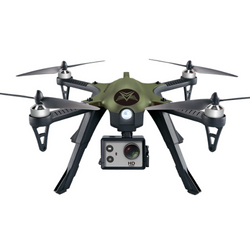 Click To Shop or Read Reviews
Vortex 285 – Fastest RTF Racing Quadcopter
ImmersionRC's Vortex 2885 is an excellent mini racing quadcopter that's considered one of the fastest options around. It's also one of the smallest and folds neatly into a portable frame for easy access. Unfortunately, though the quadcopter itself is ready to fly after some quick assembly, you'll need to purchase a couple parts separately before you can take to the skies.
Vital Statistics:


• 14.4 ounce pound weight
• 6 minute flight time
• No camera, bendable Vortex camera mount included
• 5.8GHz video transmitter
• Receiver and battery must be purchased separately
• Extremely portable design
• $160 price tag (without receiver and battery)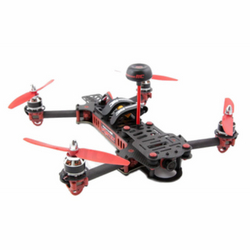 Click To Shop or Read Reviews
Force1 XDR220 – Best Racing Quadcopter Kit
This racing quadcopter comes in a kit that you have to assemble yourself, but it comes with everything you need to fly and the fact that it's not pre-assembled makes it easier to upgrade. This great racing quad also has an incredible flight range and an extra-durable carbon fiber frame.
Vital Statistics:


• 1300mAh 11.1V 45C 3S1P Li-Po battery
• 7.5 pound weight
• 2.5mm HD CCD camera included
• 3000-5000 foot range
• Highly durable design
• Comes with everything needed for FPV racing, including goggles
• Requires kit assembly
• Plenty of extra parts included
• $450 price tag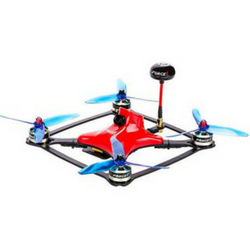 Click To Shop or Read Reviews
How To Build A Racing Quadcopter
Here's a quick, non-comprehensive guide that'll get you started if you want to build a racing quadcopter of your own.
In addition to the major parts discussed here, please note that for racing, a separate FPV camera is a must-have. The Gopro and Mobius cameras both support a live video out, but they suffer from scaling and quite a lot of lag, which is deadly when you're flying through trees at speed. Here's a list of some good action cameras for use with racing quadcopters.
The Frame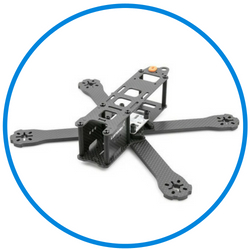 There are many good options for racing quadcopters available these days, and the market is quite mature. Frames with built in power distribution boards like the Blackout and QAV250 offer the quickest, most convenient types of build, but do introduce additional points of failure if you're not meticulous with your build. For example, power pads can be ripped off after crashes when people fail to secure the power lead with a cable tie. Remember to secure everything, and apply good insulation to avoid shorts. Remember that these little machines are likely to suffer a lot more abuse than a bigger quad!
There are pros and cons to most racing quadcopter frames. For example: the Canadian Minion is very simple, but a bit cramped, while the Coptergeist has a long body with more room for extra gear. Some frames offer motor symmetry, some are designed to keep the props out of view. Some fit a GoPro easily, some don't. Do your homework, and find something that suits your needs.
Sometimes, people use nylon bolts in their builds. The idea is that they are a point of failure and will snap to preserve the plates in a bad crash. In practice you are likely to spend all day replacing nylon bolts after minor crashes, so we recommend long steel screws. They add a bit of weight but make everything much more solid Unless you hit a brick wall at speed (in which case nothing will save you) your frame will be fine.
The Brains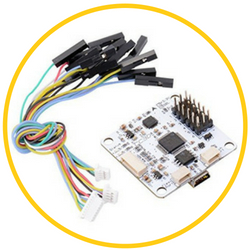 Perhaps the most common flight controller for minis is the Naze32. Its creator, Timecop, has a reputation for being prickly, abrupt and even downright rude on web forums, but there's no denying it's a great piece of hardware. If you want a racing quadcopter that flies acro like it's on rails, then the Naze is the board of choice.
Other Multiwii based boards like the Flip are good choices too, as is Openpilot's CC3D.
The DJI Naza is a good beginner board, and has excellent altitude hold, but lacks the agility and acro ability of the others – and it's a lot more expensive.
The majority of people use 5.8Ghz for their video link, as the antenna is smaller and more durable. Antennas with plastic "helmets", like the ImmersionRC ones, are definitely the way to go, otherwise your precious cloverleaf lobes will get squashed very quickly.
Of course, if exploration through thick trees is your goal, 1.2ghz is a better option, but the larger, more fragile antennas are less suitable for rough and tumble FPV racing.
The Propellers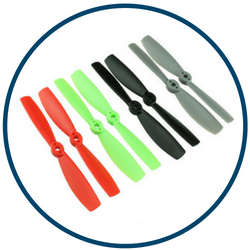 Choosing the right ESCs, motors and propellers is also critical for a good setup. Early racing quadcopters ran 12A speed controllers, tiny 3S compatible motors, and bendy Gemfan 5030 props. Since then, T-motor and Sunnysky have released a range of much more powerful motors, capable of driving larger and stiffer props.
For a 5″ setup, our go-to is the HQ "bullnose" – a custom moulded version of the 6045 prop cut down to 5″. They offer a lot more power than the Gemfans and are very tough. Just make sure your ESCs are up to the combo you choose, 12A isn't enough to drive 6″ props hard, as motors driving them can easily exceed 20A under load.
Conclusion
Want to learn more about some of the fastest drones for sale? Check out our product guide here!
Hopefully this article has taught you something about the sport of FPV racing and the best racing quadcopter setups for sale. If you have any questions that we failed to cover, by all means please let us know in the comments. And let us know about your own experiences with quadcopter racing as well as any favorite racing quads you've built or which we neglected to mention.
Summary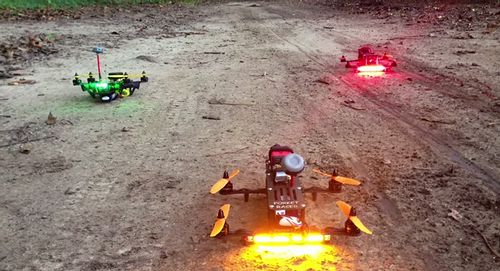 Article Name
Introduction to FPV Racing and Mini Quadcopters
Description
FPV Racing and Mini Quadcopter introduction by Dronthusiast's new writer Mark Cocquio from Brisbane, Australia.
Author
Other Interesting articles in "
News

"