New Solar Cell Drone Development

Drones are currently being used for a variety of functions throughout the world. Common jobs that they currently have are surveillance and security, delivery services, and even some emergency services. Even hobbyists enjoy flying their drones just to pass the time.
One common problem across the board for anyone that flies drones will consistently be noted as the battery life that they have. While drone hubs are also being constructed to act as charging facilities in the sky for these UAS (unmanned aerial systems), it would still be more convenient if the drones were able to charge themselves without having to stop. This is why a group is developing the ability to have solar cells on drones.
The new solar cell drone development has been started by the SolAero Technologies Corp. They are working to develop solar powered wings for the PUMA brand drones. After receiving an award from the John Hopkins University Applied Physics Laboratory, they have plenty of funds to begin the new solar wing development.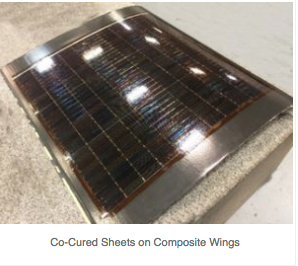 Their goal is to outfit the current Puma wing that is standard and non-solar with SolAero's advanced ruggedized composite structure that is form fit and functional. If you're unfamiliar with the Puma drone, it was the first drone that was granted approval by the Federal Aviation Administration in 2014 to fly over land in commercial use. This new wing will increase payload power and enhanced persistence as well as an increased range. Testing of this new Puma with the solar cell wings will take place in early 2018.
In 2017, a prototype solar wing that was developed by Alliance SpaceSystems, which is a subsidiary of company of SolAero, performed perfectly during its flight tests at Yuma Proving Grounds. Since SolAero and Alliance represent the only supplier in the world of vertically-integrated cell-composite structural products, those companies are uniquely positioned to partner with UAS OEMs and their customers to offer enhanced system performance.
Drones having longer battery life is going to take their usability to new heights. Without the need to stop flight for a battery change or for a recharge, drones will be able to travel further distances and remain in the air much longer than they currently are. This will be essential as we continue to use them in tragic situations and emergencies. As drones continue to develop, their uses will continue to change and transform.