New Startup Lets People Fly Drones Remotely Around the World

A new startup is letting people remotely fly drones around the work from their laptops. For about $7 a flight, FlyThere is branding itself as a quick way to travel without actually going anywhere.
The platform, which lets drone owners in exotic countries leverage their own expensive drones to get paid, launched its beta in October 2018 and has been fully operational as of its June launch. FlyThere CEO, Tal Fromchenko, says the startup racked up more than 10,000 total flights during its testing period thanks in large part to word of mouth from customers who, like Fromchenko, might have otherwise not be able to explore new areas.
Part of FlyThere's initial problem was convincing people that they could actually fly a drone form their laptop on the other side of the world in real time.
The way the program works is users create an account and sign up for either a monthly subscription or buy credits on a per-flight basis. A five-minute flight averages about $7.50. Drone operators list their flight availability for different hours and after about a three minute waiting period, users are matched with a drone owner.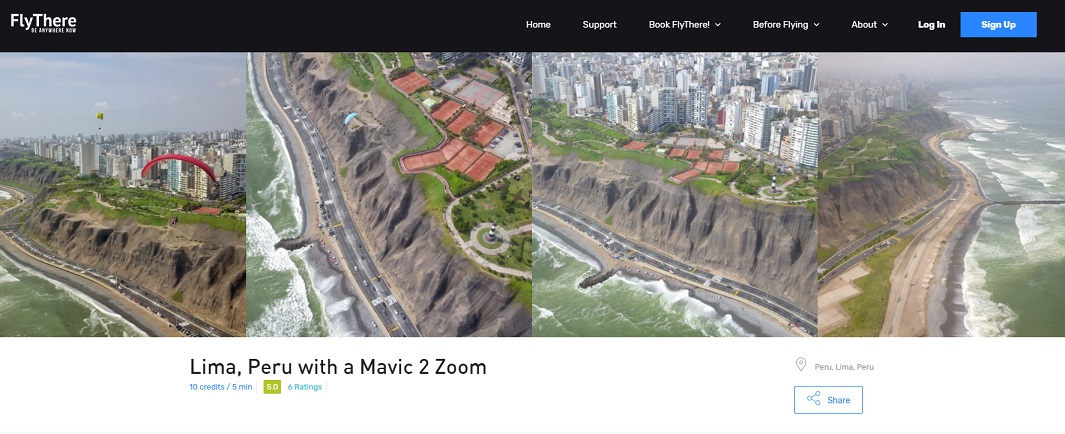 According to Fromchenko, drone operators are paid a day rate to be available to launch FlyThere customer flights and be there on the ground to supervise flights. The company has a contract with each operator and the rates are confidential.
Based on feedback, FlyThere recently added the ability to take pictures and record a full flight.
Outside of consumer-use cases, FlyThere is also pitching investors on more business applications as well, including resort tours for prospective customers looking to book travel and stadiums potentially live streaming pre-game festivities.
For now, Fromchenko is focused on adding more and more locations and drone operators to the list of sites across Argentina, Brazil, Mexico, Indonesia, Thailand, Bali, and Brazil. He says they want to tap into the gig economy and let anyone with a drone operate and make money flying, but don't make the mistake of labeling FlyThere, "The Uber of Drones."