Nixie the First Wearable Quadcopter wins $500.000 prize
We have already covered drones that will follow you, but there is a new project worth mentioning that promises just that, but with a special twist. The Nixie is the first wearable quadcopter that is worn on the wrist. Nixie announced today that it has won a prestigious wearable contest run by chip giant Intel. The contest called the Make It Wearable competition yields $500,000 in seed funding from Intel'. In addition to the prize money, all finalists are given mentorship and technical support from the Santa Clara-based tech giant.
The Nixie wearable quadcopter was created by researchers at Stanford University by Dr Christoph Kohstall, a physics researcher at the prestigious Ivy League school, with colleagues Jelena Jovanovic and Michael Niedermayr. It can be worn on the wrist and expands at the touch of a button. When instructed, it flies off, filming its owner using a camera, and tracking their movements with motion sensors. The team behind the Nixie hopes it could reinvigorate the point and shoot camera market.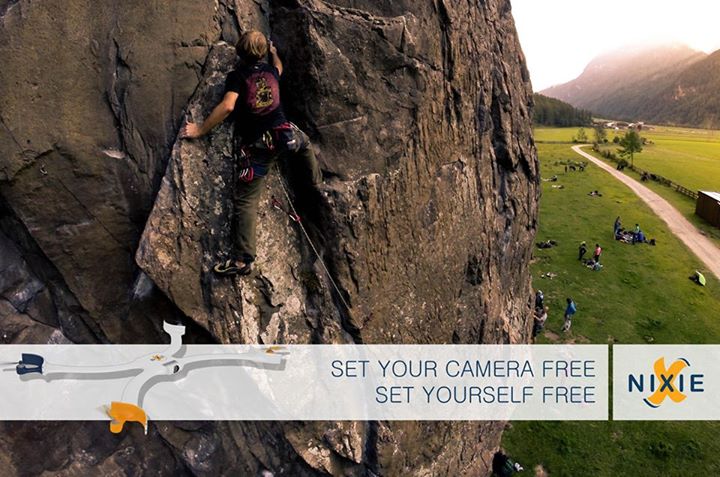 When done filming, the drone returns to the wearer's wrist, which could be controlled using a timer, or summoned using gestures.
The awarded amount of $500,000 will help make project a reality. 'We are very happy, humbled and really honoured,' commented Jelena Jovanovic of Nixie. 'We have all the core functionality of the drone – we've solved all of the hardest challenges, we have stable wristbands that can unfold and are stable in flight, and navigation is solved. 'The next stage is that we have half a million dollars, and we want to make it real.' Jovanovic said the final product will be 'safe, beautiful and intuitive' 'We will target people who do adventure sports like rock climbers, we are offering a lot of value – and we think will be a bit more expensive than a GoPro.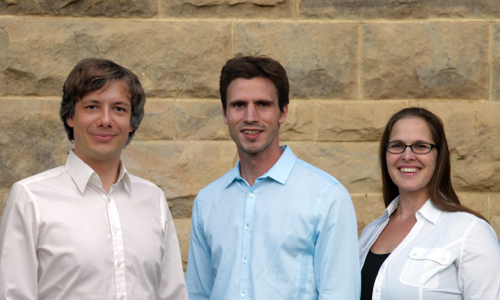 The early "prototype" of Nixie: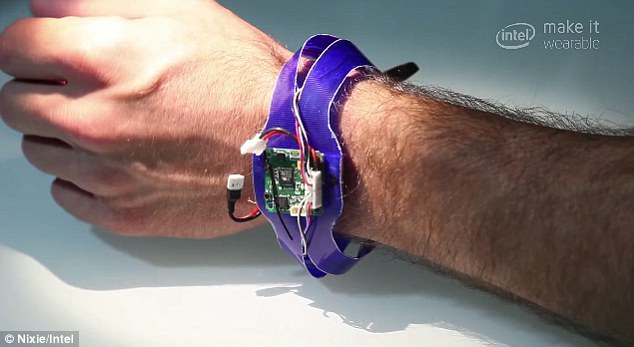 The happy team after winning the competition: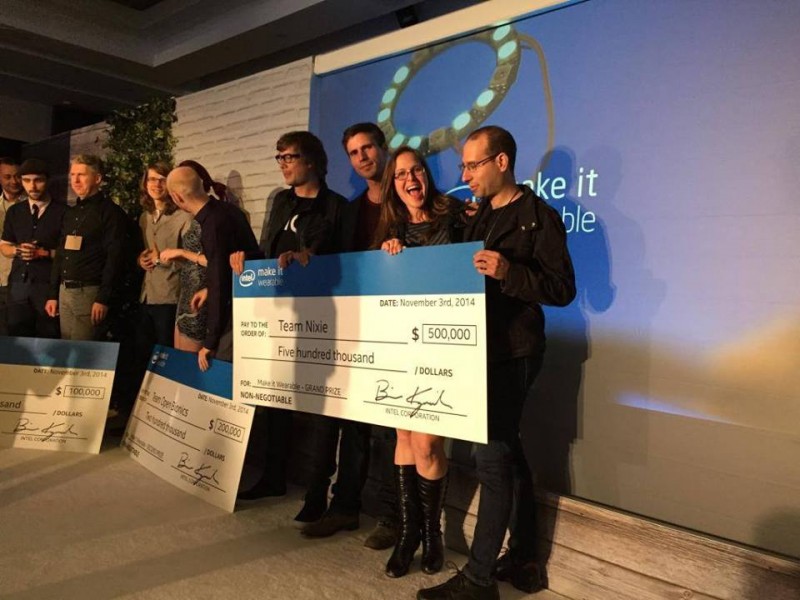 Other finalists include the Vumbl sports and activity necklace, a wrist-worn air conditioning unit, and a production glove. Make It Wearable is a year-long contest, open to students over the age of 13, designers, engineers, and makers. CEO Brian Krzanich in January launched the 'Make it Wearable' contest to encourage entrepreneurs and hobbyists to use Intel's chips to develop new kinds of wearable technology.  The prize money is meant to help the winners bring their prototype to market. 'This was an experiment to see what we could do in this space and see what kind of creativity we could spawn,' Krzanich said at an award event on Monday. 'The real value in this was the diversity of the teams and ideas.'
Krzanich, a weekend tinkerer who restored a 1974 Land Cruiser in his free time, is betting that other hobbyists have as much chance as major technology companies of dreaming up compelling wearable computing gadgets.
Earlier this year, Helio Aerospace Industries unveiled the first 'pet' drone that automatically follows its owner – and could change the way sports are filmed. It is not wearable quadcopter, like Nixie, but the Airdog drone can be fitted with a GoPro camera to capture high definition footage of extreme sports, tracking everything from skateboarders to BMX riders. AirDog tracks and follow users and their trajectory, and has a flight time of up to 15 minutes. It can also reach speeds of 40mph (64km/h). To use AirDog, a programmable remote is strapped to the wrist or helmet, and it is likely to retail for $995 (£612). More on Airdog and other drones that will follow you here.
The illustration below shows how the camera is placed on the Nixie: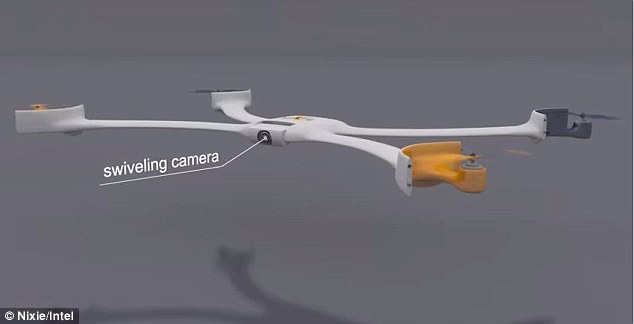 Origin of the Nixie
After receiving a quadcopter for Christmas last year, Kohstall began tinkering and looking for ways to improve the technology. He quickly learned that drones have a tendency to crash and drown in bodies of water, so he built a working prototype that could dive and reemerge from under the surface.
As more of Kohstall and Jovanovic's friends got the quadcopter bug, common complaints about bulk, weight, and arcane user interfaces popped up. Kohstall experimented with wearable solutions, including hacking a pair of eye glasses with propellors so that they could fly at a moment's notice, and if equipped with a tiny camera, capture a drone's-eye-view. This was an interesting UI experiment, but limited the wearer's ability to see, leading him to focus on designing a soaring smart watch.
[one_half]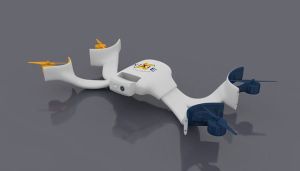 [/one_half][one_half_last]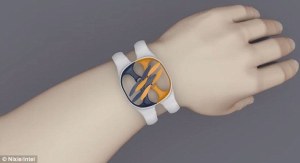 [/one_half_last]
Can They Build It?
Nixie is an undeniably impressive concept, and while rough prototypes prove the principle, the question remains if its myriad design challenges can be solved without sacrificing the sleek look.
The team's strong background suggests they can.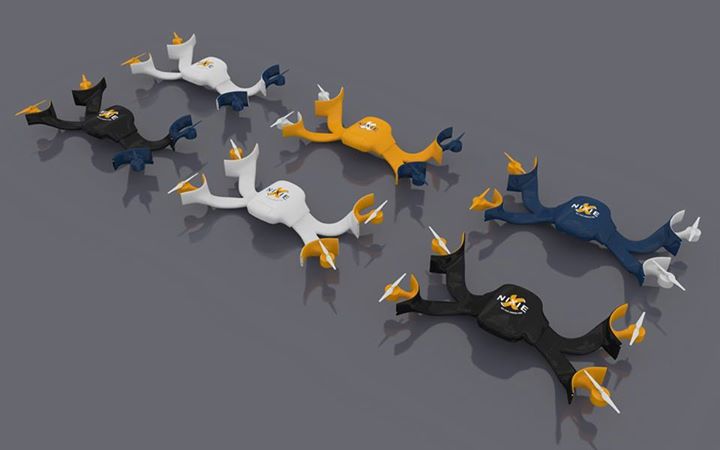 Jovanovic has previously worked on submersible drones and comes from family where hardware is dinner table conversation—Her mom leads PCB design for Google Glass, her dad heads R&D for a high-end headphone company, and her little brother is in charge of product at quantified car startup Automatic. Nixie team members Michael Niedermayr, Floris Ernst, Stefan Niedermayr, Steven Le, Kris Winer, and Jeremy Swerdlow add expertise in motion prediction algorithms, design, and engineering.
Despite a world-class technical pedigree, Nixie will require near perfect execution of both control algorithms, usability affordances, and industrial design. Current prototypes are light, but lack the durability and polish consumers will require. Concept renderings show a gleaming white future for Nixie, but finding durable, lightweight, and flexible materials to make it a reality is no small task.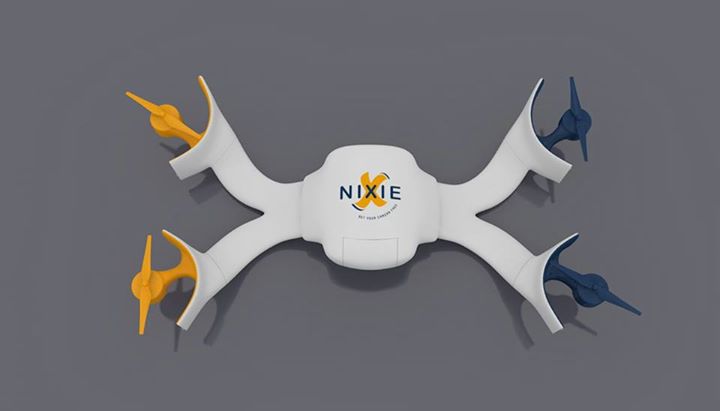 "Anything wearable has to beautiful. I heard someone say 'wearables need to be sensual and need to represent you as a person' which is a tremendous design challenge," says Jovanovic. "Fortunately, no one on our team is inspired by small problems."
One thing that's settled is the name. "A heavy word like drone wasn't going to take off for the average consumer," says Kohstall who also dinged "falcon" because of its aggressive connotations. Inspired by his submersible drone he chose "Nixie" which is a playful German water spirit, like a mermaid. "Nixie, was cute, light, and fun so the name stuck."
Unfortunately, there is no word yet on retail pricing or availability, but we applaud the concept and truly hope that it will become reality and "wearable" for all of us Dronethusiasts.
Summary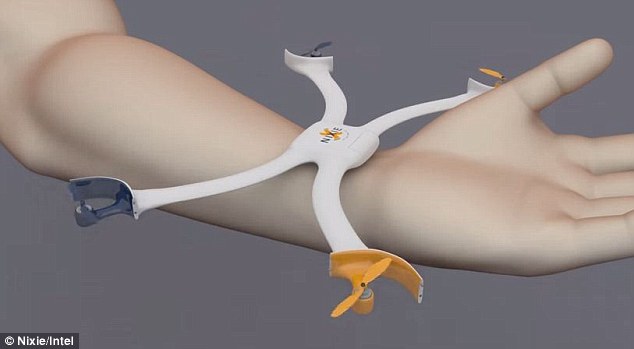 Article Name
Nixie the First Wearable Quadcopter wins $500.000 prize
Description
Nixie is a wearable quadcopter concept that $500,000 in seed funding from Intel. In addition they will be given mentorship and technical support from Intel.
Author
Other Interesting articles in "
News

"