Parrot Drone Accessories – (Best Mambo, Bebop, AR Accessories 2020)

Table of Contents
Parrot drones are becoming more and more popular with drone enthusiasts, especially with the recent release of the supposedly "Mavic-killing" Parrot Anafi. For years this elder statesman of the drone industry has provided top-notch products at a reasonable price. But the best way to take your drone to the next level is by buying some of the great Parrot drone accessories for sale.
But with so many different choices on Amazon and other websites, how can you seperate the good Parrot drone accessories from the bad? How can you tell if a generic accessory will work for a particular drone? That's the subject of today's article, in which we've reviewed what we consider the 13 best Parrot drone accessories on the market today. Whether you're looking for cases, batteries, chargers, controllers, or something extra special, we can help you find the perfect accessories for Parrot drones.
(Looking for DJI drone accessories instead? Click here!)
Parrot Drone Cases
Though Parrot drones tend to be fairly small in comparison to say, the DJI Phantom series, it can still be a pain to haul around a quadcopter, a controller, and any FPV gear you plan on using. Plus, carrying that stuff loose in a bag or in your hands can lead to potential breakage. We always recommend that our readers invest in a sturdy drone case when they're taking their drones beyond the backyard, and here's our top 3 Parrot drone cases for sale.
GoolRC Bebop 2 Drone Case
GoolRC is a company that's made a few drones of its own, but which is best known for making some of the finest RC accessories around. GoolRC makes custom cases for a lot of the most popular drones, with high-density foam on the inside to keep the quadcopter safe and anti-collision hard surface material on the outside to protect your vehicles from crashes, bumps, and scrapes. This particular case is designed to hold the Parrot Bebop Drone 3.0 and its radio transmitter, and it's exactly the sort of high-quality product we've come to expect from GoolRC.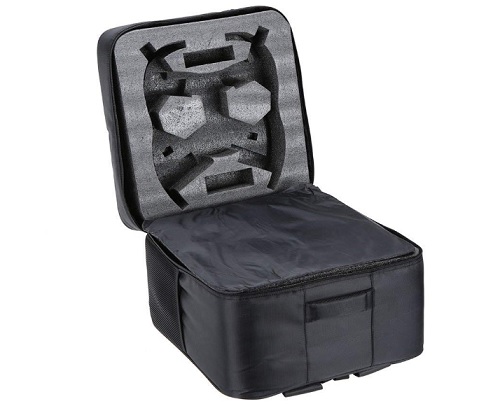 Click To Shop or Read Reviews
Anbee Mambo Case
Looking for Parrot mini drone accessories? This extremely durable Anbee hard shell carrying case is a great way to carry your Parrot Mambo drone around, along with its charging cable, Grabber, spare propellers, prop guards, and up to 4 batteries. All this in a package that's less than half a foot long and only weighs 380 grams!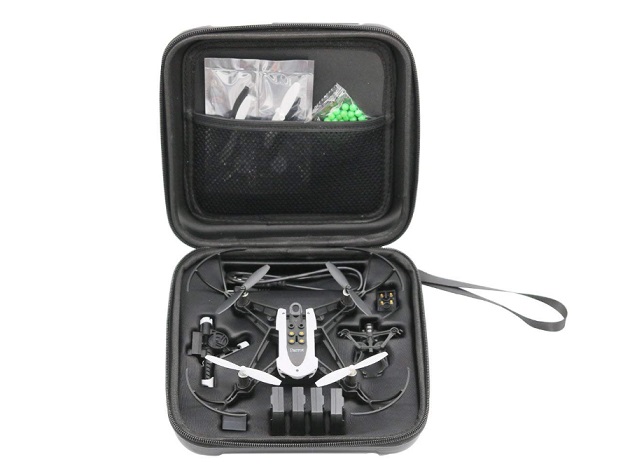 Click To Shop or Read Reviews
LowePro DroneGuard CS 300
This Parrot drone case is a backpack that can hold any Parrot Drone from the Bebop 2 down to the little Mambo. LowePro is another of our favorite drone case manufacturers thanks to their Form Shell technology that grants superior protection without adding extra weight or bulk. This easy-to-carry backpack also comes with dedicated space for blades, propellers, an action camera, batteries, cables, chargers, mounts, manuals, etc.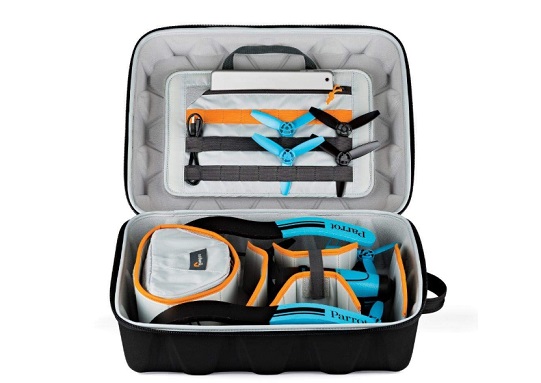 Click To Shop or Read Reviews
Parrot Drone Batteries And Chargers
Losing a Parrot drone battery or a Parrot drone charger is a common occurrence. But even if you've never lost a battery in your life, a lot of drone enthusiasts will choose to buy extra batteries so that they can fly for longer periods at a time (especially important if you're doing aerial photography and want to do a longer photo or video shoot.)
With so many third-party batteries out there it can be hard to tell which ones are worth your hard-earned cash. Here's our recommendations for Parrot drone batteries:
Morpilot Parrot Mini Drone Batteries & Charger
These Morpilot third-party batteries will work with any of the Parrot mini drones, including the Mambo, the Jumping Sumo, and the Rolling Spider. These 600mAh batteries average about 8 minutes of flight time (you can see a chart with specific flight times for each drone by clicking the Amazon link below) and will last longer than the 550mAh batteries included with the original drones in all cases. Best of all, you can get three batteries and a charger that will hold all of them at once for only $27.99 (at time of writing), which is an incredible deal on these Parrot mini drone accessories.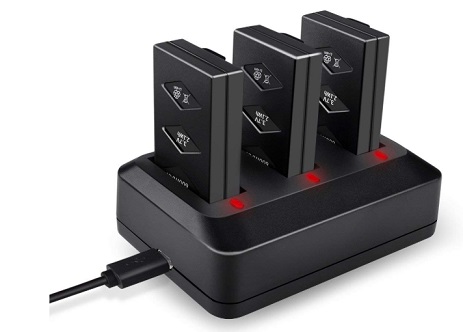 Click To Shop or Read Reviews
EVPEAK Intelligent Battery Charger For Bebop 2
If you're a fan of Parrot's higher-end drones, this Bebop 2 battery charger from EVPEAK is the best Parrot battery charger around. It can hold three Bebop 2 batteries at once and charges them faster than the default charger included with the drone. But the real beauty of this charger are the color screens which display the the charging status, charge time, cell voltage, battery capacity, and capacity percentage of each of the three individual batteries. The safety protections are comprehensive as well, with short circuit protection, over current protection, over voltage protection, and reverse polarity protection.
Sure, some people will balk at paying $109 for a battery charger. But if you've got the money and want to give your drone the very best, there's no finer Parrot drone battery charger than this EVPEAK model.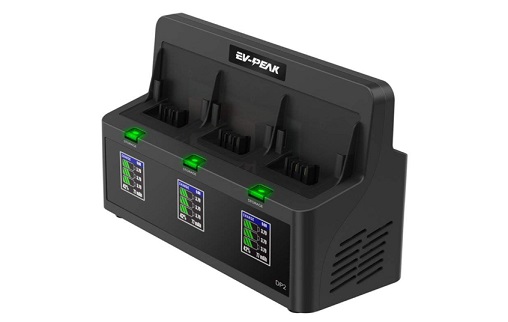 Click To Shop or Read Reviews
Bonacell Bebop 2 Battery
Of course, a battery charger's useless without batteries. This Parrot Bebop 2 accessory costs $67 for a pack of two which is not a bad price for this caliber of battery, believe it or not. Though they look a little different, these 3100mAh batteries are essentially the same as the one that comes with the Parrot Bebop 2. So if you need replacements or just want to fly for longer, this is the best price to buy them at, especially since they come from a third-party manufacturer with a good reputation.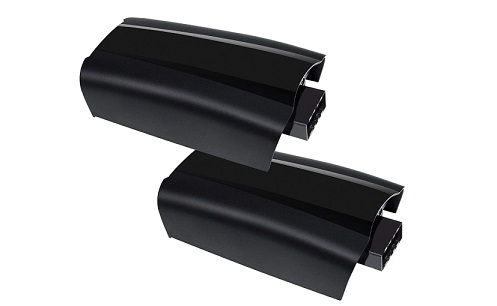 Click To Shop or Read Reviews
TURPOW Parrot A.R. Replacement Batteries
The Parrot A.R. has been discontinued in most regions, but that doesn't mean you can't still buy accessories for the drone if you own it! These TURPOW batteries are great Parrot A R accessories that will give you a longer flight time of 24 minutes at a cost of only $19 per battery. They even include built-in over charge, over discharge and short circuit protection, which is pretty incredible at this price!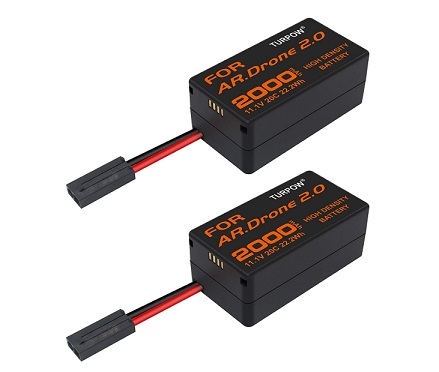 Click To Shop or Read Reviews
Parrot Drone Controllers
All Parrot drones can be flown with a mobile device – in fact, some don't come with a controller at all! But many prefer the better transmission and more intuitive controls of a traditional radio transmitter over the convenience of a mobile device, which is what this next category of Parrot drone accessories is all about.
Parrot Bebop 2 Skycontroller
The Skycontroller is a dedicated first-party controller for the Parrot Bebop drones and one of the most popular Parrot drone accessories around. The Skycontroller still requires a phone or tablet if you want to stream FPV video, but it provides a much better sense of tactical control that allows you to perform more complicated maneuvers in the air. Note that the Skycontroller will require an additional Bebop 2 battery to run, so you might consider picking up the Bonacell batteries we linked to above if you decide this is the Parrot controller for you.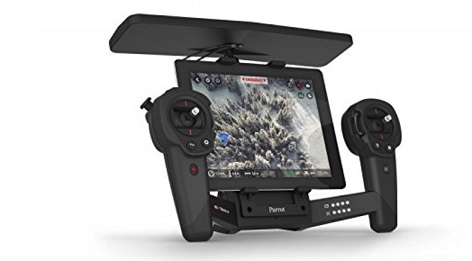 Click To Shop or Read Reviews
Parrot Flypad Minidrone Controller
The Parrot Flypad is a Parrot mini drone accessory that will work with any of the company's minidrones, from the popular Mambo to the Swing, Airborne Cargo, Airborne Night, and the Hydrofoil hybrid. This is another first-party controller designed by Parrot themselves to increase your range and control while piloting their products. The Flypad gives you an additional 400 feet of range, can operate entirely independently from a smartphone or mobile device, and costs less than $40 USD, making it a must-have for any serious Parrot drone enthusiast.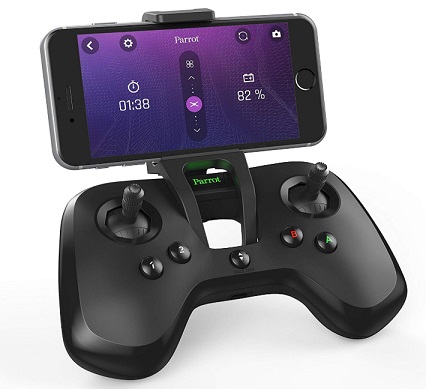 Click To Shop or Read Reviews
Wikipad Tablet Controller
The Skinomi Wikipad is a very popular third-party Parrot drone accessory, a controller and skin protector that fits around a tablet. Because your tablet or mobile device is still doing the controlling, the Wikipad will not improve the transmission range of your drone. However, the use of analog sticks and directional keys will make the drone much easier to control – it's easier to make tricky maneuvers with the manual feedback of a real controller than a touch screen. At only $19 USD, this is a great alternative to a full controller if you just want something to make flying a little easier.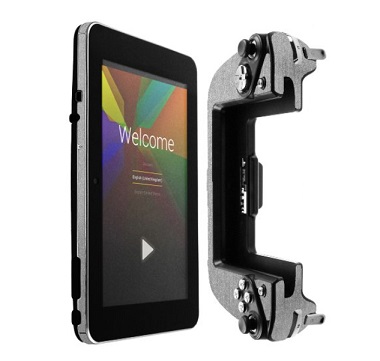 Click To Shop or Read Reviews
Miscellaneous Parrot Drone Accessories
Here's some additional Parrot drone accessories that can improve your quadcopter flying experience.
Anbee Parrot Drone Repair Kit
A drone repair kit is always a useful thing to have around if you want to upgrade your Parrot drone or fix some internal damage. This simple (and cheap) set of drone repair tools is listed specifically for the Bebop 2, but should work for any Parrot drone. A much cheaper alternative to shipping the drone back to the manufacturer when something goes wrong!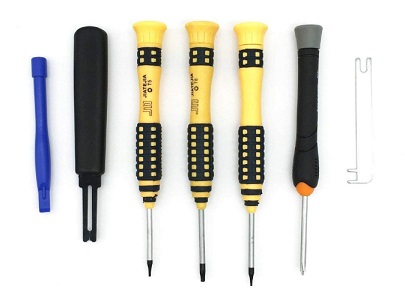 Click To Shop or Read Reviews
PENIVO Replacement Propellers
Replacement propellers are among the most popular Parrot drone accessories. Propellers are the part of the drone that's most likely to get broken in a crash, and upgrading the propellers can help you get more thrust while flying. These PENIVO propellers have never let us down – they're cheap, durable, come in packs of 16, and are available in just about any color and style you like! We've linked to their Parrot mini drone accessory replacement propellers, but they make props for the Bebop 2 as well.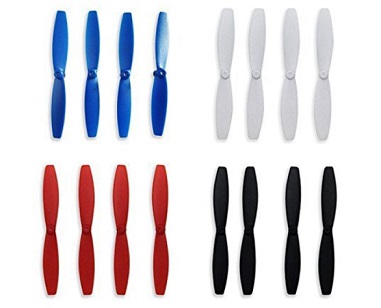 Click To Shop or Read Reviews
Parrot Bebop 2 FPV Fly More Pack
The Parrot Bebop 2 FPV Fly More Pack is a single package that costs $341 (at time of writing) which includes all the essential Bebop 2 accessories: three batteries, a durable carrying backpack, a Skycontroller 2, the Parrot Cockpit Glasses 2 (a first-party set of FPV goggles), along with the associated cables. If you want to buy all the great Parrot drone accessories you want at a single low price, this is the package for you!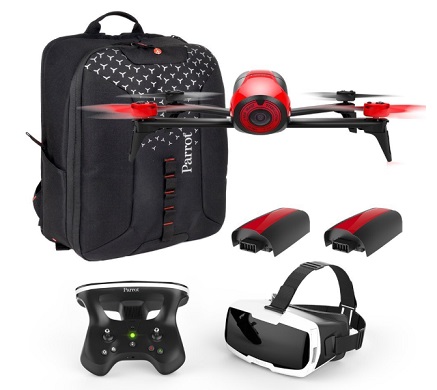 Click To Shop or Read Reviews
Parrot Drone Accessories FAQ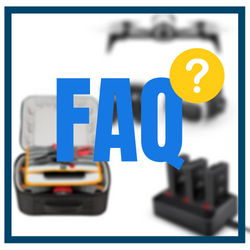 Why should I buy Parrot drone accessories?
You don't need to buy additional accessories in order to enjoy your Parrot drone, but Parrot drone accessories can make the vehicle easier to fly or repair and can improve its stats. A better battery will give you a longer flight time; better propellers will give you better thrust. Many people prefer to fly with Parrot drone accessories to make the drone flying experience even better than what you get with the straight-out-of-the-box model.
Where can I buy accessories for Parrot drones?
The best place to buy Parrot drone accessories (as with most things in the modern age) is on Amazon. You get inexpensive shipping, a great customer service guarantee, and a wider selection of options than you can find anywhere else.
First-party Parrot drone accessories can also be purchased directly from the website of the manufacturer.
What are the best Parrot AR drone accessories?
Since the Parrot AR's discontinuation, most of the accessories for this drone have become unavailable. But there are still a few good Parrot AR drone accessories for sale, including the replacement propellers and TURPOW replacement batteries we recommend above. If you're looking for a new controller to use with the drone, the Wikipad Tablet Controller is a good option now that no one's making first- or third-party controllers for the AR.
What are the best Parrot Bebop drone accessories?
The Parrot Bebop 2 has the most accessories out of any Parrot drone, so there are lots of great options – many of which we reviewed above! If you're looking for a single recommendation, the Parrot Bebop 2 FPV Fly More pack includes all of the best first-party accessories into a single affordable package, making it a great option for someone who knows they want some great accessories but aren't quite sure what they're looking for.
What are the best Parrot Mambo drone accessories?
Our #1 recommendation for Parrot Mambo drone accessories is the Parrot Flypad Minidrone Controller. This little controller gives you an additional 400 feet of range, better control over your aerial maneuvers, and less input lag for less than $40. An essential item for any Parrot Mambo owner!
Conclusion
We hope this article has helped you understand the vast variety of Parrot drone accessories available on the market today and has even helped you make a purchase or two of your own. And if you've got a favorite Parrot accessory that we missed, be sure to let our readers know about it in the comments!
Other Interesting articles in "
Reviews

"