DJI Mavic Air Accessories – Something for Every Enthusiast

With so many awesome DJI Mavic Air accessories to choose from, researching on your own can be pretty extensive. Although, because we at Dronethusiast love good quality accessories for our drones as much as you do for yours, we figured we'd give you the inside scoop into all of them.
Keep in mind, however, we may not feature each and every accessory for the Mavic Air at this time. Instead, we're going to be showing you the best of the best, give you an extensive look at each one, and, hopefully, give you something new to put on your wish list.
Mavic Air Travel Bag
Right off the bat, having the travel bag for the Mavic Pro by DJI is an absolute must. Drones are subjected to bumps and scrapes when they're with you on the go, which is why having the travel bag is so important.
Sure, you could invest in any old travel bag, but having the authentic Mavic Air travel bag is a much better idea. It's able to hold the Mavic Air, the transmitter, up to 3 batteries, your smartphone, a battery charging hub, a charger, cables, and any other smaller accessories you may want to have with you in the field.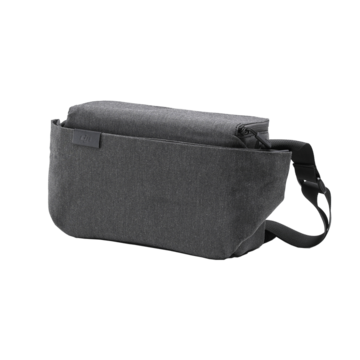 Click To Shop or Read Reviews
The Mavic Air Intelligent Flight Battery
One of the most important accessories is the Mavic Air Intelligent Flight Battery. The Mavic Air battery has a capacity of 2375 mAh, has a total flight time of up to 21 minutes, and has a maximum voltage of up to 13.2 V.
Even though there are spare batteries on the market that will work for a good handful of drones, specifically the ones that weren't designed with each other in mind, it's extremely important to understand that you must never use any other LiPo with the Mavic Pro. You must always use the Mavic Air battery with this drone.
This is also because the charging hub and the charger were specifically designed with the Mavic Air battery in mind, as well. If you go out of any of these boxes and try to rig a different setup, it's your funeral and don't say we didn't warn you!
However, if you use every single component together, especially the Mavic Air battery, you're going to get a longer, stronger flight out of it. Mixing and matching can be done with other drones, as we said previously, but it's dangerous to do so in the case of the Mavic Air.
You will notice the built-in sensors and the bright LED lights that will indicate important information, including how much juice is left in the current battery you have in the Mavic Air.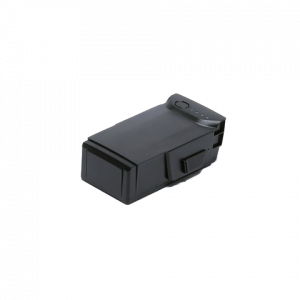 Click To Shop or Read Reviews
DJI Mavic Air Power Bank
For the longest flight trip possible, the Mavic Air Power Bank is something you'll definitely want to invest in. Able to charge up to 4 Intelligent batteries at one time, you'll be out in the field for hours if you time your charging right!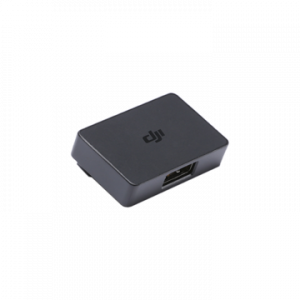 Click To Shop or Read Reviews
The Mavic Air Neutral Density Filters Set
The ND filters set for the Mavic Air is an accessory that, unfortunately, is often overlooked. However, for those who are seriously interested in aerial photography and videography using their Mavic Air, you're definitely going to want to get your hands on this set as soon as possible!
The filters set is specifically designed to be used with the Mavic Air, which include the ND4, the ND8, and the ND16 filters. They are designed to reduce light by 2/3/4 stops, which makes capturing exceptional photos in ranges of environments as easy as possible.
Overall, these filters bright out the best of your footage taken using the Mavic Air, and gives you a better amount of control over the camera settings and image qualities.

Click To Shop or Read Reviews
DJI Goggles for the Mavic Air
You can get the DJI Goggles for the Mavic Air, which is fantastic news for those who want to sink their teeth into some awesome FPV flight for the best immersive aerial adventure possible.
When your line of sight is completely free of interference, you can get a maximum transmission distance of up to 2 kilometers away! As long as you are CE compliant, of course.
You get 2 1920x1080p HD screens as well as a head tracking feature within the DJI Goggles, which allows you to look at the world from above, below, you name it. Anything is virtually possible when you bring these babies into the mix.
What's more, the Goggles pair up with many of the Intelligent Flight Modes, such as ActiveTrack, Terrain Follow, Cinematic Mode, TapFly, and more. This creates an entirely new flying dimension.
All in all, you get a 720/60 frame rate, 1080/30 high-quality view, 120MS latency, and 360-degree complete coverage.
Keep in mind, however, you will need to supply your own USB cable to attach the DJI Goggles to the Mavic Air, but that is easily done.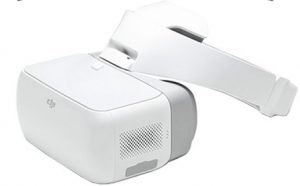 Click To Shop or Read Reviews
DJI Goggles Mavic Air Sling Bag
If you do choose to purchase the DJI Goggles, we'd like to point you in the direction of the protective sling bag, as well. This bag is specifically designed to keep both your Mavic Air and your DJI Goggles as safe as kittens when they are being transported.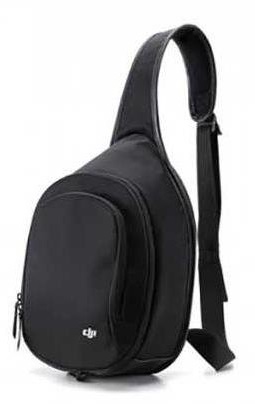 Click To Shop or Read Reviews
Additional Micro SD Card
Though the Mavic Air already has up to 8 GB of internal storage ready to go, if you're a drone user who wants to grab as much footage as they can, we highly recommend that you invest in an additional Micro SD card.
The Mavic Air allows you to export photos, videos, and any file in general through the USB 3.0 Type-C port, so keep this in mind when you're pondering around!
We recommend investing in the SanDisk Extreme Micro SD card with up to 128 GB of storage.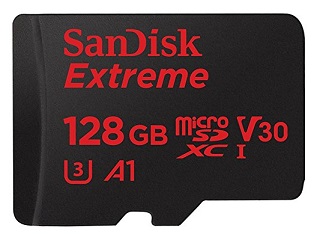 Click To Shop or Read Reviews
DJI Mavic Air Car Charger
If you forgot to charge your battery, and just remembered as you're driving out to your favorite fly spot, let's hope you've got a Mavic Air car charger on board to do some last minute charging before you reach your destination!
The average amount of time it takes to charge a battery to full capacity is around 54 minutes, but it also depends on how low the battery was before it was plugged in to charge.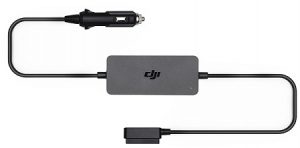 Click To Shop or Read Reviews
Spare DJI Mavic Air Propellers
Though they are already made of some sturdy stuff, always having an extra set of propellers for your Mavic Air is never money wasted. The 8330 propellers come in 2 with each box, so it may be an even better idea to get 2 boxes instead of 1.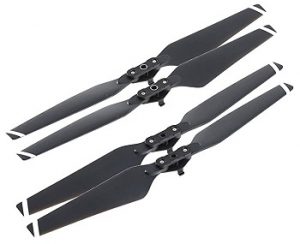 Click To Shop or Read Reviews
DJI Mavic Air Fly More Combo
The Mavic Air Fly More Combo by DJI is the ultimate set to have for all drone lovers alike. It comes with basically everything you need, not to mention a few other goodies you didn't know you did, so let's check it out:
DJI Mavic Air and Intelligent Flight Battery
Charger
31.5" DJI Landing Pad and Mavic Air Case
Deco Gear Backpack
Vivitar Filter Kit (CPL/ND4/ND8)
Optics Cleaning Kit
SanDisk Ultra Micro SD Card 16 GB UHS Class 10 Memory Card with Adapter
VR Vue II Virtual Reality Viewer for 3.5"-6" for Android and iPhone
The Mavic Air Fly More Combo by DJI is the perfect way to pretty much everything you need, to mention some extras, in one place.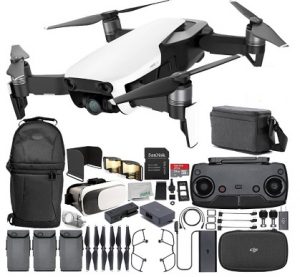 Click To Shop or Read Reviews
The Best DJI Mavic Air Accessories
The Mavic Air, even after much time has passed since the initial release, is still highly popular and sought out. You can push your Mavic Air to its full potential by adding a number of accessories to your setup.
Other Interesting articles in "
Reviews

"