SandwichAero – Creating An Example for Young Dronethusiasts

Not long ago, 16-year-old Nicolai Valenti of Italy reached out to us in the hopes that we would share his story with all of you, our readers!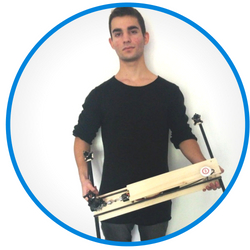 Valenti began his dream in September of 2017 when he created his company SandwichAero and an impressive hybrid drone. Valenti believed that the range and the autonomy that we see in the drones we all have today are too limited.
With this in mind, Valenti built his very own generator from scratch using his knowledge of basic electronics, a brushless motor, and a nitro engine. Soon after, he shared his ideas with fellow drone enthusiasts on a couple of online DIY forums.
Because Valenti received booming feedback from his ideas alone, he decided to publish additional posts on his ideas for a hybrid drone. Not long after, he received word from Phillip Kocmoud and Jordi Munoz, the designer of Ardupilot and the co-founder of 3D Robotics. They wanted to give him a hand in funding his work and providing some of their hardware, truly one of the best sponsorships a drone manufacturer could ever dream of!
Valenti has continued to work with his co-founder, Giovanni Mastronardo, on his ideas. After a ton of hard work and further designs, their hybrid drone is now being sold! They are also selling a generator for drones, as well.
The HY1000 Hybrid UAV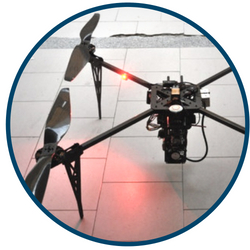 The HY1000 Hybrid UAV is a quadcopter that is designed to manage payloads of up to 3kg, comes equipped with a system that is powered by both electricity and gasoline, and is made from a sturdy carbon fiber frame. It comes with a maximum flight time of up to 4 hours, which is insanely impressive considering all the drones we have today.
The HY1000 Hybrid UAV uses a combustion engine, which spins a generator that has an output of 22V. An onboard 6S lipo battery package comes installed with the quad that offers emergency back-up power to ensure that quick maneuvering and climbing are possible.
It uses the N3 flight controller, which is fully compatible with other controllers and receivers, including DJI's Intelligent ESC, Lightbridge 2, DJI GO, and iOSD. The user is also able to seamlessly integrate with a number of the cameras and gimbals from the Zenmuse series, which provides immediate access to flight applications.
Because it uses a double power source, users are able to fly it without worrying about whether or not they're going too far. Should the generator fail, you can trust that the battery will safely and automatically land it for you, but that doesn't mean you can push it too hard, however!
The pre-installed antennae and arms reduce the amount of time required to set it up, too!
The EL1000 Electric Drone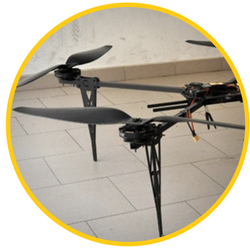 The EL1000 Electric Drone is another impressive creation from SandwichAero. It's a solely electric drone that is designed for payloads of a medium size, up to 1 kg. It has a maximum flight time of up to 1 hour and 40 minutes without the payload, and a flight time of up to 1 hour with any amount of payload.
It uses NCR high-density battery packs, which give the drone the juice it needs to power the 4 T-motor propulsion system. Like it's brother, the EL1000 uses the N3 flight controller with the same capabilities.
It's made from carbon fiber with a crash-resistant frame that weighs a lot less than it appears!
GS1000 Hybrid Generator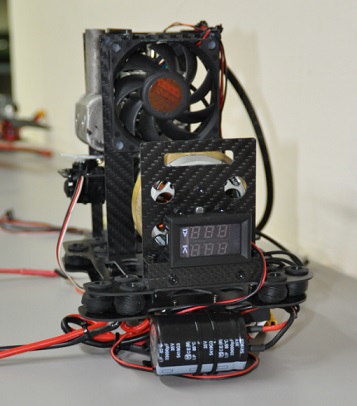 The GS1000 Hybrid Generator is the third and final product from SandwichAero. It's designed to be used with medium and large UAV systems in order to extend the overall range and drastically improve total flight time.
It uses a double power source in order to allow users to fly whatever they put it into without too much concern over the distance their drone is going. Should it fail, the battery will take over control and ensure your UAV lands safely without the user having to intervene in the slightest.
The GS1000 Hybrid Generator has the strength it does thanks to the fact that it only uses as much power as it needs, which is practically a fraction of the power that is used compared to other generators.
SandwichAero and Nicolai Valenti
We are extremely excited to see what Nicolai Valenti and SandwichAero come out with next. One thing is definitely for sure, the future of hybrid drones is a bright, powerful one!