The Fairy Air Camera – The Magic Aerial Photographer

The Fairy air camera is the next big thing to hit the camera drone category. It's small enough to fit in your pocket, able to take photos like a crack-shot, and has enough potential to keep our eyes peeled for the next little while.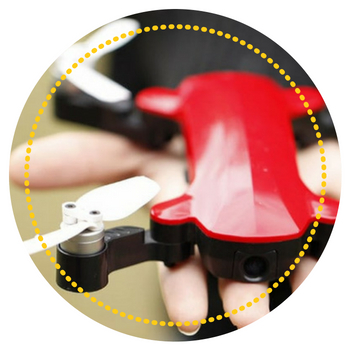 At this time of writing, it currently has 1,037 backers and $173,947 pledged toward the $38,549 goal on Kickstarter. With as little as 22 days to go, the Fairy has some amazing specs and features promised, so you know we're keeping a lookout for it until we can get our hands on one.
Weighing only 140 grams, FAA registration won't be required for this little guy. It comes with a high definition camera that is going to take taking a selfie to a fun, new level. Paired with the 1080p HD video resolution and the SONY 1/3" CMOS sensor, photos and videos taken are guaranteed to come out crystal clear. It has a rate of up to 30 FPS and 8 MP still photographs. You can choose from multiple camera modes, including continuous captures and delay captures, for example.
It has a foldable design that allows you to safely store it in your pocket, making taking it everywhere you go as easy as possible. It has a maximum control distance range of up to 150 meters, uses both GPS and GLONASS, and has a maximum flight time of up to 16 minutes.
The Fairy air camera also offers a number of smart control features, including One-Button Return to Home, Motion Control, and Automatic Follow. Motion Control allows you to use your phone like a motion-sensing remote control. For example, tilting your phone will make the Fairy drone follow you.
One-Button Return to Home ensures that, should the Fairy become too difficult to manage if it's a windy day, for example, you can press a single command button and it will return to the initial starting point from where you took off. You can also do so should the Fairy go out of range, if the battery is drained too low, etc. This is all thanks to the fact that the Fairy uses dual-band GPS systems, ensuring that you get the best of both worlds for full control and ultimate precision.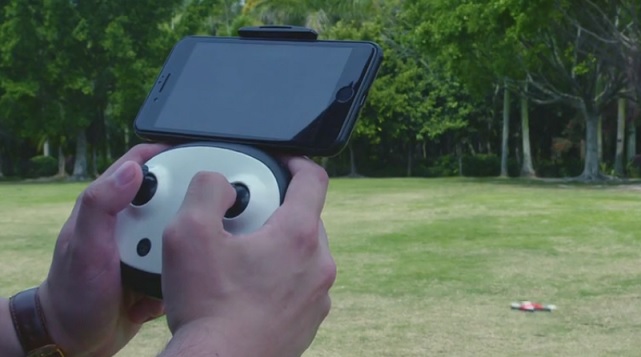 You will also have three sensitivity modes at your disposal, ensuring that both beginners and experts alike can take full advantage of everything the Fairy has to offer. Because it has multiple sensitivity modes, you can even use the Fairy for high-altitude racing, thanks to its ability to fly at high speeds and the SLAM technology that allows it to hover steadily without human intervention.
The Fairy also boasts high speeds, thanks to the brushless motors, coming in at 15 m/s. It uses an intuitive, customizable, user-friendly UI that ensures the Fairy can easily take flight and capture a photo in seconds, just by using a single touch. You can control the Fairy air drone by using your smartphone using the companion app or a physical remote controller.
The Fairy drone also comes equipped with the SLAM positioning technology, which uses optical flow sensors for the purpose of hovering steadily. This means you won't have to go out of your way to keep full control of the drone's hovering, giving you more options to play around with other controls or snap a photo.
At this time of writing, you can make a $99 Kickstarter pledge, which is the minimum, for the Super Early Bird pledge if you're looking to get your hands on the Fairy drone as soon as possible. The estimated delivery for everyone who has given a pledge on Kickstarter is only a few months away, specifically July 2018, which will be shipped all over the world.