The Royal Wedding Used Drone Detection Systems – A Royal Occasion Was a No-Fly Zone

By now, everyone has either heard of or watched the Royal Wedding that took place in England only just a few days ago. Because the Royal Wedding was such a major, important event, and the fact that there were a high number of guests, including major celebrities, security posed a challenge. Physical wedding crashers were a minor issue compared to the potential terrorist threat that could happen from the air.
The airspace over the event was an obvious no-fly zone to ensure that drones were kept out the area, but this type of security measure on its own would no doubt not be enough. Deeming airspace over any event as a no-fly zone does not always ensure safety or that rogue operators won't make an attempt to breach the airspace.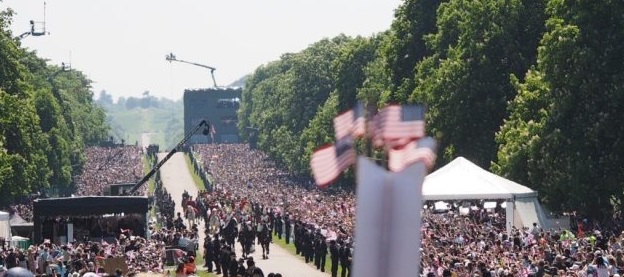 With this in mind, drone detection systems were brought in to ensure that there could be no surprises. DJI, the largest drone manufacturer in the world that we all know and love, created AeroScope only last year, a drone defense system that uses ground-breaking technology.
AeroScope is a highly technical drone detection system that is able to receive information that has been broadcasted from drones manufactured by DJI and other third-party drones. However, the only way AeroScope can successfully receive information from said third-party drones, is if they have broadcasted their information using a format that is able to be received and detected overall by AeroScope's technology.
The DJI drone detection system allows operators to scan the surrounding airspace for drones at a distance rate of up to 12 miles total. If it picks up any unmanned aircraft within the airspace, it provides telemetry data and important information to track down its exact location. For example, it will provide how fast the unmanned aircraft is going, the heading, the precise location, and more. The position of the unmanned aircraft's operator will also be displayed, as well.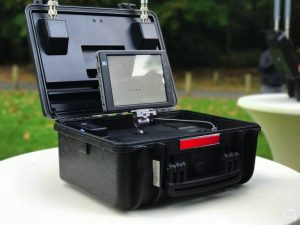 Unfortunately, at this time of writing, AeroScope is not able to bring down a rogue drone safely or take control of it in any way.
The COPTRZ, professional commercial drone experts and operators, supplied a number of AeroSpace units to law enforcement agencies involved in the Royal Wedding's security teams to enforce and monitor the event's no-fly zone.
The Managing Director and the Founder of COPTRZ, Steve Coulson, commented on the deal that was made with supplying AeroScope units to the law enforcement agencies:
"We are absolutely delighted to be able to supply drone detection systems to law enforcement agencies. Particularly with big events such as the Royal Wedding and the upcoming World Cup, it's imperative agencies take advantage of the technology available to them. It's only a matter of time until technology like the AeroScope become a necessity for law enforcement agencies worldwide."
Analysts have estimated that the market for drone defense systems, which includes drone detection systems like DJI's AeroScope, will be worth up to billions of dollars within a time frame of as little as 5 years.
Other Interesting articles in "
News

"